Some Krispy Kreme Fans Can't Buy The New Xbox Donut. Here's Why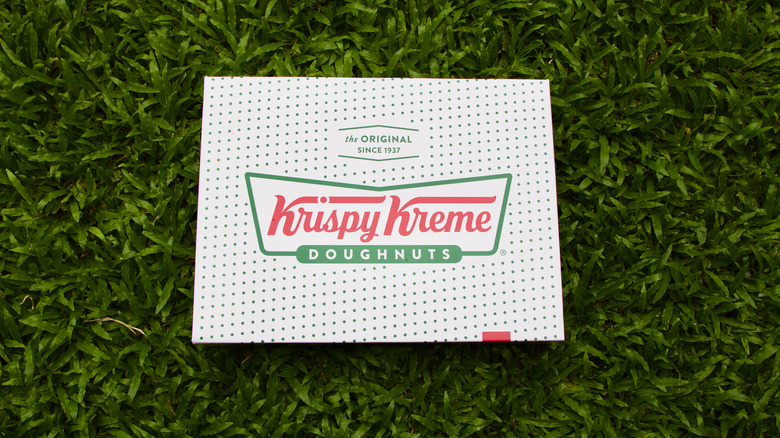 Shutterstock
Limited-edition treats and menu items always seem to capture the public's attention, and any gaming fans that also love to indulge in a tasty donut or two have a new variety to try, thanks to Krispy Kreme. The donut chain has released a special "Nexus Level" donut in collaboration with Microsoft (via The Verge). The marketing collaboration was designed to celebrate 20 years of the gaming console Xbox being on the market — and what better way to celebrate than by having a few sweet treats? 
There's just one catch for any fans rushing to their nearest location in order to get their hands on a box of the gaming-themed donuts — you can't actually buy them in the United States, as these particular "Nexus Level" donuts are only available in the UK and Ireland.
Krispy Kreme UK released a short video on Twitter teasing the item — in the clip, several different faux team members (such as the cheekily named Xavier Boxell and Kristina Kareem) discuss the new promotional item, using the same type of terminology that would be commonly used to discuss the latest piece of technology to hit the market. Who knows, perhaps more "ergonomically-shaped" donuts are what we all need? The donuts themselves feature the signature Xbox branding, dusted with a layer of powdered sugar and accentuated with a bold "X" made with green icing stretching across the top of the donut.
The prize attached to these gaming donuts
While you may not think of food chains as the best way to promote a gaming console, this Krispy Kreme collaboration actually isn't the first time that Xbox has partnered up with a food brand to advertise a launch. Microsoft has also formed partnerships with Monster Energy, Taco Bell, and Trident Gum to promote the Series X console (via ScreenRant). For those in the UK and Ireland who are actually able to get their hands on a box of the branded donuts for this round of promotion, though, you'll want to make sure you don't miss your window of opportunity — they're actually only being sold between August 2 and August 22, so there's only a short time in which you can taste the console-themed treat.
And, if you're interested in the console as much as you're interested in the donuts, there's good news for you, too. Those who snag a dozen of these promotional donuts will receive a code within the promotional pack that they can use to enter for a chance to win the new Xbox Series S console (via Krispy Kreme). While only those who can actually purchase the donuts will be able to win the contest, there's no restrictions on whether you have to share that delectable dozen "Nexus Level" donuts with anyone — you can keep those all to yourself!