How Big Tom's Backyard Grill Is Doing Less Than A Month After Restaurant: Impossible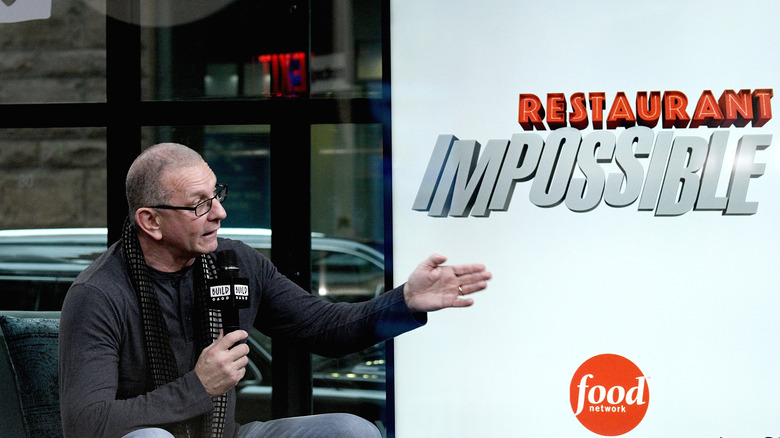 Gary Gershoff/Getty Images
If Robert Irvine is visiting one of your favorite local eateries to film "Restaurant: Impossible," then you know the place is in trouble. The episode that aired July 1, featuring Big Tom's Backyard Grill & Bar, was no exception (via Chew Boom). When Irvine and his team arrived in February at the Cleveland, Tennessee establishment, Big Tom's had been open less than three years, per the restaurant's website. By that time, owners Tom and Sabrina Anderson were already in crisis. The high school sweethearts' marriage was in trouble, and Big Tom himself was risking another heart attack. (We'll just look past the fact that Big Tom's menu includes The Defibrillator, a bologna, pulled pork, hot dog, and mac-and-cheese sandwich.)
Don't call the divorce attorney or the cardiologist just yet. Big Tom's had some good news to share on Twitter, on July 28: "Less than one month from the @Rest_Imposs airing, we have been busier than ever. Thanks @RobertIrvine & crew for everything."
Will Big Tom's beat the odds? 65% of 'Restaurant: Impossible' locations fail
"Restaurant: Impossible" host Robert Irvine, always attentive to his many fans and admirers on Twitter, responded to Big Tom's Backyard Grill & Bar. "Tom, love this buddy," Irvine tweeted. "Hope all is well with you and family ... keep it clean and busy lol ... see ya soon."
Big Tom's got the requisite "Restaurant: Impossible" physical makeover, of course, and the east Tennessee dining destination added a few dishes Irvine suggested while keeping most of the old menu intact, per Food Network Gossip. Big Tom's may have Irvine to thank for enabling the restaurant to score big this year in the Cleveland Daily Banner Reader's Choice Awards. The restaurant announced on Facebook in June that it won Best Sandwich Shop, Best Barbecue, and Best Bar & Grill. Big Tom's was also a finalist in the Beer and Wine and Family Restaurant categories.
We hope Big Tom's can keep a good thing going. According to Reality TV Revisited, 65% of the establishments featured on "Restaurant: Impossible" ended up failing anyway. Fans of "Restaurant: Impossible" are rooting for Big Tom's, too. "What a lovely family," a commenter at Food Network Gossip said. "I hope they make things work. Robert gave them the formula for pricing and it seems that, along with the beautiful renovation and menu suggestions, should have them turning a profit in no time."