15-Minute Peach Crumble Recipe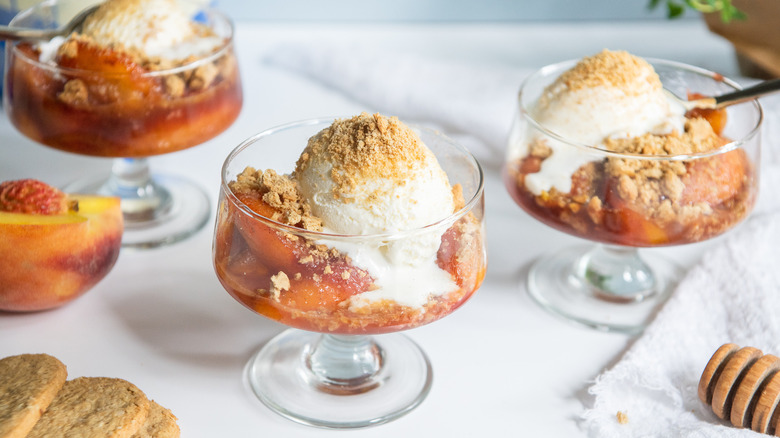 Jennine Bryant/Mashed
When it comes to summer desserts, fresh fruit is at the top of the list. Whether you enjoy it straight from the plant or wait to incorporate it into a recipe, the outcome is always delicious. Among the vast bounty of fruits that are best in summer months, peaches are definitely a favorite. They're juicy, sweet, and have a pleasant tang, which makes them the perfect match for a range of flavors. 
Jennine Bryant, a recipe developer, food blogger, and photographer at The Marshside Pantry, focuses her creations on gluten-free options, so you can bet that fresh fruit plays a role in many of her sweet dishes. Take this 15 minute peach crumble recipe — it's healthy, easy, and quick to make, so you won't have long to wait before you can savor this treat. The dessert is even made to be portioned into individual serving dishes so that everyone can enjoy their own personal crumble.
Gather the ingredients for this quick peach crumble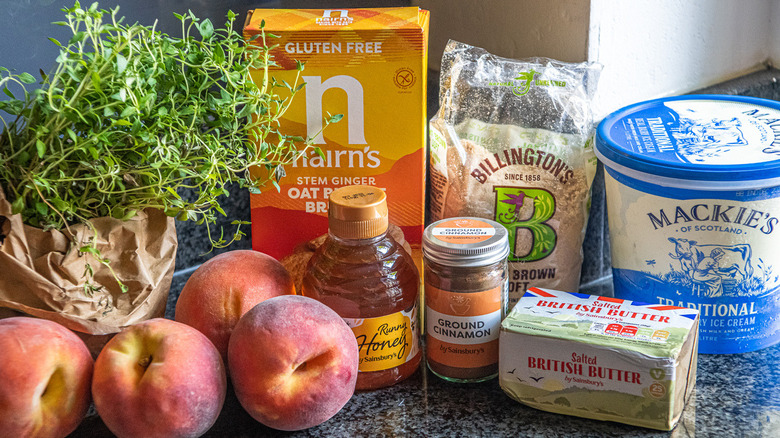 Jennine Bryant/Mashed
Collect the ingredients you need, starting with fresh summer peaches. Choose fruit that is ripe but still firm (or use this simple trick to help ripen your peaches), so that it maintains some texture once it is cooked. 
Next, butter is used to sauté the peaches, developing a rich taste. When paired with brown sugar, the result is caramelized peaches that you'll want to add to all of your desserts. 
A pinch of cinnamon builds complex, warm flavors, but for a different take, Bryant suggests, "It would also be nice with vanilla seeds added in the place of cinnamon." She advises against using vanilla extract, and says, "I would recommend using a vanilla pod and scraping out the seeds [...] so the flavour doesn't get lost." 
Next, a sprig of thyme will infuse herbal flavors to freshen up the taste. And be sure to have some water nearby while you're cooking the peaches to keep the mixture from burning.
Finally, instead of laboring with a pastry cutter to make the crumble, Bryant uses ginger biscuits instead (roughly one and a half to two biscuits for each serving). Just break them up into small, crumble-sized pieces and the task is complete. The ginger in them is a delicious match for juicy peaches, especially when paired with cinnamon.
You'll also want to serve the lot with a scoop of vanilla ice cream, and to complete the dish, a drizzle of honey.
Break the ginger biscuits into crumb-sized pieces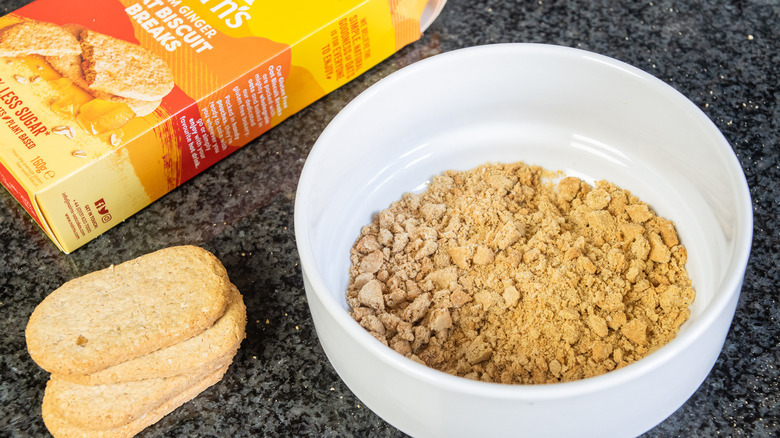 Jennine Bryant/Mashed
Start off by making the crumble, so that it is ready to sprinkle on top of the peaches once they finish cooking. 
Crumble doesn't get easier than Bryant's take: Using your hands, break the ginger biscuits into small crumb-sized pieces. That's it. 
"Make sure there is still some texture," Bryant says, and avoid turning them into powder. "Alternatively, this can be done in a food processor," she adds. Both options are fine, although you'll have slightly more control (and less to clean) by using your hands. 
Slice the peaches and add the brown sugar and cinnamon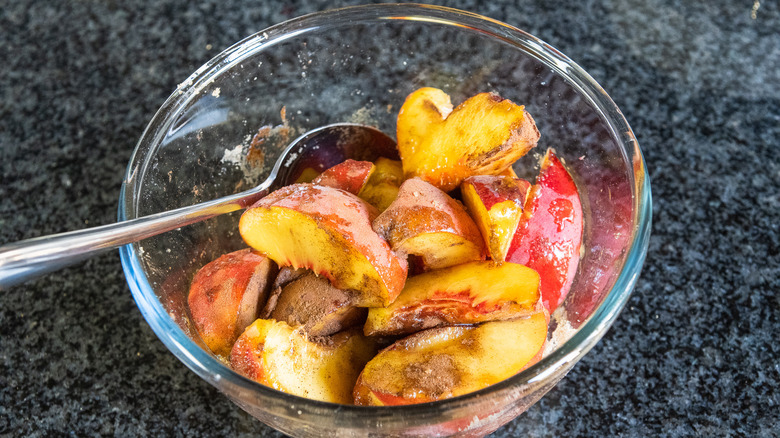 Jennine Bryant/Mashed
Next, slice the peaches into wedge-shaped segments, discarding the pits. Bryant says that the peaches could also definitely be diced. "They just need to be a reasonable size to be cooked in the frying pan," she notes. But if they are cut too small you'll end up with a mixture more akin to a puree. 
Transfer the peaches to a medium-sized bowl, and stir in the brown sugar and cinnamon until the ingredients are properly combined. 
Add the butter, peaches, and thyme to a pan on medium heat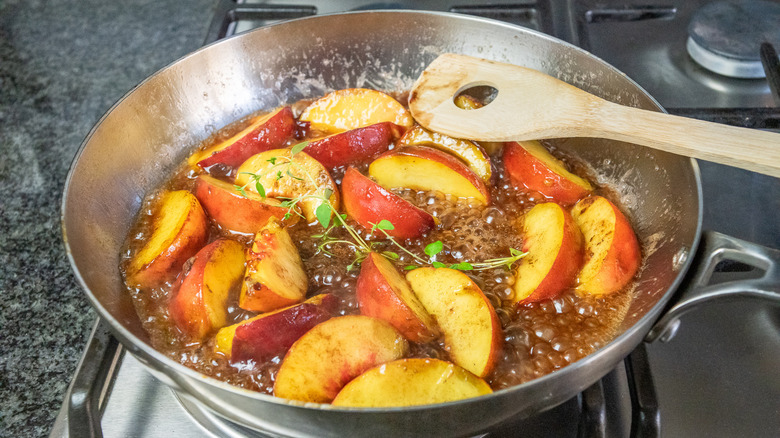 Jennine Bryant/Mashed
Place a frying pan on the stovetop on medium heat, and once it is hot add the butter, peach mixture, and the thyme sprig. 
Cook the peaches for five to 10 minutes, stirring the contents of the pan occasionally to cook the fruit on all sides. They should begin to soften and become lightly caramelized. The delicious aromas will also be hard to miss!
Add water to prevent the peaches from getting too dry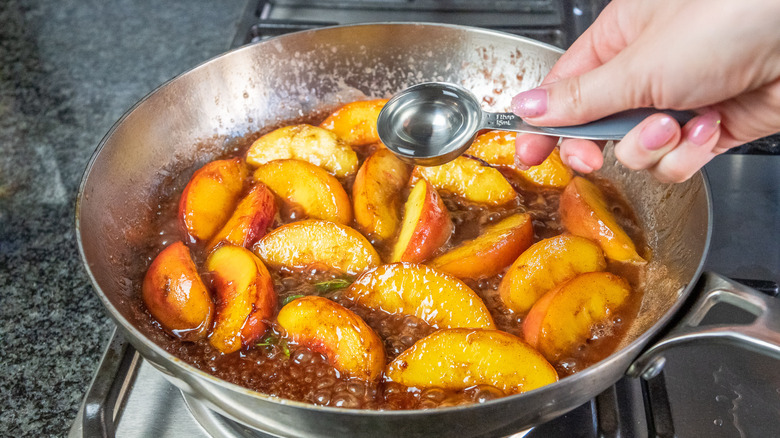 Jennine Bryant/Mashed
As you're cooking the peaches in the frying pan, pour in a quarter cup of water to prevent the contents of the pan from getting too dry or burning. The water also "makes a nice sauce for the peaches," says Bryant. Paired with the sugars and juices from the peaches, the water will start to thicken into a delightful caramel sauce. 
Keep stirring the peaches throughout the cooking process so that they are evenly caramelized.
Serve the peaches topped with the crumble and a scoop of ice cream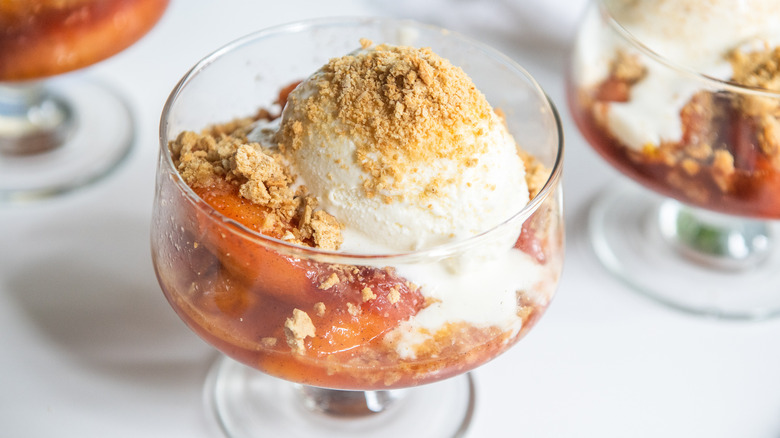 Jennine Bryant/Mashed
Once your peach mixture is ready, it's show time. Set out four individual serving dishes — for an elegant look, opt for dessert coupes like Bryant does. Next, evenly distribute the caramelized peaches in their sauce between the dishes. Sprinkle about one large spoonful of ginger crumble on top of the peaches for each portion. Finally, top the peaches and crumble with ice cream. You can't go wrong with vanilla here. If you want an extra sweet touch, drizzle honey on top and enjoy the fresh flavors of summer. 
If you want to make this to impress guests, Bryant points out, "You could definitely make the peach mixture earlier on." She does say that it's best eaten warm, though, so a quick zap in the microwave will do the trick. It's also definitely best to add the biscuit crumble topping at the last minute so that it stays crispy.
Chances are you'll want to eat these peaches on repeat. So if you want to mix things up, Bryant also recommends serving them "just with cream." Alternatively, if you're a fan of meringue, she suggests, "The topping could be changed out for crumbled up meringue, or the peaches even placed on top of the meringue." Bryant thinks these peaches would be delicious with pound cake. We might have to make a triple batch!
15-Minute Peach Crumble Recipe
Healthy, easy, juicy, sweet, and quick to make, this 15-minute peach crumble recipe won't have you waiting long to savor this treat.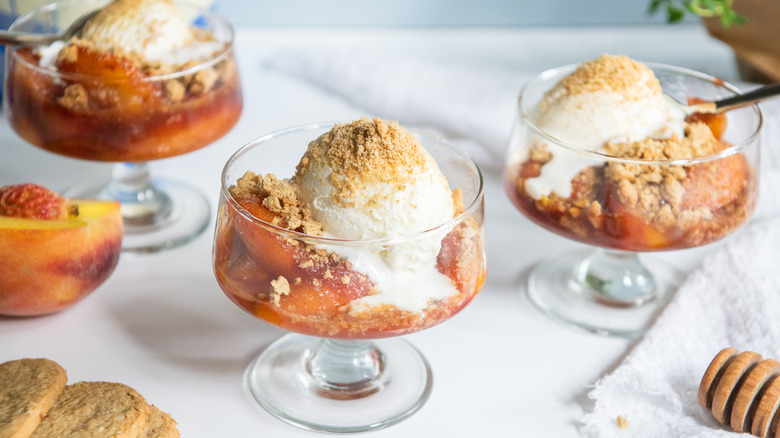 Ingredients
6 to 8 ginger biscuits
4 peaches
3 tablespoons butter
4 tablespoons brown sugar
½ teaspoon cinnamon
1 sprig thyme
¼ cup water
Vanilla ice cream, for serving
Optional Ingredients
Directions
Take the ginger biscuits and gently crumble them between your fingers until they become small crumb-sized pieces.
Cut the peaches into segments.
Place the peaches in a bowl and combine them with the brown sugar and cinnamon.
Heat a frying pan over medium heat.
Add the butter, peach mixture, and the sprig of thyme.
Cook the peaches gently for 5 to 10 minutes, occasionally stirring and turning the segments until they soften and become lightly caramelized.
Add the water partway through to make sure the pan doesn't dry out.
Divide the peaches and their juices among individual serving dishes.
Add a generous spoonful of the crumbled ginger biscuits to each dish.
Serve the peaches and ginger crumble topped with a scoop of vanilla ice cream.
Optionally, add an extra drizzle of honey.
Nutrition
| | |
| --- | --- |
| Calories per Serving | 830 |
| Total Fat | 39.7 g |
| Saturated Fat | 14.3 g |
| Trans Fat | 0.3 g |
| Cholesterol | 35.5 mg |
| | |
| --- | --- |
| Total Carbohydrates | 106.7 g |
| Dietary Fiber | 5.3 g |
| Total Sugars | 29.0 g |
| Sodium | 1,042.8 mg |
| Protein | 14.5 g |