National Avocado Day 2021: Where To Get The Best Food Freebies And Deals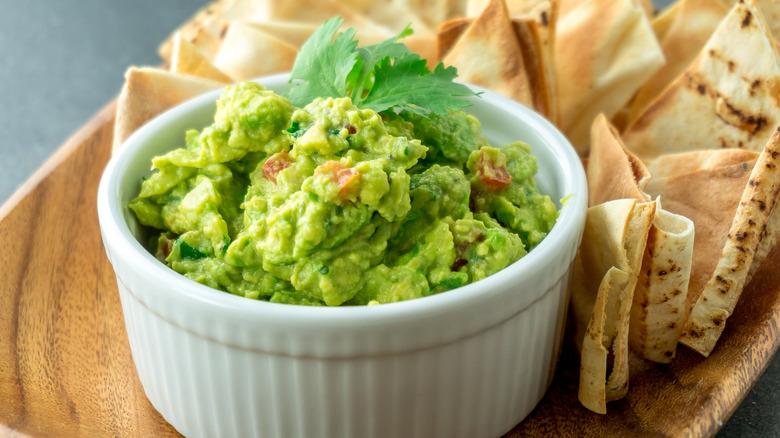 Shutterstock
On Saturday, July 31st, Chipotle is doing the unthinkable: it's offering its guac for free. What's the occasion, you might ask? It's National Avocado Day!
The food item has constantly received lots of attention, not only for its ability to complement almost every dish perfectly, but also in the debate over whether or not it is considered a fruit. And although California Avocados states that the avocado is classified as a fruit (and also a berry!), some are convinced that it's not because of its lack of sweetness and the fact that it is the prime ingredient in a favorite food of ours: guacamole.
Additionally, avocados have seen great demand in the last several years, with the skyrocketing popularity of dishes like avocado toast. And because of its trendiness, there still is a shortage of avocados that has caused prices to spike 129% (via Insider). Nonetheless, because they are almost universally beloved, there had to be a day designated to celebrate them.
Restaurants to visit for great avocado deals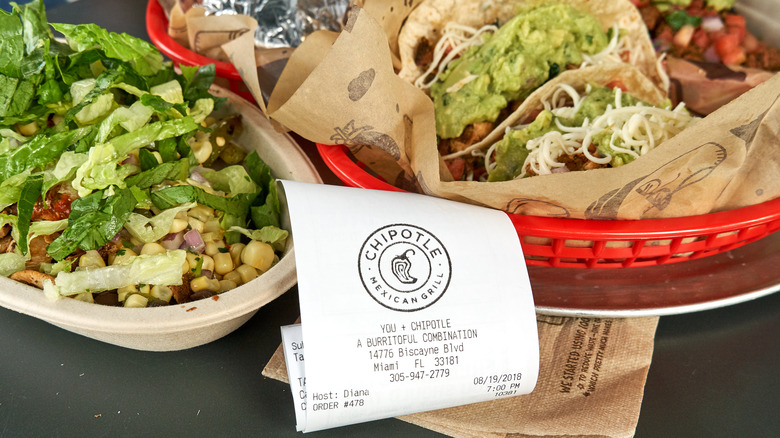 Shutterstock
As mentioned before, making a stop at Chipotle is a must this National Avocado Day. On July 31, just place a digital order, through the app or website, and use the code AVO2021 for free guacamole. This deal only works when you order an entrée, and there's a limit of one free guac per order (via Chipotle). When else are you going to get your burrito bowl with free guac?
Other destinations to keep in mind include PokeWorks, which will be offering a free scoop of avocado on your meal if you download their app by July 30, according to Yahoo Entertainment. You can also snag free avocado in your Yoshinoya rice bowl when you use the code AVODAY. That offer is good through August 1.
Another honorable mention includes Rubio's, where you can get a free serving of chips and guac with any purchase, if you're in the Los Angeles area, per the Patch. If Chipotle isn't really your jam and you live on Long Island, you can also get a free side of guac at Moe's on Saturday, once you download their app (via Instagram). Is it appropriate to say ... holy guacamole?
How to celebrate at home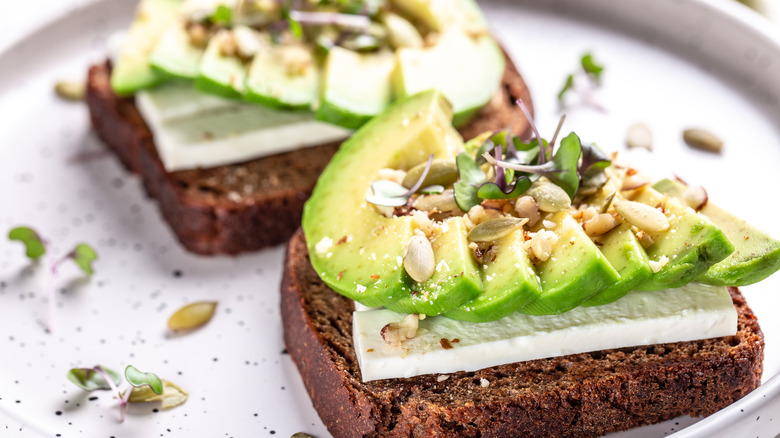 Shutterstock
Don't want to leave the house, but still want to celebrate this fruit? El Pollo Loco is having a giveaway on its Instagram, where you can comment an avocado emoji for a chance to win free chips and guac for a month in August. The company is also partnering with Avocados from Mexico to give some lucky Loco Rewards members a free serving of chips and guac every day during the month of August, according to Today.com. So if you aren't already a member, you're going to want to get on that soon. If you purchase a meal from El Pollo Loco between now and July 31 using Loco Rewards, you'll be entered for a chance to win.
Chosen Foods is celebrating National Avocado Day our favorite way: with a sale of 40%, per the website. The shop offers cooking sprays, oil, sauces, and more. They are also having a special "12 Days of Avocado" extravaganza, and are releasing one avocado recipe a day.