Peach Crumble Bars Recipe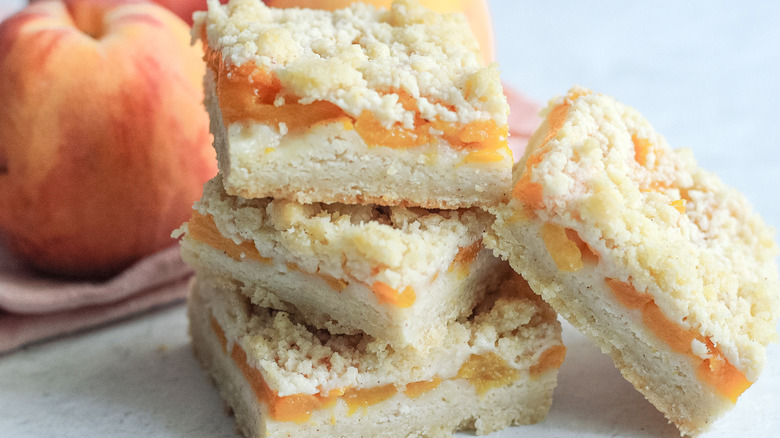 Jessica Morone/Mashed
If you haven't taken a bite of a juicy summer peach yet, stop what you're doing and go and buy seven peaches – one to eat and six for this recipe! Ripe, fresh peaches aren't around all year, so you should definitely take advantage of them when they are in abundance. Jessica Morone, recipe developer and food blogger at Jess Loves Cooking, is always baking something new. Her peach crumble bars are at the top of our summer baking list, so you'll want to read on for the recipe.
Morone remarks, "I made these with peaches because they are my absolute favorite fruit." In case your heart lies elsewhere, she says, "I have definitely made similar versions with other fruits." You might have to try other variations as the available seasonal fruits change. Nonetheless, the juicy tangy flavors of peaches are a definite match for the tasty crust and crumble, so you'll want to start off with Morone's rendition. Enjoy these bars as a sweet snack or serve them up with ice cream or whipped cream to impress! 
Gather the ingredients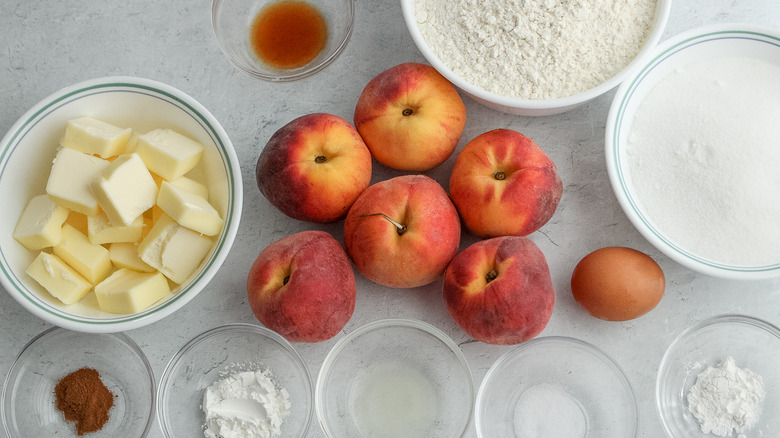 Jessica Morone/Mashed
The base and crumble are made from the same ingredients – you'll just have to press them into the pan for the base and sprinkle them on top for the crumble. All-purpose flour helps create a denser base and add texture to the crumble. It's complemented by granulated sugar to sweeten the mixture. The two are combined with baking powder, which creates a light consistency, some salt to enhance the flavors, and cinnamon, because the warm earthy spice is a match made in heaven with peaches. Finally, the base and crumble require cold butter and eggs to bind the ingredients, creating a rich texture that melts in your mouth. A splash of vanilla heightens the overall taste in a subtle yet fundamental manner. 
The peach mixture is basic and only requires three ingredients. You'll need peaches, of course – ripe yet somewhat firm peaches are preferable. Peel them for a smooth and silky texture. Next, lemon juice adds some tanginess to balance out the sweet peaches. Cornstarch helps to thicken the liquid from the peaches so that the bars don't collapse into a juicy (albeit delicious) mess. 
In case you come across this recipe but can't get your hands on fresh ripe peaches, Morone notes that "You can easily swap in other fruit (like mixed berries or cherries, for example) into this recipe instead of peaches." She advises to replace them with, "about five cups of whatever fruit you want to use."
Mix the flour, sugar, baking powder, salt, cinnamon, butter, egg, and vanilla in a stand mixer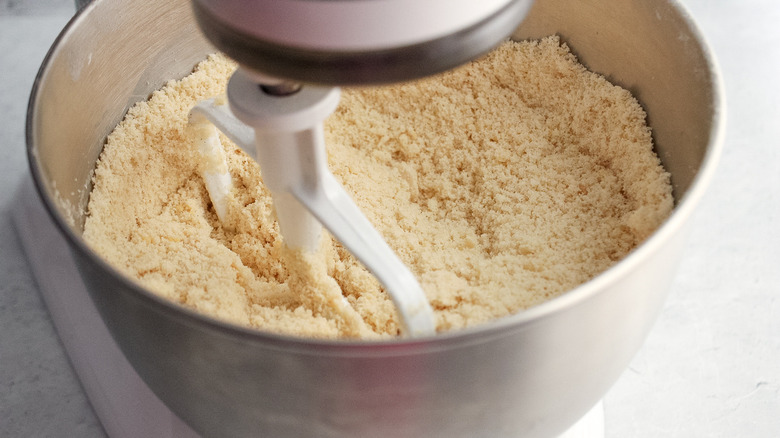 Jessica Morone/Mashed
First things first: preheat your oven to 350 degrees Fahrenheit and line a 13x9-inch pan with parchment paper, or alternatively, grease it lightly. Set the pan aside for now until your dough is ready. Next, fit your stand mixer with the paddle attachment and mix the flour, 1 cup of granulated sugar, baking powder, salt, and half a teaspoon of cinnamon to combine. Make sure your butter is cold, then cut it into tablespoons and add it into the stand mixer bowl. Continue to mix the contents until they look like coarse crumbs. Crack the egg into the bowl and add a splash of vanilla extract, still mixing until the dough just holds together, retaining a crumbly consistency.
While a stand mixer simplifies this task, Morone confirms it's not mandatory and says, "You could use a hand mixer, or you could also pulse everything together in a food processor until crumbly." If you have more patience, she remarks that "You could also use a pastry cutter, or two forks to crumble everything together, but those will take a lot longer."
In a bowl, mix the peaches, cornstarch, sugar, and cinnamon, then pour in the lemon juice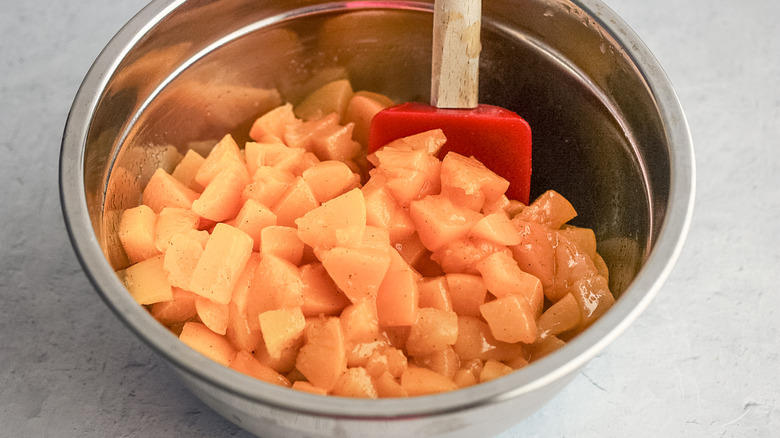 Jessica Morone/Mashed
Next, set out a medium-sized bowl and combine the peeled and diced peaches with the cornstarch, the remaining half cup of sugar, and half a teaspoon of cinnamon. Stir everything so that the peaches are properly coated with the dry ingredients. Finally, pour the lemon juice over the peaches. 
Press half of the dough onto the prepared baking pan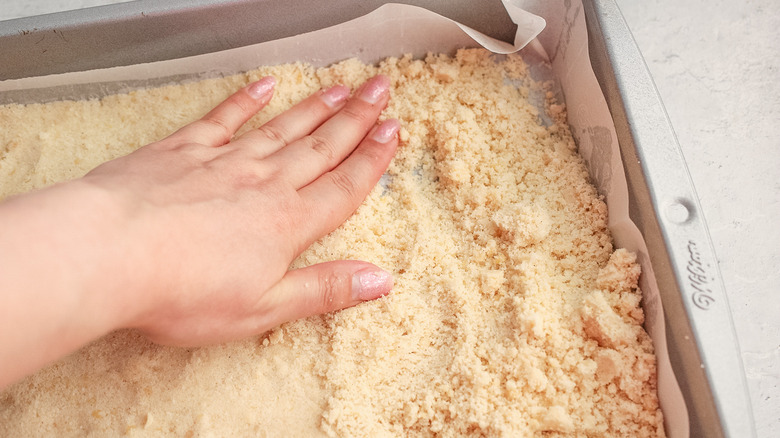 Jessica Morone/Mashed
Grab the pan you prepared earlier, and pour half of the dough onto the parchment paper. Using your hands, press the dough into the pan until an even layer forms from corner to corner. This will be the base crust for your peach crumble bars, so be sure not to leave any thin spots where the fruit mixture could seep through.
Spread the peach mixture evenly across and crumble the remaining dough on top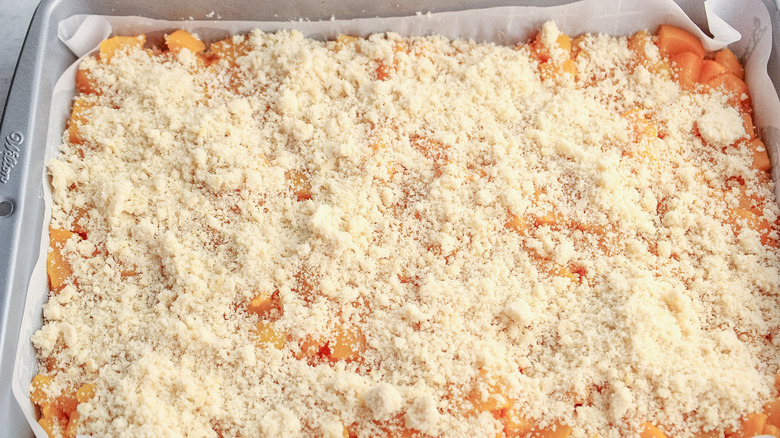 Jessica Morone/Mashed
With the help of a spoon or spatula, spread the peach mixture evenly on top of your base crust. Finally, sprinkle the remaining dough mixture evenly across the surface of the peaches to form the crumble topping. Be sure to spread it uniformly over the top so that it can crisp up evenly as it bakes in the oven. 
Bake the bars until golden, then slice them once they are cool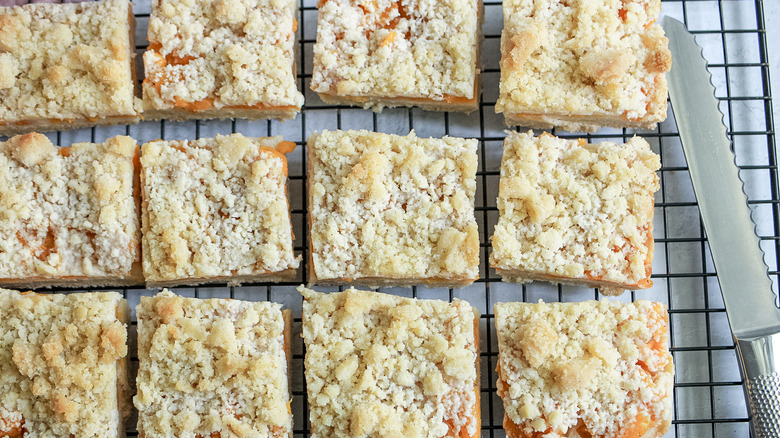 Jessica Morone/Mashed
Pop the pan onto a rack in the preheated oven and bake the bars for 40 to 45 minutes. You'll know they're ready when the crumble topping develops a golden brown color, indicating that the crumble is crispy. By this point the base crust should also be ready. Plus, the peaches will have had plenty of time to cook in their juices with the sugar and cinnamon – yum!
Serve these delicious peach crumble bars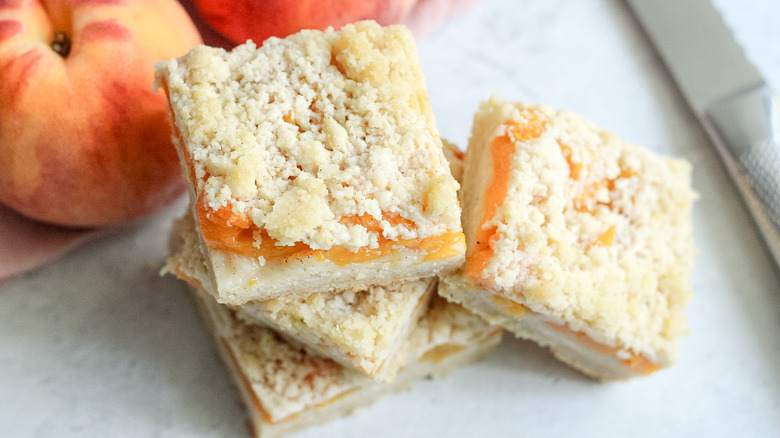 Jessica Morone/Mashed
As tempting as it is to slice right into the bars straight out of the oven, let them cool completely so that they can properly set into a bar-like consistency. Morone recommends, "Whipped cream or ice cream on top of these would taste amazing." You don't have to get fancy with extras though, and she attests that "they taste great without [them] too."
Unless you're serving these at a party, you'll probably (and luckily!) have some leftovers. Morone says, "These should be stored in an airtight container in the refrigerator." Plan to eat them within four to five days (we probably don't need to twist your arm!). 
Peach Crumble Bars Recipe
With fresh, juicy, ripe peaches, this recipe is the ultimate summer dessert, perfect for picnics, backyard barbecues, and afternoon treats.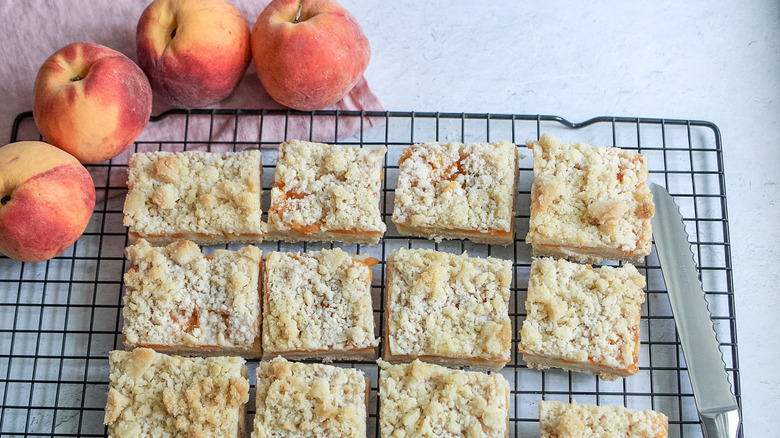 Ingredients
3 cups all-purpose flour
1 ½ cups granulated sugar, divided
1 teaspoon baking powder
½ teaspoon salt
1 teaspoon ground cinnamon, divided
1 cup cold butter, cut into tablespoons
1 large egg
1 ½ teaspoons vanilla extract
6 large peaches, peeled and diced
1 tablespoon cornstarch
1 teaspoon lemon juice
Directions
Preheat the oven to 350 degrees Fahrenheit.
Line a 13x9-inch pan with parchment paper or lightly grease it, then set it aside.
In the bowl of a stand mixer fitted with the paddle attachment or in a large bowl, combine the flour, 1 cup of granulated sugar, baking powder, salt, and ½ a teaspoon of cinnamon.
Add in the cold butter and mix until the mixture resembles coarse crumbs.
Add the egg and vanilla extract to the bowl and continue mixing until the dough just holds together, but is still crumbly.
In a medium bowl, gently toss the peaches with the cornstarch, remaining ½ cup of granulated sugar, and remaining ½ teaspoon of cinnamon until they are coated.
Pour the lemon juice over the peach mixture.
Pour half of the dough into the prepared pan and press it down until an even layer forms.
Spread the peach mixture evenly on top of the crust.
Crumble the remaining dough on top of the peaches.
Bake the bars in the preheated oven for 40 to 45 minutes, until the top is golden brown.
Let the pan cool completely before slicing and serving the bars.
Nutrition
| | |
| --- | --- |
| Calories per Serving | 235 |
| Total Fat | 9.8 g |
| Saturated Fat | 5.9 g |
| Trans Fat | 0.4 g |
| Cholesterol | 33.7 mg |
| | |
| --- | --- |
| Total Carbohydrates | 34.9 g |
| Dietary Fiber | 1.4 g |
| Total Sugars | 19.5 g |
| Sodium | 81.7 mg |
| Protein | 2.8 g |