Why Aaron Rodgers Was Just Offered Free Burgers And Beer For Life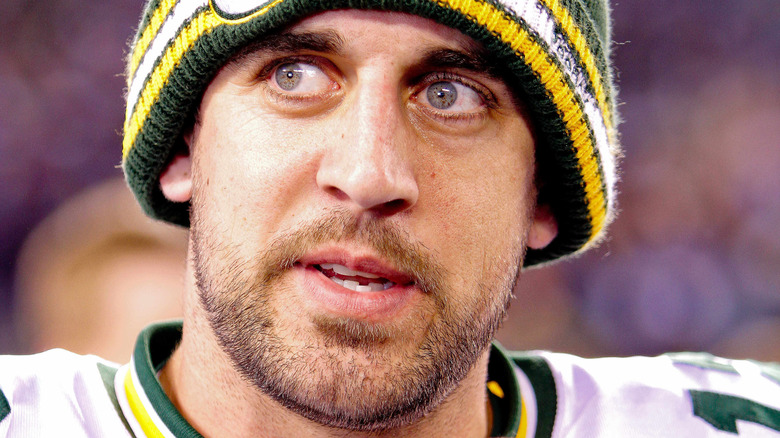 Shutterstock
If you follow football at all, you couldn't have missed all the off-season drama surrounding the man whom many consider to be one of the NFL's biggest divas: the ever-controversial Aaron Rodgers. According to CBS Sports, Rodgers, who's spent his entire career with the Green Bay Packers, was a long-time critic of Packers former head coach Mike McCarthy. (The Dallas Cowboys, where McCarthy's now coaching, don't seem to share his sentiments.) When McCarthy left the team, Rodgers soon grew disenchanted with his replacement, Matt LaFleur. He blamed LaFleur for drafting a backup QB in 2020 instead of the wide receiver he wanted, and apparently also felt that the head coach's play calling cost the Packers a Super Bowl berth in 2020.
After several months of speculation about whether Rodgers would come back to the Packers this season or would instead force a trade or retire, the QB did, in fact, report for training camp (per ESPN). Packers fans, however, have mixed feelings about his return. According to ESPN, a bar in Manitowoc, Wisconsin, the heart of green and gold territory, has named a tap in Rodgers' "honor": Cry Baby 12. In Green Bay, however, the entire city has a vested economic interest in ensuring Rodgers doesn't walk off in a huff before the season begins. According to a press release received by Mashed, the Wisconsin-based restaurant chain Mr. Brews Taphouse has offered Rodgers free food and beer for life, but only if he agrees to certain terms.
Rodgers has to agree to stay in Green Bay if he wants to eat for free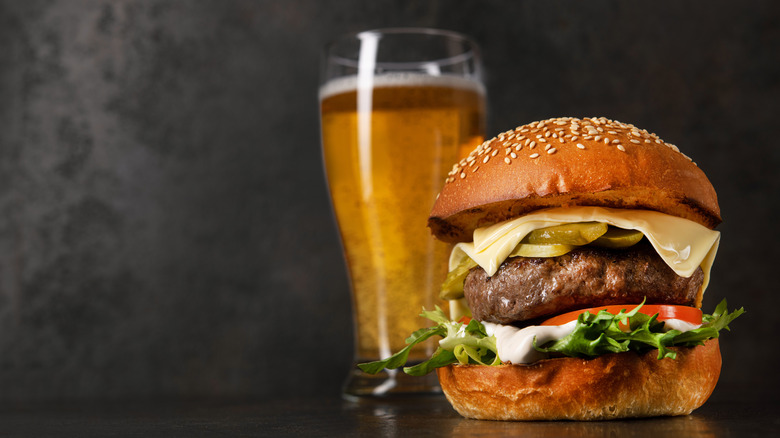 Shutterstock
This offer from Mr. Brews comes on the heels of a similar offer from another Wisconsin chain, Culver's, of free food (via Twitter) to Giannis Antetokounmpo. The Milwaukee Bucks star recently led his team to an NBA championship, and this hometown hero's money is no good in Wisconsin at present (except, perhaps, at Chick-fil-A, where an employee joked that they're holding out for back-to-back championships, per the Milwaukee Journal Sentinel). The offer to Antetokounmpo's came with no strings attached, but that's not the case with the one extended to Rodgers. While Rodgers and a plus-one (currently actress Shailene Woodley) could eat and drink for free at any Mr. Brews location, not just the Green Bay one, this will only happen if he finishes out his NFL career in a green and gold uniform.
As Mr. Brews Taphouse founder and CEO Steve Day explains, "Not only is [Rodgers] coming off yet another MVP season, but he is the face of our beloved franchise. We aren't in a position to renegotiate his contract, but we can offer him and Shailene a delicious meal and great brews whenever they like!" Will Mr. Day's offer cut any ice with the Packers QB? Considering the fact that he turned down a contract extension worth millions (via Fox 6) that would have kept him with the team for five more years, we're inclined to speculate that a few free beers and burgers aren't going to do the trick.