NBA Star Giannis Antetokounmpo Celebrated His Recent Win With This Massive Chick-Fil-A Order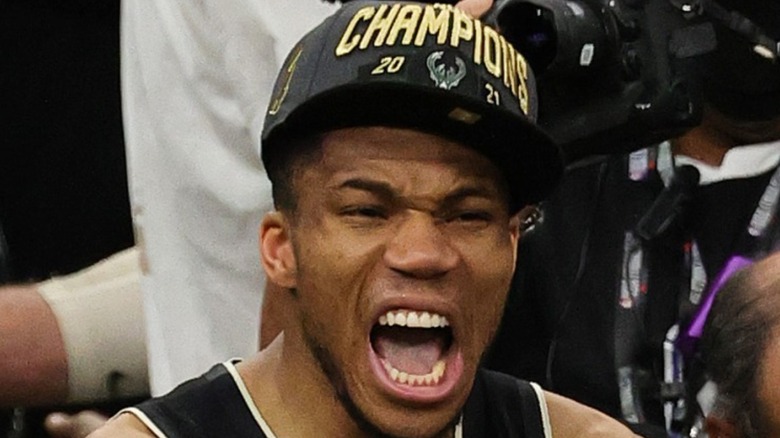 Jonathan Daniel/Getty Images
On June 20, 2021, history was made in Milwaukee, Wisconsin. For the first time in 50 years, the Milwaukee Bucks were world champions! To the resounding cheers of "Bucks in Six," the Milwaukee Bucks won game six of the NBA finals and claimed the NBA Championship Trophy (via Milwaukee Journal Sentinel). While there were more than a few times when the Bucks' championship hopes and dreams seemed to fade, once the final game of the post-season got underway, there was never any doubt as to who its MVP would be. 
Giannis Antetokounmpo, the Greek-born son of Nigerian immigrants, captured the hearts of the entire city of Milwaukee ever since he joined the team back in 2013, but when he practically single-handedly stole the game away from the Phoenix Suns by scoring an unbelievable 50 points ... Well, at this point he may well be the biggest (at 6 foot 11, according to ESPN, quite literally the biggest) hero the city has ever seen. So what do you do when you're the basketball champion of the world? Do you make like a Super Bowl MVP and shout out "I'm going to Disney World!"? Not if you're the super-relatable hero of an underdog city, you don't. Instead, as Milwaukee's Fox 6 News reports, you head for the drive-thru at your favorite fast-food restaurant. 
This larger-than-life sports hero ordered an unbelievably large meal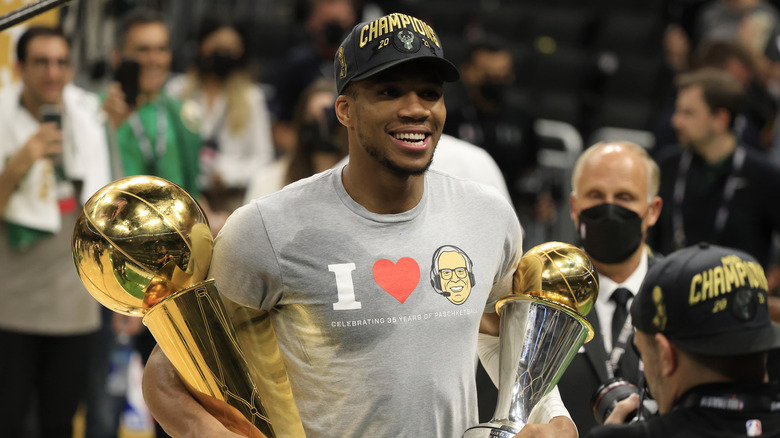 Justin Casterline/Getty Images
Unbelievable though it may seem, Antetokounmpo, after not sleeping a wink after the most important night of his life, made a Wednesday morning swing through the drive-thru of a Brookfield, Wisconsin Chick-fil-A. Fox 6 News says that the athlete and his family have been to this particular Chick-fil-A many times before, so the staff recognize his SUV. This visit, however, was the first time he brought along his "new babies" — not only his MVP trophy, but the NBA Championship trophy. While Antetokounmpo joked in an Instagram video that he "stole" the latter trophy, it was actually alright since the Bucks organization tweeted that he'd been allowed to keep it overnight.
Antetokounmpo must have been incredibly hungry after his all-nighter, since he ordered an insane amount of food — 50 Chick-fil-A chicken nuggets, one for each point he'd scored in the previous night's championship game. Oh, and he also asked for a large drink to wash them all down with. No word as to whether the basketball star actually drank his beverage out of either trophy, nor as to whether he finished all of the nuggets himself. Antetokounmpo is a real sweetheart off the court, though, so we're guessing he probably shared some of them with his family.
Could Chick-fil-A be adding a new combo to the menu?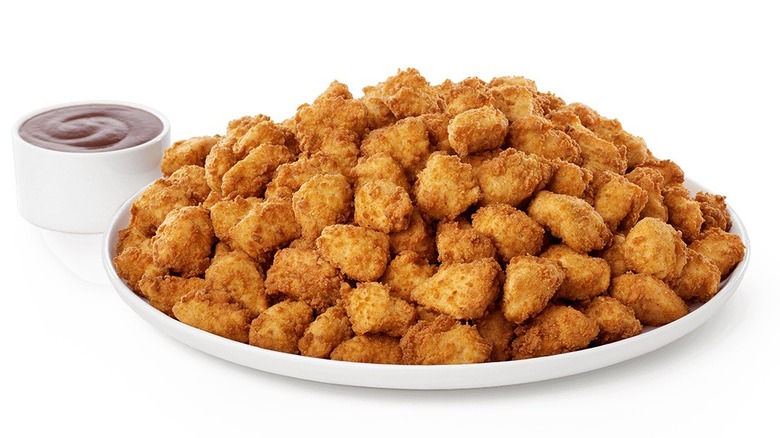 Chick-fil-A
Some fans have been calling for Chick-fil-A to add "The Giannis" to their menu, perhaps as the #34 combo in honor of his jersey number. As one person tweeted, "If @ChickfilA was smart, they'd create the @Giannis_An34 meal. 50 piece with large drink, no ice, half sprite/half lemonade." Another Twitter user agreed, "The 'Giannis 50 piece nugget special' has a nice little ring to it, @ChickfilA." Sports Entertainment even suggested the addition of a Greek yogurt parfait in honor of the "Greek Freak," as Milwaukee calls their favorite adopted son.
Chick-fil-A management has yet to comment on any menu changes, and they've also joked that they won't comp Antetokounmpo free Chick-fil-A for life until the Bucks win back-to-back championships. The workers at the Brookfield Chick-fil-A were beyond thrilled with his morning-after visit, though. As their business director Jared shared with Fox 6 News, "He could've went to any restaurant, and he decided to choose ours, so that's really humbling and just cool to be able to experience that and share it with him."