Fresh Salmon Burgers Recipe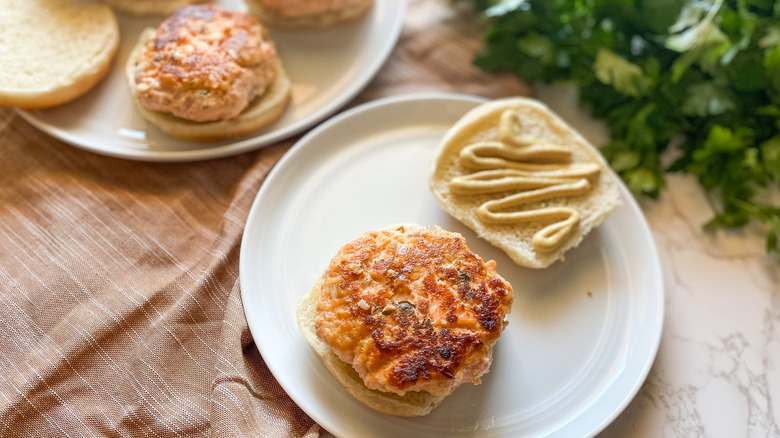 Kristen Carli/Mashed
If you love salmon and you love burgers, then this recipe is right up your alley! These burgers are made with fresh salmon and served on buns, making them the perfect alternative to your traditional hamburger or turkey burger. In addition to fresh salmon, this recipe is filled with other tasty ingredients including onion and capers, both of which also add a lot of flavor to these patties. Registered dietitian and recipe developer Kristen Carli came up with this delicious recipe that has so many pluses. She shares that her favorite part about these burgers is the fresh factor. "​​I love the fresh salmon with Dijon and capers — so bright and delicious!" Carli raves. We must admit, we do love a dish that looks and tastes good.
While there's no doubt that these would be great served as a family dinner, there are several other ways to serve up these burgers, including at a family BBQ. They are also good for meal prep and Carli says that you can make the patties ahead of time and freeze them. 
Keep scrolling to find out how to make these yummy salmon burgers.
Gather the ingredients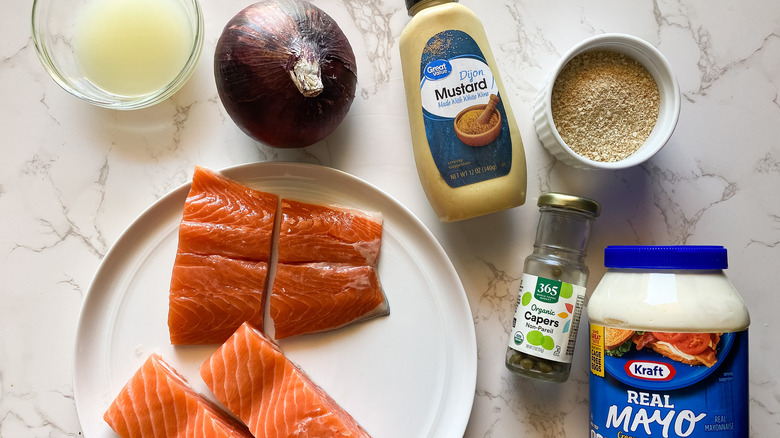 Kristen Carli/Mashed
For the first item on the list, you will need boneless, skinless salmon fillets. In addition, get some Dijon mustard and mayo. Both of these will be mixed in with the patties and give the burgers a lot of flavor. The recipe also calls for bread crumbs, red onions, and capers. Like with most salmon recipes, you will need a little lemon juice and some olive oil.
Last but not least are buns, which you will use for serving. Feel free to use whatever bun you love most, like white or wheat. If you do not want to use a bun because of an allergy restriction, then it's fine to omit it.
Cut the salmon and load the food processor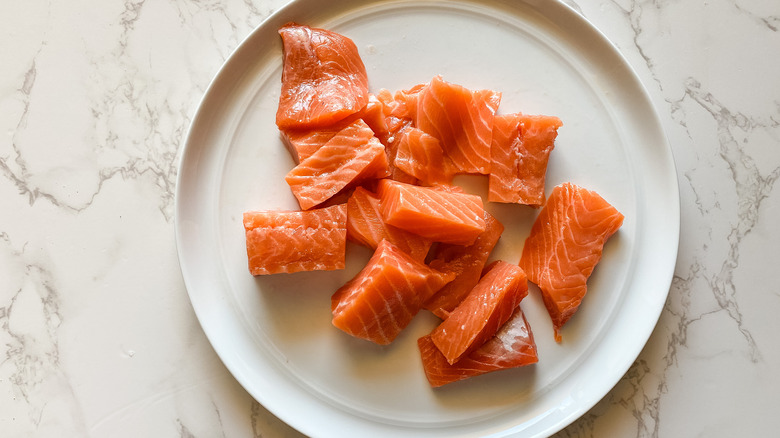 Kristen Carli/Mashed
For the first step, take out your salmon. Since you got boneless, skinless salmon, it should be pretty easy to work with. First, cut the salmon into chunks — this makes it easier when you blend the salmon in the food processor.
Next, take out your food processor and add a few items. First, you want to toss in the salmon chunks, followed by the mustard and mayo. At this time, you can also add the onions, capers, and lemon juice. Once you have all of the items loaded in the food processor, it's time to move onto the next step! 
Blend the mixture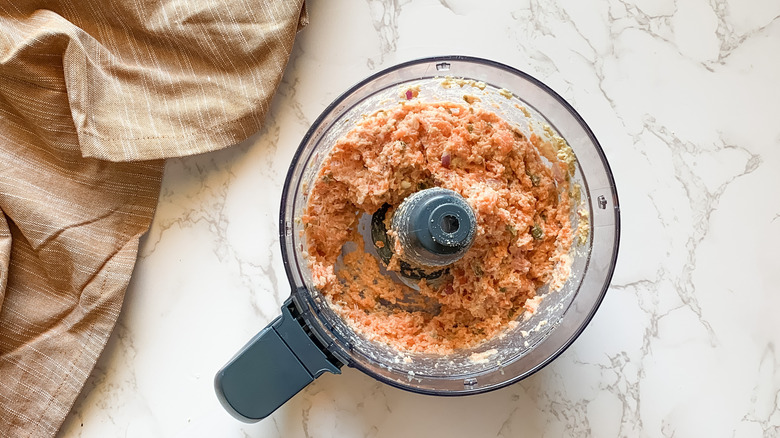 Kristen Carli/Mashed
Okay, it's time to get mixing! Process everything until it's well combined. The great part about a food processor is that it does the nitty gritty work for you and makes turning large pieces of salmon into burger-like meat really simple.  
When you finish processing, the mix should look similar to ground beef or chicken, though it should have somewhat of a chunkier texture. Make sure that you don't blend the mix until it's completely smooth because if the mix gets too thin, then it will be hard to form into patties. 
Form into patties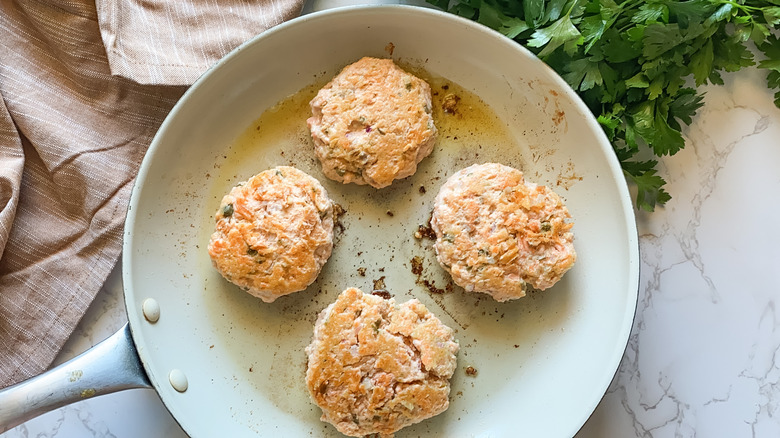 Kristen Carli/Mashed
After you blend the salmon, it's time to form it into patties. In this recipe, there should be enough mixture to form four equal patties. Split the mixure into four separate pieces and simply form them the same way you would do with a burger made with ground chicken or ground beef.
Next, take out a large cooking pan that is big enough to fit all of the patties. Turn the heat to medium-high and add the olive oil. Once the oil is hot enough, cook the patties on each side for about 4 to 5 minutes.
Serve and enjoy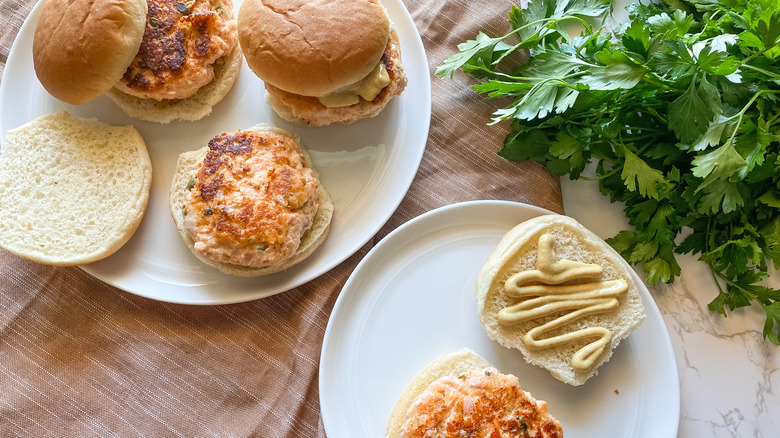 Kristen Carli/Mashed
After you've cooked the salmon patties on both sides, you can take them off the heat. Feel free to serve as you please, adding whatever toppings you desire. Lettuce and tomato are just two suggestions, but the possibilities are endless. "I love these served on buns but [the patties] would be delicious over fresh arugula and tomatoes in a salad," Carli suggests. This is a great, low-carb option. Leftovers will keep for two days in an airtight container. You can also make them ahead and freeze for easy meal prep. 
We hope you enjoy these as much as we do!
Fresh Salmon Burgers Recipe
These fresh salmon burgers are ready in no time, and are perfect for a weeknight meal or backyard BBQ. Top them however you want to make them your own!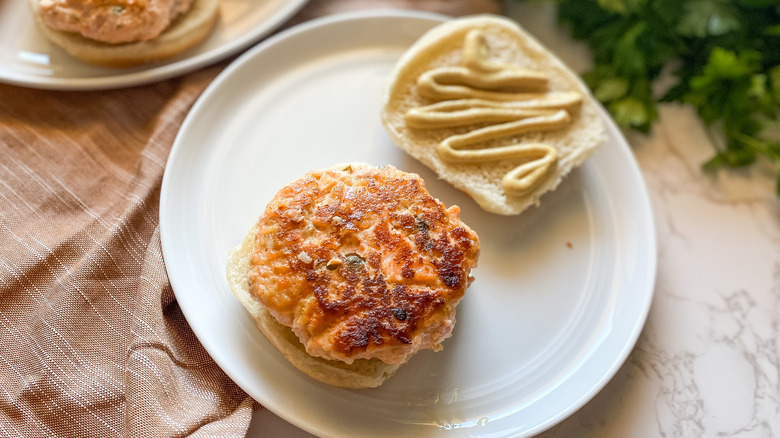 Ingredients
1 ½ pounds boneless skinless salmon fillets
1 teaspoon Dijon mustard
1 teaspoon mayo
½ cup breadcrumbs
¼ red onion, diced
1 tablespoon capers, drained
¼ cup lemon juice
1 tablespoon olive oil
buns, for serving
Directions
Cut the salmon into chunks.
In a food processor, add the salmon chunks, mustard, mayo, breadcrumbs, onion, capers, and lemon juice.
Process until combined but not quite smooth.
Form the mixture into 4 patties.
Heat a large skillet over medium heat. Add the olive oil.
Once the oil is hot, add the patties. Cook for 4 to 5 minutes on each side.
Serve the patties on buns with desired toppings.
Nutrition
| | |
| --- | --- |
| Calories per Serving | 482 |
| Total Fat | 28.3 g |
| Saturated Fat | 6.1 g |
| Trans Fat | 0.0 g |
| Cholesterol | 94.0 mg |
| | |
| --- | --- |
| Total Carbohydrates | 16.9 g |
| Dietary Fiber | 1.1 g |
| Total Sugars | 2.2 g |
| Sodium | 323.4 mg |
| Protein | 37.8 g |