Crispy Chilli Tofu Recipe
Catherine Brookes/Mashed
Tofu is easily one of the most versatile foods in the world. The plant-based protein can be eaten raw, steamed, baked, or fried — just about any way imaginable! Plus, you can enjoy tofu with minimal seasoning, or dress it up with sauces and dips, making it easy to work with and undeniably appetizing to consume.
Although tofu is a versatile and tasty food, many people tend to steer clear of it because they think it's bland or boring. With the right preparation, though, this couldn't be farther from the truth, and recipe developer Catherine Brookes proves exactly that with her crispy chilli tofu recipe. Brookes, who is the developer behind Blue Sky Eating, recognizes that the secret to perfect tasting tofu is in the sauce — the sweet chilli sauce, that is! "The sauce is full of flavor, and the crispy texture makes the tofu really delicious," Brookes says of the recipe. Also, since this recipe is both vegan and gluten-free, it's a great option for those who require dietary substitutions.
Much like chicken, beef, and other common "main dish" foods, tofu is jam-packed with protein and nutrients, making it an easy dinner go-to. While plain tofu may be a bit drab, this crispy chilli tofu is anything but boring. Give it a try to see for yourself!
Gather the ingredients to prepare crispy chili tofu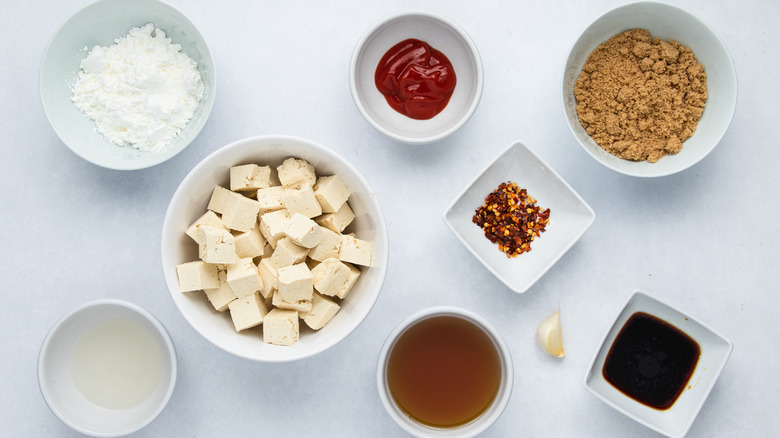 Catherine Brookes/Mashed
This crispy chilli tofu is easy to make, and best of all, lots of the ingredients are likely already sitting in your pantry. For starters, you'll need to grab a block of firm tofu. You'll also need cornstarch to coat the tofu and for the sweet chilli sauce, as well as sesame oil for both frying and to go in the sweet chilli sauce. Speaking of the sauce, you'll need a few more ingredients for that too, including brown sugar, minced garlic, chilli flakes, ketchup, soy sauce, rice vinegar, and water. Brookes also recommends serving with white rice and green onion, although you can enjoy the crispy chilli tofu on its own as well.
Start by preparing your tofu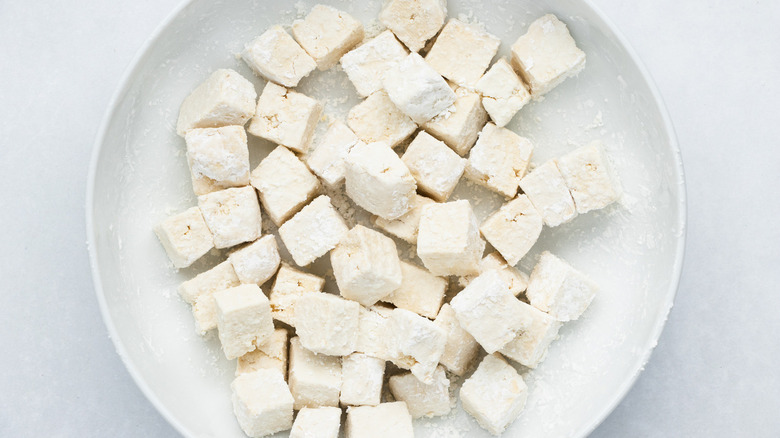 Catherine Brookes/Mashed
To get started on this recipe, you'll want to give some attention to the tofu. First, drain and press the tofu block to remove excess liquid. You can use a tofu press, or you can simply place the tofu block on some paper towels, and use something heavy, like a cutting board or a pan, to press down. Press down enough to drain the liquid, but be careful not to press so hard that the tofu crumbles and breaks.
Once you've finished draining the tofu, go ahead and cut the block up into bite-sized cubes. Then, place the cubes into a shallow dish, and add in 3 tablespoons of cornstarch, tossing until each piece of tofu is evenly coated. Then, you can set the tofu aside.
Make the sweet chilli sauce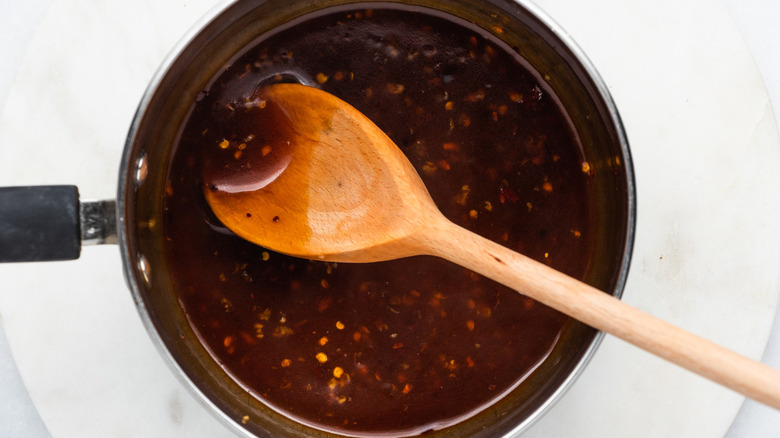 Catherine Brookes/Mashed
Now that the tofu is prepped, you can get started on the sweet chilli sauce. First, put a saucepan over medium-high heat on the stovetop. Add in the brown sugar, garlic, cornstarch, sesame oil, chilli flakes, soy sauce, ketchup, rice vinegar, and water, then give all these ingredients a thorough stir. Allow your sauce to heat up to a boil, at which point you can reduce the heat so your sauce is at a simmer. Let your sauce simmer for about five minutes, stirring occasionally. You'll know that your sauce is ready once it gets nice and thick.
Fry the tofu cubes in sesame oil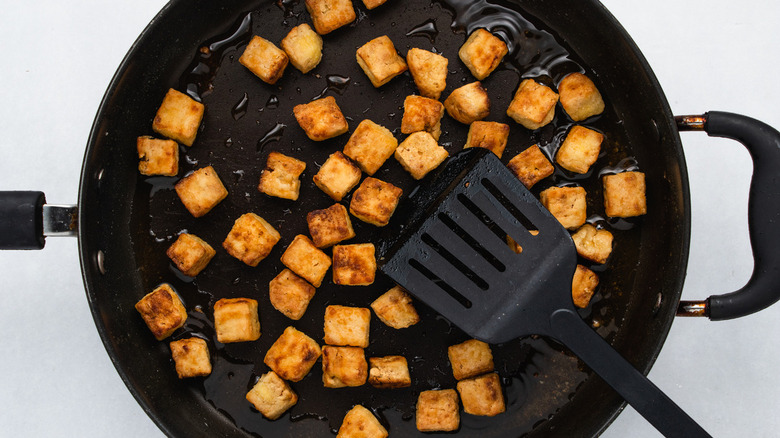 Catherine Brookes/Mashed
As you finish up with the sweet chilli sauce, you can prepare to fry the tofu cubes. In a large frying pan on the stovetop, heat the remaining sesame oil. Then, add in your tofu chunks, and begin cooking on medium heat — be sure that the tofu is in an even, singular layer. You'll cook the tofu for about 15 minutes in total, though you'll want to keep an eye on it and flip each cube occasionally to ensure that they get crispy on each side. Once each side of the tofu chunks is crispy and slightly browned, you'll know that it's done cooking.
Drain excess oil from the tofu, then add it to the saucepan with the sweet chilli sauce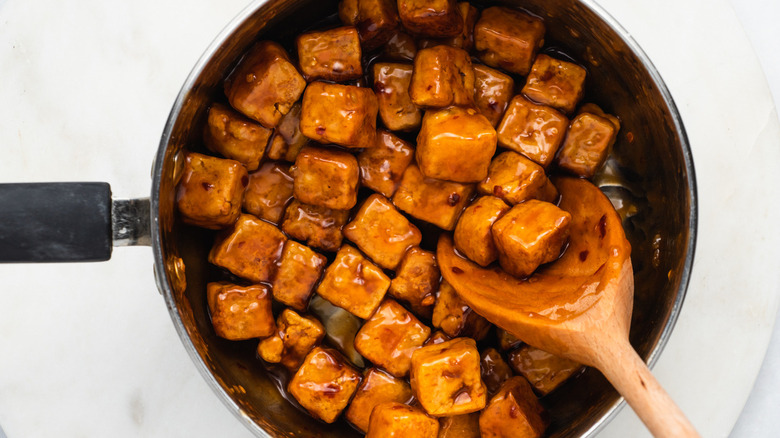 Catherine Brookes/Mashed
After your tofu has finished cooking, carefully transfer the cubes to a layer of paper towels so excess sesame oil can drain out. Then, gather up the tofu cubes, and put them all right into the saucepan with your sweet chilli sauce. Give the contents of your saucepan a good stir so each tofu cube is evenly coated in the sauce. Then, you're ready to serve!
Serve with rice, green onion, and enjoy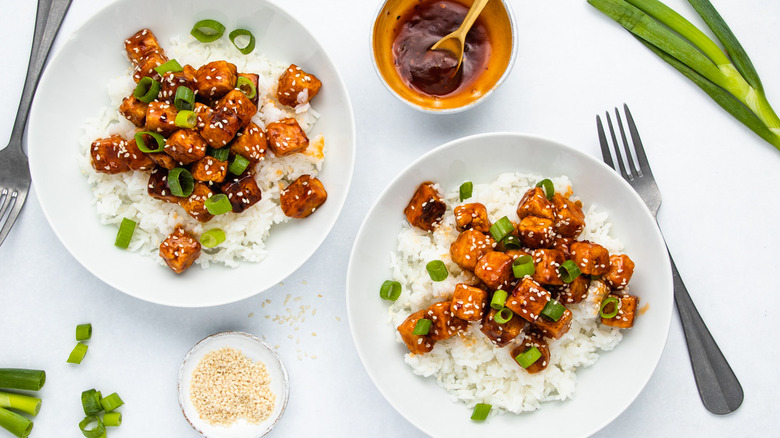 Catherine Brookes/Mashed
Once you've mixed the tofu and sweet chilli sauce together, you can serve it on top of white rice, garnish with green onion and sesame seeds, and enjoy! Brookes notes that this crispy chilli tofu also pairs well with noodles, so you can opt for those if your not much of a rice person. No matter how you serve it, this tofu provides an explosion of flavors, both sweet and spicy, along with impeccable crispiness. It's best to enjoy this recipe fresh, so it would be perfect to prepare as a dinner for two. Even those who don't typically opt for tofu can't resist the unbeatable flavor in this crispy chilli tofu recipe, and with such simple ingredients and quick preparation time, this will become a recipe that you cycle back to again and again!
Crispy Chilli Tofu Recipe
The sweet and spicy sauce in this crispy chilli tofu recipe is jam-packed with flavor.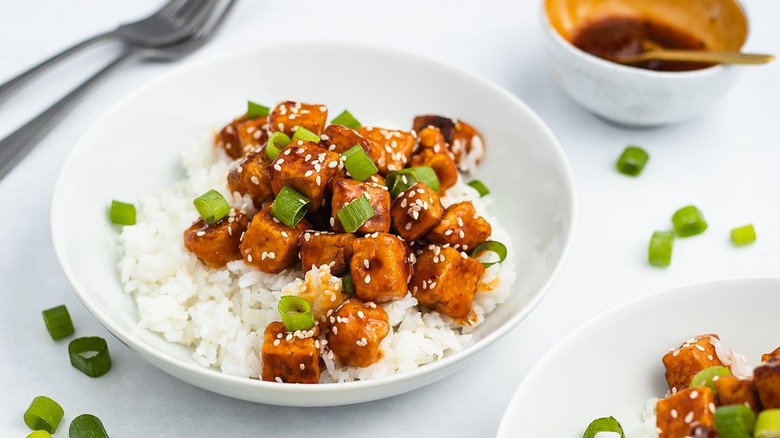 Ingredients
1 (10-ounce) block firm tofu
3 tablespoons + 2 teaspoons cornstarch, divided
4 tablespoons + 1 teaspoon sesame oil, divided
¼ cup brown sugar
1 clove garlic, minced
¼ to ½ teaspoon chili flakes (depending on how spicy you want it)
1 tablespoon soy sauce
1 tablespoon tomato ketchup
1 tablespoon rice vinegar
½ cup water
Directions
Drain and press the tofu to remove the excess liquid.
Slice the tofu into cubes.
In a shallow dish, toss the tofu in 3 tablespoons of the cornstarch until every piece is well coated. Set aside.
Make the sweet chilli sauce by adding the brown sugar, minced garlic, 2 teaspoons of cornstarch, 1 teaspoon of sesame oil, chili flakes, soy sauce, ketchup, rice vinegar, and water to a saucepan. Heat until it begins to boil, stirring constantly, and then reduce to a simmer. Let it simmer until thickened, about 5 minutes.
Heat the remaining 4 tablespoons of sesame oil in a large frying pan.
Fry the tofu for about 15 minutes on medium heat until golden and crispy. Make sure to turn each piece frequently so every side gets nice and crisp.
Transfer the tofu to a plate lined with a paper towel to soak up some of the excess oil.
Add the tofu to the saucepan containing the sweet chilli sauce, and stir together.
Serve with rice or salad, sliced spring onion, and sesame seeds, if desired.
Nutrition
| | |
| --- | --- |
| Calories per Serving | 607 |
| Total Fat | 41.9 g |
| Saturated Fat | 6.0 g |
| Trans Fat | 0.0 g |
| Cholesterol | 0.0 mg |
| | |
| --- | --- |
| Total Carbohydrates | 40.5 g |
| Dietary Fiber | 3.5 g |
| Total Sugars | 19.5 g |
| Sodium | 545.6 mg |
| Protein | 23.3 g |