Healthy Turkey Reuben Sandwich Recipe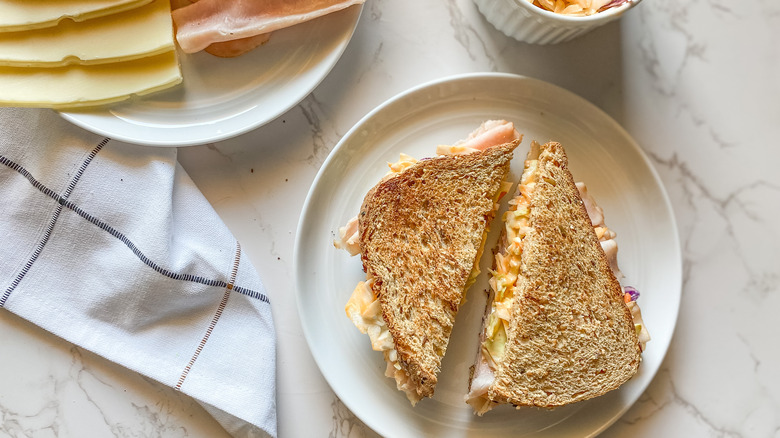 Kristen Carli/Mashed
A Reuben is one of the most popular sandwiches that you can order at a restaurant or your local sandwich shop. The original is filled with corned beef or pastrami, sauerkraut, Swiss cheese, and a Russian dressing. It's traditionally served on rye bread, and it's incredibly delicious. Recipe developer and private practice registered dietician Kristen Carli opted to do her spin on the traditional Reuben, keeping the cheese true to its roots and sticking with Swiss — because who doesn't love Swiss cheese? Carli opted to add healthier items for her spin, including coleslaw instead of sauerkraut and turkey instead of corned beef or pastrami. Trust us — this definitely gives the real Reuben a run for its money, and it tastes oh-so-fresh and oh-so-delicious.
While there are so many great things about Carli's spin on the sandwich, one of the things that she says she likes the most is the fact that it's healthier. "I love the turkey instead of pastrami for a healthier twist," she shares. This would be great to serve at lunch or dinner, and it will definitely please your guests. The recipe also makes four servings, meaning it's perfect for a crowd. Keep reading to find out how to make this fantastic sandwich.
Gather the ingredients to prepare this healthy turkey Reuben sandwich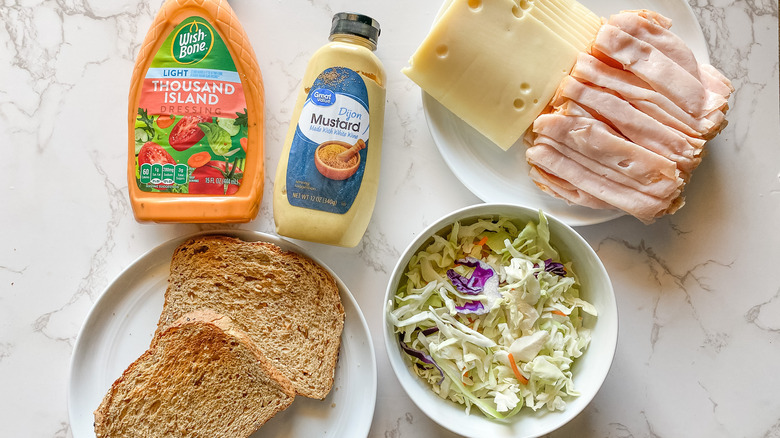 Kristen Carli/Mashed
For the first step in the process, make a grocery list to see what you need in order to pull together this delightful sandwich. You may be in luck and already have some necessary items at home. You will need 1 cup of coleslaw cabbage for starters, which provides the sandwich with the ultimate crunch. Light Thousand Island dressing and whole grain bread should also be on your list. In addition, you will need Dijon mustard and low-fat Swiss cheese. The last item you will need to purchase is thinly sliced deli turkey breast. Once you have everything, it's time to move onto the next step.
Mix the cabbage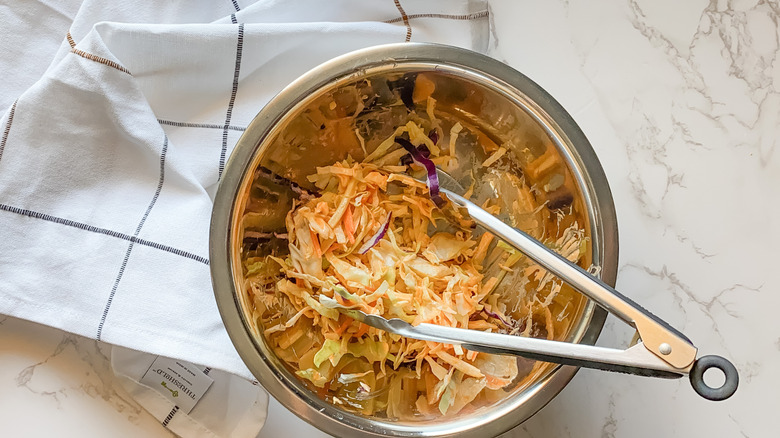 Kristen Carli/Mashed
Okay, let's get this cooking party started. The first part is super simple and involves making the cabbage slaw. For starters, you'll need to take out a medium-sized bowl that is big enough to fit in the cabbage. Add the coleslaw cabbage into the middle, followed by the Thousand Island dressing. Using a pair of tongs to mix the sauce and the coleslaw. The Thousand Island dressing gives the crunchy coleslaw a nice flavor that elevates this dish. It also gives the sandwich a little bit of color, making it very visually appealing as well for any pictures you'd like to snap and post on the 'gram.
Toast the bread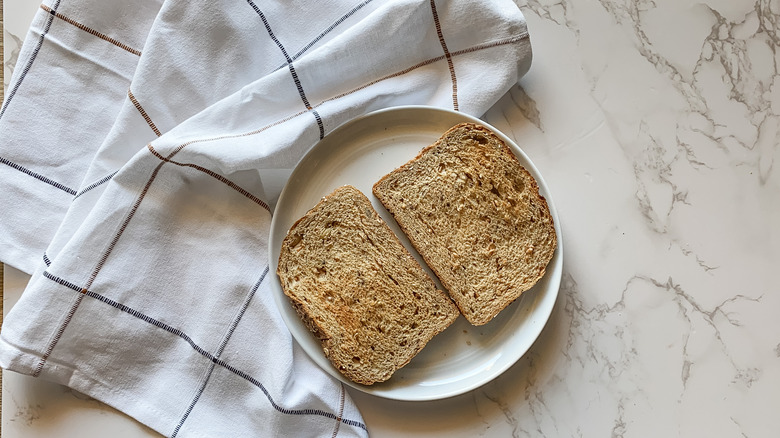 Kristen Carli/Mashed
Once you have the coleslaw mixed, it's time to get the bread ready. Take out a traditional toaster or a toaster oven, and place in it the whole grain bread, working with a few pieces at a time, depending on how big your toaster is. Put the toaster setting to what you usually do to make your toast — it just depends on your personal preference and whether you like it more well-done or on the lighter side. Once you've toasted each piece, you can get ready to build your masterpiece.
Build the Reuben sandwich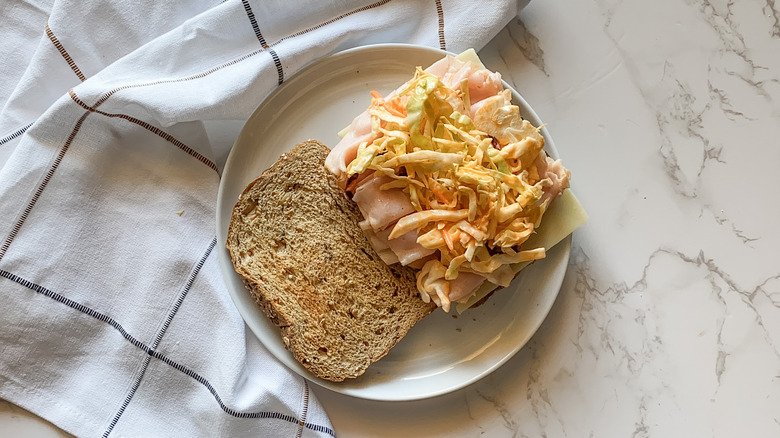 Kristen Carli/Mashed
It's the moment you have been waiting for! It's time to put together your delicious turkey Reuben sandwich. First, spread a tablespoon of Dijon mustard on each side of the bread. Then, layer it with two slices of Swiss cheese, followed by four slices of turkey. Repeat the same steps with each of your four sandwiches. Then, place the coleslaw mixture on top of the turkey. Now, you can set the top piece of bread and close the sandwich. 
See, we told you that it would be easy to do! Okay, well there's one more step that you need to take before you get to enjoy this sandwich.
Heat the sandwich, and enjoy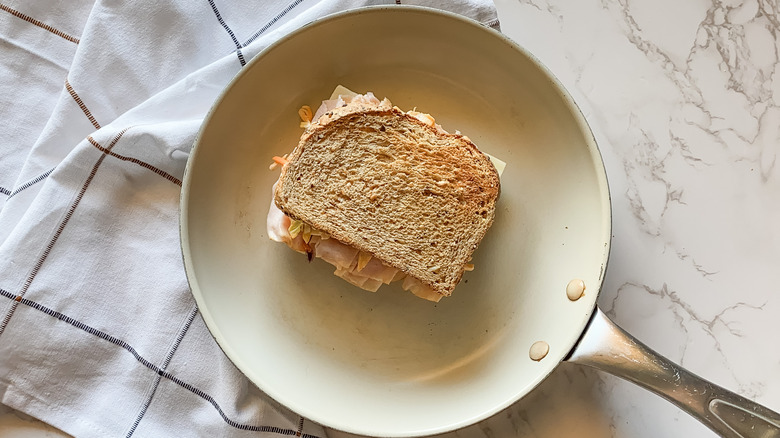 Kristen Carli/Mashed
Take out a skillet, and put it over medium heat. Add one sandwich to it, and cook it for about three minutes on each side until the bread is even more toasted and the cheese is melted. Repeat these steps with each sandwich until you finish. Then, you can slice the sandwich in half, or if you prefer, you can keep it whole to eat.
There are plenty of ways to serve the sandwich. "This would be delicious with chips or fruit as a balanced lunch," Carli says. Unfortunately, leftovers will not keep well, because of the dressing and mustard. 
Healthy Turkey Reuben Sandwich Recipe
This healthy turkey Reuben recipe definitely gives the traditional Reuben a run for its money, and it tastes oh-so-fresh and delicious.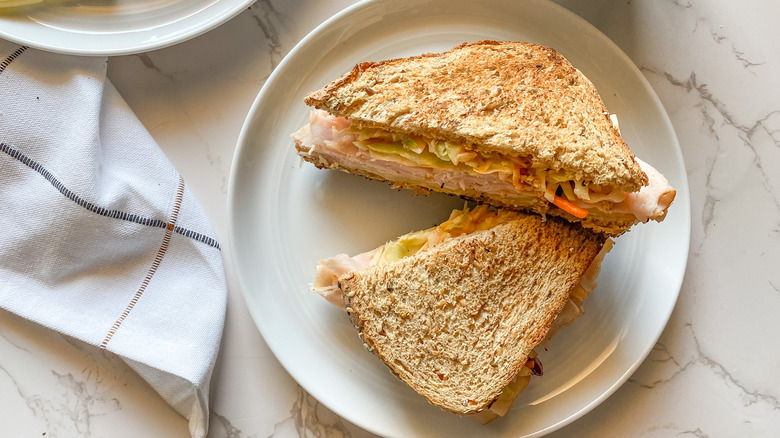 Ingredients
1 cup coleslaw cabbage
¼ cup light Thousand Island dressing
8 slices whole grain bread
8 tablespoons Dijon mustard
8 slices low-fat Swiss cheese
16 slices thinly sliced turkey breast
Directions
In a medium bowl, add the coleslaw cabbage and Thousand Island dressing. Using tongs, mix to combine.
Toast the whole grain bread.
Build sandwiches by spreading 1 tablespoon of Dijon mustard on one side of each sandwich. Layer with 2 slices of Swiss cheese and 4 slices of turkey on each sandwich. Top each sandwich with ¼ cup of the coleslaw mixture. Close sandwiches.
Heat a medium skillet over medium heat. One at a time, add a sandwich to the skillet. Cook each side for about 3 minutes, until the bread is toasted and the cheese is melted. Repeat with remaining sandwiches.
Slice, and serve.
Nutrition
| | |
| --- | --- |
| Calories per Serving | 273 |
| Total Fat | 13.4 g |
| Saturated Fat | 5.0 g |
| Trans Fat | 0.0 g |
| Cholesterol | 75.3 mg |
| | |
| --- | --- |
| Total Carbohydrates | 9.7 g |
| Dietary Fiber | 1.8 g |
| Total Sugars | 2.2 g |
| Sodium | 271.4 mg |
| Protein | 27.0 g |