Giada De Laurentiis' Go-To Birthday Dessert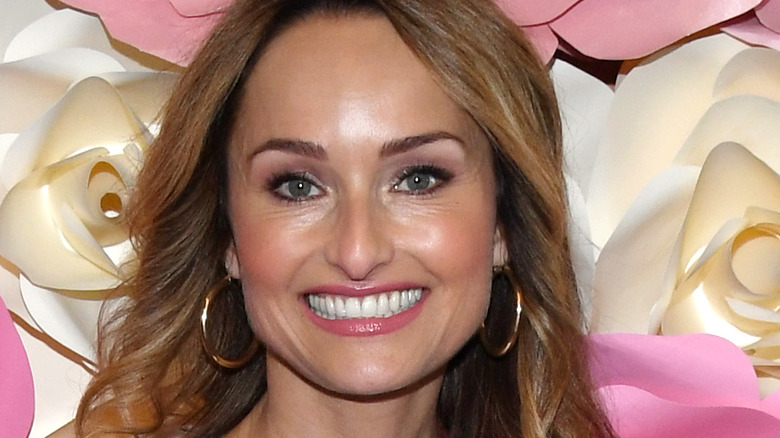 Ethan Miller/Getty Images
Since joining the Food Network family in 2002 (via Food Network), Giada De Laurentiis has become one of the channel's most recognizable stars. A proud Italian-American, the Emmy award winner is most notable for showcasing the classic dishes of her culture's cuisine in her various cookbooks and television programs like "Everyday Italian," which was her premiere Food Network show, and, more recently, "Bobby and Giada in Italy."
However, despite her heritage being a clear influence in both her professional and personal lives, De Laurentiis doesn't always want to indulge in classic Italian fare. Sure, the TV personality loves to chow down on some pasta and even suggests eating it for breakfast, but if she had the choice, she would pick a chocolate espresso cake with sea salt and caramel by fellow Food Network star Ina Garten for her last meal (via Redbook). The Barefoot Contessa also has the honor of being the mind behind De Laurentiis' go-to birthday dessert, and once you hear what it is, we bet you'll be looking for something to celebrate with it as well.
Giada De Laurentiis loves this cake by Ina Garten
Giada De Laurentiis blows out the candles every year on August 22, but she doesn't celebrate with a typical Italian dessert like tiramisu or gelato, or a re-creation of the special sweet treat that she and her grandfather used to enjoy every Sunday, which she told First We Feast was fresh ricotta cheese with granulated white sugar and unsweetened cocoa powder. In fact, she doesn't even turn to one of her own creations for her big day but instead asks for her pal Ina Garten's chocolate cassis cake every year. "Ina uses a cherry liqueur in the frosting that is just freaking phenomenal and actually seeps into the cake itself," De Laurentiis told InStyle of the luscious treat.
Garten graciously shared the recipe for her baked good with Food Network, revealing that the booze-infused frosting that her friend loves so much goes on top of a flourless chocolate cake that also contains a hearty dose of cherry liqueur. "It's fudgy like a brownie," De Laurentiis explained when she joined Garten on an episode of her show "Barefoot Contessa" to make the cake (via Cheatsheet). "It's kind of a mix between a truffle and a brownie." With a description like that, it's no wonder she chooses to celebrate with it every year!