Bobby Flay Says This Show Is 'The Most Beautiful' One He's Ever Done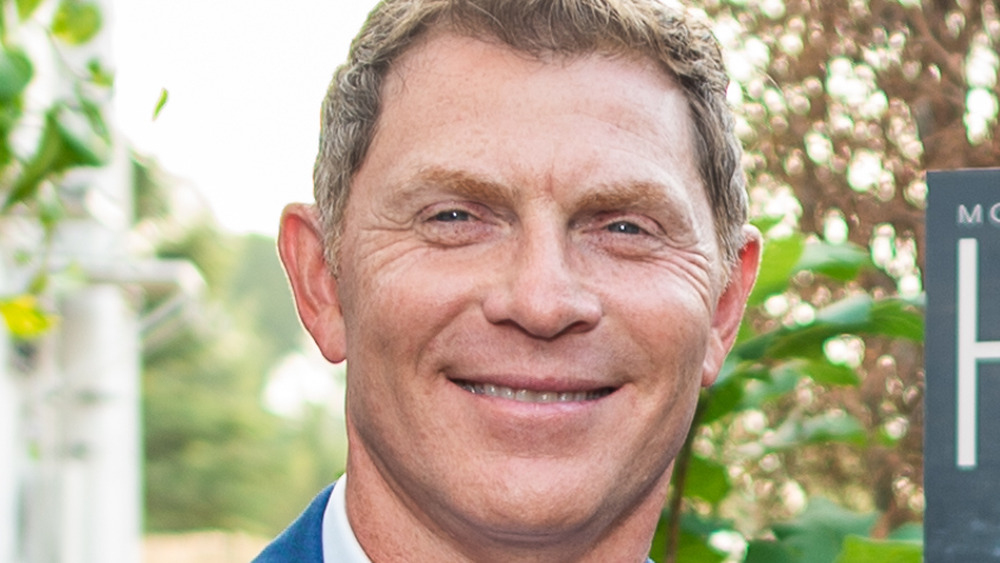 Mark Sagliocco/Getty Images
If you caught even one episode of Bobby and Giada in Italy, a four-part Discovery+ series that follows chefs Bobby Flay and Giada De Laurentiis as they explore Rome and Tuscany, you won't be surprised to learn that it was a particularly special show for the duo to film. Flay, who 's starred in dozens of series during his decades-long career as a celebrity chef, called this one "the most beautiful thing that I've ever shot, for sure" (via People).
In the show, which debuted in January 2021, Flay rediscovers Italy's history, cuisine, and lifestyle with De Laurentiis, who grew up in Rome (via Discovery+). The pair visit both bustling cities and slower-paced towns, soaking up an Italian sense of well-being along the way. "I love Giada in Italy — like the person, not just the show — because she's so relaxed there. And I feel the same way," Flay told Delish as he reminisced about the pre-pandemic filming experience. Even the minute-long trailer is jam-packed with decadence, opening with a shot of the Colosseum, continuing with grand vistas of the Spanish Steps and Tiber River in Rome, and ending with the cypress-studded hills of the Tuscan countryside.
It's not just the scenery that's beautiful in Bobby and Giada in Italy
If Flay's Instagram photos from filming are any indication, one of the most beautiful things about his Bobby and Giada in Italy experience was the food. In one post, Flay holds up a porchetta sandwich and a chinotto soda (a bittersweet carbonated drink made from the citrus fruit, via The Grand Wine Tour) wearing a big smile. Additionally, a Food Network photo recap of the show lists many of the dishes that Flay and De Laurentiis sampled, including deep scarlet spaghetti all'Amatriciana, violet grape-and-rosemary focaccia, and airy gelato in a variety of vibrant colors.
Even Flay's wardrobe became more beautiful for the show; he explained to Delish that he chose to wear suits while filming so he'd look more like a well-dressed local. Hey, when your meals and surroundings are so gorgeous, you just have to dress up for them. 
While Bobby and Giada in Italy might be a tough — or at least jealousy-inducing — watch during a pandemic, Flay told Delish that the show's airing reminded him to look forward to better days. "Rome has been there for some time, it's not going anywhere anytime soon," he shared. "It gave me hope for the future — that we're going to be back to that at some point."