Below Deck Mediterranean's Captain Sandy Yawn Wants This Person To Be Her Personal Chef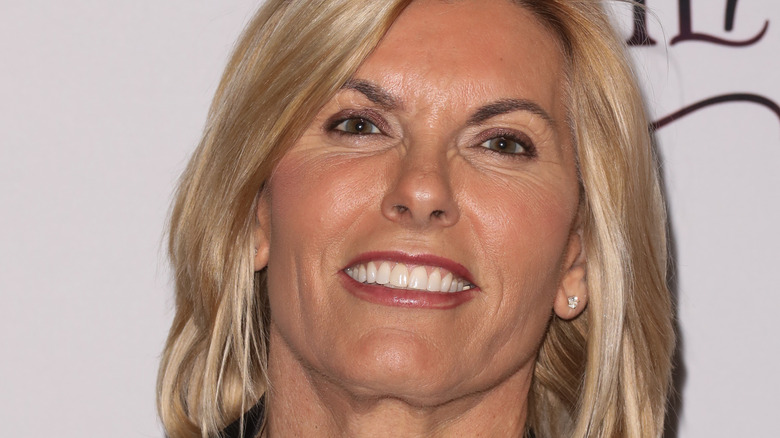 Paul Archuleta/Getty Images
For Captain Sandy Yawn, being a part of an exciting show like "Below Deck" is something that she loves doing. As per Bravo TV, Yawn was attracted to the sea ever since she was a child and knew that it was her calling. Plus, it's an intriguing journey that offers viewers a rare glimpse into what it's like to be a part of a luxury charter yacht for crew members, per The New York Times. It's not easy, though. The job is so stressful that some crew members end up snacking to feel better. "I eat stuff in the control room that I would never eat in my real life, ever," Courtland Cox, an executive producer on the show, said to the Times in June 2020.
As far as Yawn is concerned, it's important to ensure that the team makes smart decisions about food on the yacht. And yes, the chefs have a really tough task to tackle. She explained to Decider in June 2021, "We don't provision for months, we provision for meals. We don't have the storage onboard to carry all that food, plus people want fresh food."
Also, Yawn is strict about maintaining the quality of food on the yacht. And if she could, she'd ask one particular chef to cook all her meals onboard.
Captain Sandy Yawn thinks highly of Adam Glick
As highlighted by Bravo TV, captain Sandy Yawn has worked with many chefs. She's had to deal with difficult scenarios, too. For instance, according to Distractify, a chef once prepared a cake on the show that reminded someone of baking soda. Yikes. In another episode, things went awry when disgruntled guests tried to make sense of the mediocre food served to them (via E! News). Yawn was present when the chief stewardess said that she won't serve a shoddy plate of nachos to her guests. Basically, the entire meal was a disaster. Yawn commented, "This is never served on a table to a client on a super yacht. In a million years. Ever."
Captain Sandy Yawn does know which chef would do a great job at preparing meals for her, though. And Chef Adam Glick is the person she'd turn to. "I actually really like Adam, because he's an awesome guy," Yawn said on Watch What Happens Live with Andy Cohen (via Bravo TV). "So I think [my] personal chef would be Adam." 
According to Glick's website, he has been working on yachts for more than a decade and can source local specialties quickly. Most importantly, Glick understands the job, telling Vulture in 2020 that on a super yacht, "the chef and the steward are gonna have to work in the tightest of space because she's not gonna have her own stew pantry." It's a challenge, but it's one he's up for!