This Exciting Item Could Be Coming To A Little Caesar's Near You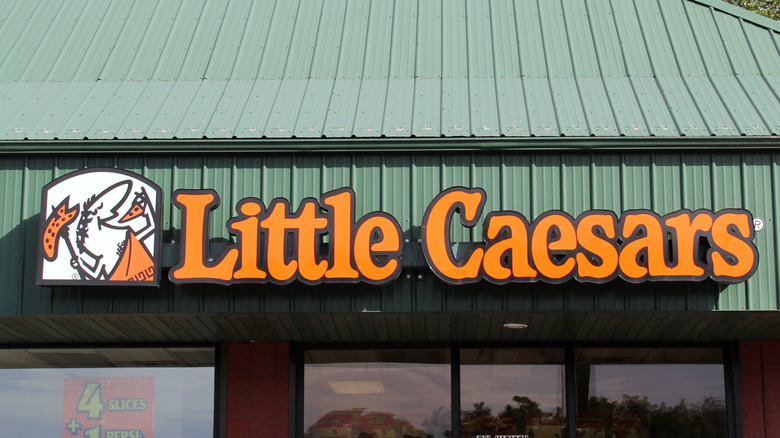 Shutterstock
People cannot live on pizza alone. We all love variety, so chains like Domino's, Papa John's, and others have expanded their offerings beyond the classic cheese and sauce pie with items such as sandwiches and pasta (via Domino's website), hybrid quesadilla-pizza creations (via Papa John's website), and even everyone's favorite brand of cinnamon bun, Cinnabon (via Pizza Hut's website).
Pizza chains have also added chicken, of course. According to Thrillist, La Nova restaurant in Buffalo, New York, claims to be the first to offer both wings and pizza in 1957. By the mid-1990s, big pizza brands were selling saucy, spicy drums and flats, and why not? Among the major chains to jump on the boneless bandwagon was Little Caesars, a brand so steeped in cheap, cheesy goodness that its catchphrase is the word "pizza" uttered twice in a row.
Earlier this year, Little Caesars went so far as to top its pizza with different flavors of fried chicken to form Crispy Chicken Cravers. More importantly, customers also had the option to order boneless wings that corresponded with the Craver flavors. It appears that may have been a taste of what's to come.
Little Caesar's is experimenting with boneless chicken wings
Your local Little Caesars could have some special boneless wings on offer. Of course, that depends on where you live. According to Brand Eating, the Detroit-based chain is testing its new Chick-N-Dippers with customers at participating restaurants in Albuquerque, New Mexico, and Las Vegas, Nevada. The lightly breaded boneless chicken wings are $6.49 for an eight-piece order (traditional whole Caesar Wings are $6.99) and include BBQ, Buffalo, or Garlic Parm sauce dipping sauces (the same sauces offered for the original Caesar Wings, per Thrillist). Customers who don't want sauce at all can ask for "Naked Chick-N-Dippers" (not to be confused with chicken skinny dippers). Time will tell if the Little Caesers will make its Chick-N-Dippers more widely available.
Boneless wings are a win-win for restaurants and customers alike. In recent months, the pandemic took a toll on the poultry industry, and traditional bone-in wings were hit especially hard (via the Associated Press). Fortunately, boneless wings aren't true chicken wings and can be produced from breast meat, making them easier to supply to customers. Little Caesars hasn't shied away from this fact. Last month, a Nevada location ran a Facebook ad that read, "Chick-N-Dippers [AKA Wing Shortage]" in all caps and seemingly parodied the lyrics to a song from "Grease."