The Internet Can't Get Enough Of This Italian Folk-Metal Song Celebrating Polenta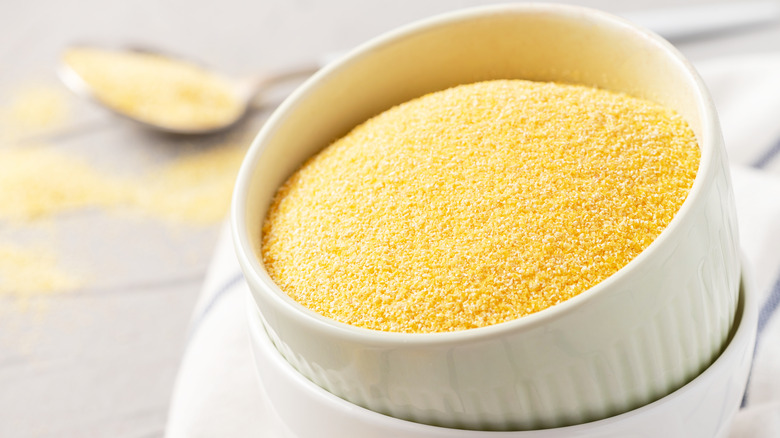 Shutterstock
Polenta has been called a lot of things in its time. Healthy, sure. Versatile, undoubtedly. Trendy? Once upon a time. Bland and kind of boring? Well, yeah. Food of the gods, though? Not so much. Celebrated in song? To our knowledge, this has never happened before, but it's definitely happening now in a Viking-themed musical extravaganza by Italian comedy metal band Nanowar of Steel. (Comedy metal? Yes. It's a thing. Remember GWAR?)
Their latest hit, which is closing in on half a million YouTube views, is a stirring anthem titled "La Polenta Tagnarock." It features Italian actor Giorgio Mastrota who, according to Genius, seems to be the Italian version of Billy Mays and who has been the subject of a previous Nanowar song (via YouTube). As the video begins, Mastrota is doing his patented product pitchman bit by promoting various Italian products, including a polenta that he says everyone wants to eat, to taste, to savor, and to sing about! Enter the Nanowars in full Viking regalia, playing cutlery-shaped guitars.
Vikings and wizards all love polenta
The video is pretty amazing, even if you do not understand a single word, but if you turn on YouTube's subtitles to have the Italian lyrics translated (more or less) into English, prepare for true awesomeness. From the beginning description of polenta's place on the "chopping board of smoking epicness" to it's alleged origin story, "forged by Thor's scoop, she camps into the arteries of your heart," to the personification of polenta as a loving (if kind of scary) nonna who "wraps you with her buttery shawl," the sheer stupendousness just keeps on coming.
The song then segues into pseudo-scientific territory, making ridiculous claims about how polenta can protect against AIDS and pregnancy and has a viagra-like effect. Just when things are getting truly weird(er), Gandalf shows up and starts singing about preventing "gastroenteric lockdown." (One thing to bring them all, and in the bowels bind them?) Feasting in "Valhaltellina" ensues, Gandalf proves to be quite the wizard in the kitchen, and a truly legendary time is had by all.
YouTube viewers are loving the video
The Nanowar of Steel video has so far received 22,000 likes and 1,832 comments. While most of the latter are in Italian, it appears that they are all pretty positive. There are quite a few comments in English, as well, and the English language speakers can't get enough of this Italian band and their ode to cornmeal mush.
As one person described the song's subject, "This is truly the most metal of corn-based Viking Italian dishes. I can feel its a-maizing power from here!" Another person admitted, "Don't know much Italian, and also not much about the Lord of the Rings and football, but that song still makes me laugh so hard I have to go to a hospital!" while someone else said, "I feel the urge to learn immediately how to prepare polenta, so i can do it in a big ass cauldron and sing this while preparing it." One excited fan exclaimed, "Folk metal and Italian food? Two of my favourite things!" But perhaps the best comment of all was by the YouTube user who said, "I have been pondering a way to get my Nonna into metal for a while now . . . You guys have provided the perfect gateway song. Thanks!!!" We bet nonna's still banging her head.