Creamy Instant Pot Polenta Recipe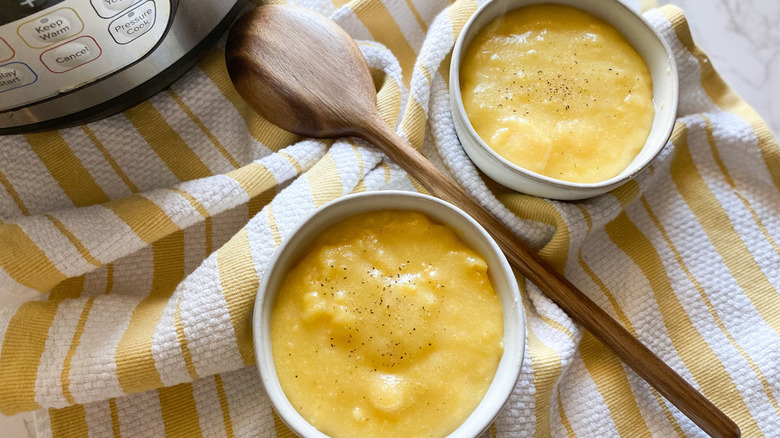 Kristen Carli/Mashed
Depending on where you're from, you may not hear much about polenta, but this corn-based dish has roots in Italy, where it is used as a side dish for a variety of meals. Polenta is quick to make and requires very little ingredients. Made from ground corn, polenta is similar to southern grits in texture and taste. Yet polenta and grits have their differences as well. Grits are made from dent corn, while polenta is made from flint corn. Flint corn is less starchy than dent corn, and Native Americans grew and ate flint corn because of its nutritional value. Interestingly, most popcorn is made from flint corn. 
Modern cooks make polenta from different types of cornmeal. This particular recipe is already easy to make, but when you make it with an Instant Pot, you really can't go wrong. Recipe developer Kristen Carli says this recipe is perfect for novice cooks. "There aren't any mistakes with this one. It is foolproof," she adds.
Gather the ingredients for the creamy Instant Pot polenta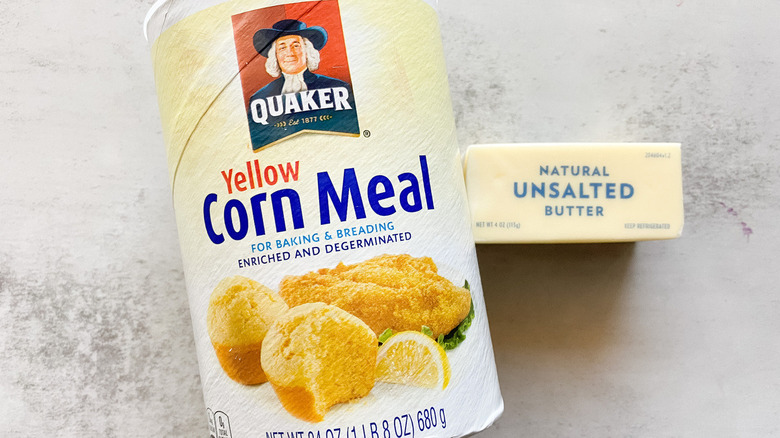 Kristen Carli/Mashed
The first thing you'll need to do is gather all of the ingredients you will need for the creamy Instant Pot polenta. The great thing is that besides water, you only need three items. And you might already have them in your kitchen. This super-quick recipe calls for 3 cups of water, 1 cup of cornmeal, 4 tablespoons unsalted butter, and 1 teaspoon of salt. As its name suggests, unsalted butter is butter without any added salt, and it more of a sweet flavor than its salted counterpart, not to mention much less sodium. 
Combine the ingredients in the Instant Pot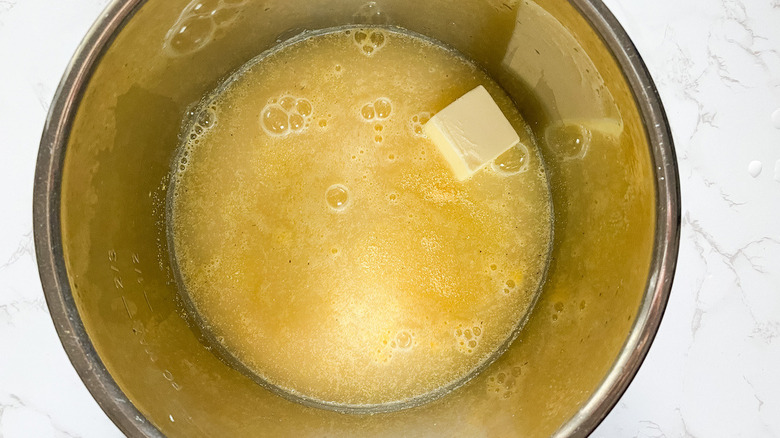 Kristen Carli/Mashed
Once you have all your ingredients together, there is not much to do when it comes to preparing the ingredients for cooking. Simply place the water, cornmeal, and butter in the Instant Pot bowl. You may want to slice the butter into smaller pieces before adding it to the mix. You will be using the pressure cook setting on the pot, so after you close the lid, you'll want to turn the valve to seal the pot while it cooks. Once the pot is sealed, adjust the pot's pressure cooker setting for 20 minutes.
Release the Instant Pot lid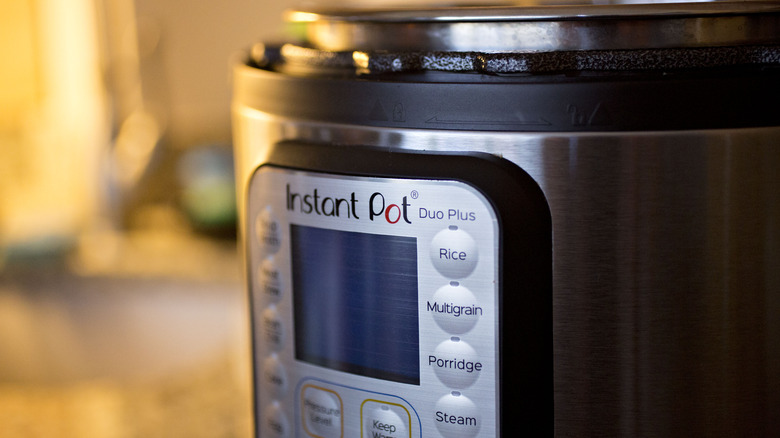 Bloomberg/Getty Images
After 20 minutes, you will need to release the valve on the Instant Pot, and this can be done in two ways. You can allow a natural release, which means you wait for the valve to release the pressure on its own. You can also do what is called a quick release, which involves opening the valve yourself. If you decide to do a quick release, make sure your hands and face are out of the way because quite a bit of hot steam is released all at once. Once the valve is released and the steam has cleared, remove the lid.
Add the salt and serve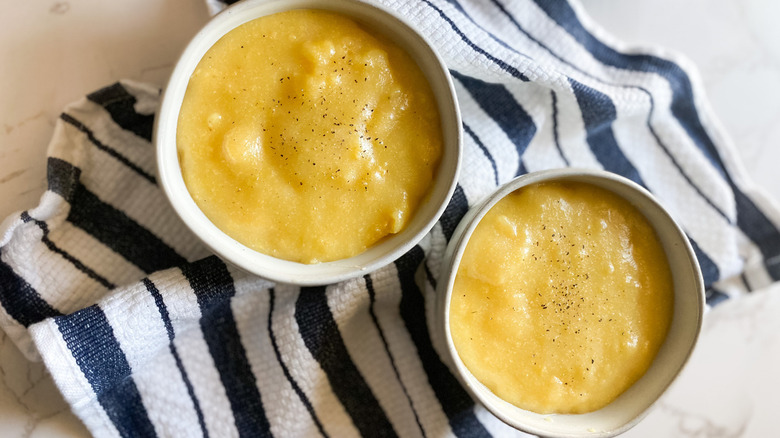 Kristen Carli/Mashed
The next step is adding the salt to the mixture. Use a whisk to stir the polenta and remove any clumps. Carli says the finished texture of the polenta should be creamy and chunky, but not too runny. Add pepper to taste. You can serve the polenta immediately.
Carli says that polenta makes a great base and is like an "empty slate that can be taken in many directions." She says she enjoys topping her polenta with sautéed tomatoes and mushrooms, adding that the dish goes great with chicken too. You can also use it as a base for chili.
This dish will keep in an airtight container in the fridge for up to five days.
Creamy Instant Pot Polenta Recipe
This particular polenta recipe is already easy to make, but recipe developer Kristen Carli says when you make it with an Instant Pot, you really can't go wrong.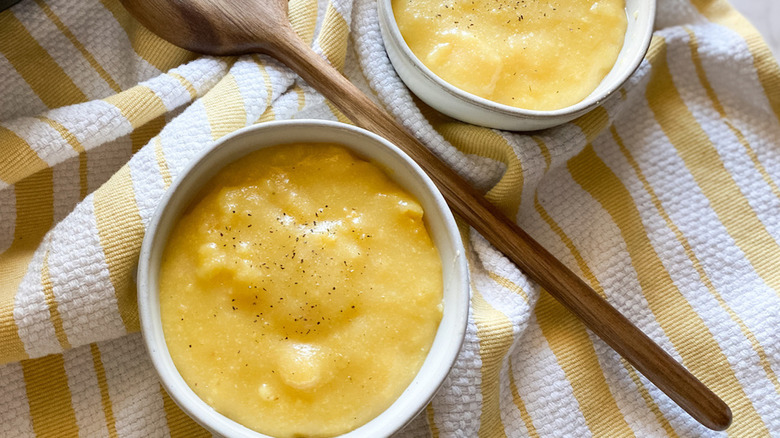 Ingredients
3 cups water
1 cup cornmeal
4 tablespoons unsalted butter
1 teaspoon salt
Optional Ingredients
Directions
Add water, cornmeal, and butter to the bowl of the Instant Pot.
Close the lid, and turn the valve to seal.
Turn to pressure cook setting for 20 minutes.
Release the steam and remove lid.
Add salt and stir to combine.
Use a whisk to smooth out clumps by stirring.
Nutrition
| | |
| --- | --- |
| Calories per Serving | 247 |
| Total Fat | 12.2 g |
| Saturated Fat | 7.4 g |
| Trans Fat | 0.5 g |
| Cholesterol | 30.5 mg |
| | |
| --- | --- |
| Total Carbohydrates | 31.2 g |
| Dietary Fiber | 1.5 g |
| Total Sugars | 0.6 g |
| Sodium | 537.7 mg |
| Protein | 2.9 g |