Eddie Jackson Reveals What It's Really Like Competing On BBQ Brawl - Exclusive
Eddie Jackson has finally found the perfect vehicle to showcase his dynamic barbecue skills. After earning the title of "Food Network Star" in 2015, Jackson made his presenting debut for the channel with "BBQ Blitz." But now the former NFL cornerback is grilling and chilling with the big boys.
For the second season of "BBQ Brawl," which recently wrapped on the Food Network, Jackson took on team captain duties, joining show alums Michael Symon and Bobby Flay. After a playground-style draft, Jackson, Symon, and Flay were tasked with leading their respective squads of seasoned pitmasters through a gauntlet of challenges covering all facets of cooking with fire and smoke. The show's format even allows the captains themselves to get in the game and flex their barbecue muscles for the trio of "BBQ Brawl" judges: whole hog savant Rodney Scott, "Top Chef" winner Brooke Williamson, and "Queer Eye for the Straight Guy" vet Carson Kressley.
According to Jackson, who has appeared on numerous shows across the Food Network universe, this experience, in particular, was a definitive career highlight. "For me, BBQ Brawl is probably my favorite show," he said in an exclusive interview with Mashed. While Jackson cited multiple reasons for why the show resonated with him — including the opportunity to showcase his passion for barbecue and film in his home state of Texas — the biggest factor came down to working alongside his two main competitors.
"Before the show, Michael Symon and Bobby Flay were great friends," said Jackson. "So I thought it was really cool to be able to do that show with them, especially doing something that I love, which is barbecuing and smoking meats."
What went on behind the scenes of 'BBQ Brawl'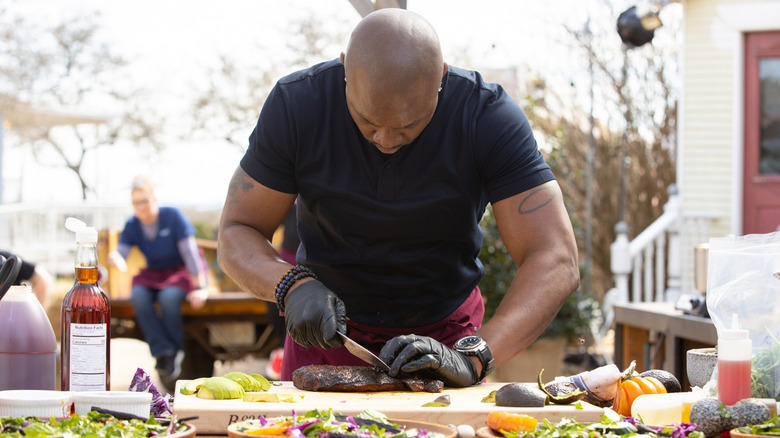 Food Network
Though Jackson labeled Flay and Symon as two of his mentors, he wasn't intimidated going grill-to-grill with the culinary megastars. "They necessarily don't have as much experience as I do," said Jackson, referring to his extensive barbecue credentials, which include serving as the Chief Recipe Officer for Beef Loving Texans. "But they have fine dining experience." And while Jackson may have been a new addition to the show, he noted that he had the home-field advantage of barbecuing in the Lone Star state.
Throughout the series, Jackson proved he has the fire to compete, wowing the judges with dishes such as New Orleans-style grilled oysters, per Wide Open Eats, which earned his team a victory in a captains-only cookoff.
While there was plenty of trash-talking on the show, Jackson revealed that when the cameras weren't rolling the jawing continued. "It was a lot of smack talk," Jackson acknowledged. "Especially when we got done, it was a huge amount of smack talk, but all in good fun, just because we're so close friends."
But Jackson admitted that when it came to dissing Flay, he had trouble coming up with insults. "This dude is like the Michael Jordan of cooking," said Jackson. "So you can't talk too much smack to Bobby Flay, because he can back it up. So I kind of kept mine limited, more so just like, 'I'm going to take you out today,' that kind of stuff. You can't talk smack about his cooking, he's a star."
Find out if a member of Eddie Jackson's team will be crowned the Master of 'Cue on "BBQ Brawl" (the full season is currently streaming on Discovery Plus). For Eddie Jackson recipes and barbecue tips and tricks, head over to the Beef Loving Texans website.