How Aldi UK's New Gin Flavor Is Combating Food Waste
Gin-loving Aldi shoppers have something new to smile about — and sip on — with a limited-edition variety of gin hitting shelves across the United Kingdom. The supermarket giant will be adding to its beverage lineup by partnering with a liquor brand that aims to combat food waste one bottle at a time.
According to The Mirror, Penrhos Spirits, a rural distillery operating out of Herefordshire, England, got its big break at this year's Grow With Aldi contest, a U.K.-wide competition that offered local distillers the chance to land their product in Aldi stores across the country. Penrhos, which is the brainchild of third-generation farmers Charles Turner and Richard "Dickie" Williams, beat out hundreds of distilleries to land a contract with the venerable grocery chain. The top prize of the Grow With Aldi contest came with a contract to sell the distillery's gin in all 900 of Aldi's U.K. stores. To fulfill the order, Penrhos has crafted 18,000 bottles of their gin to be sold in the budget retailer — three times the total number of bottles the distillery produced last year.
The popular retailer will carry a limited-edition Penrhos Hibiscus Botanical Gin, with notes of "blueberries, cherry blossom, and honey [...] with subtle flavours of pink pepper, cardamom, and rose petals" (via Good Housekeeping).
Turner and Williams were inspired to start making gin in small batches four years ago as a means of combating food waste, by using up the "wonky" leftover fruit that was going to waste after the local harvest.
The food waste-fighting story behind Penrhos gin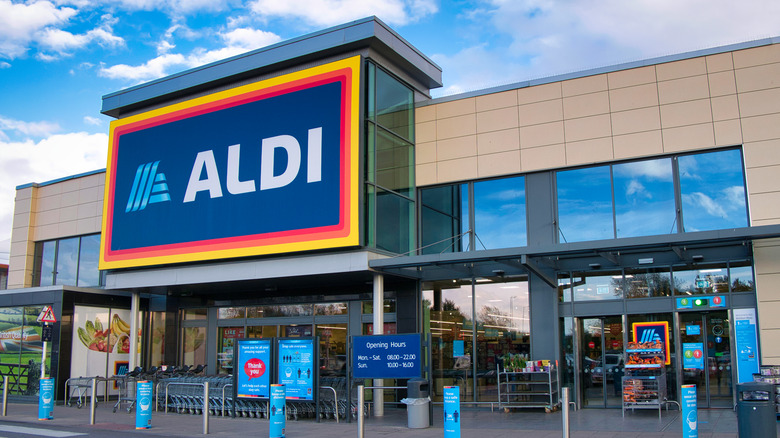 Shutterstock
"At Penrhos we are passionate about reducing waste," the distillery states on their website. "Any fruit that doesn't make it to the supermarket due to size or colour goes into our amazing gins. However, we never compromise on flavour." To produce their fruit-infused gins, Penrhos soaks the fruit in alcohol for 24 hours before adding the remaining botanicals and transferring the mixture to a 147-liter copper pot — named "Connie," after Dickie's grandmother — for distillation. Penrhos uses local fruits to produce unique gin flavors including Rhubarb Gin, Apple and Elderflower Gin, Blueberry Gin Liqueur, and alcohol-free Raspberry Gin.
Of their mission to craft a high-quality product while reducing waste, Turner says, "we're proud to have been successful in producing a high-quality gin out of ... leftovers from our farm, reducing the carbon footprint of the fruit on shelves." The Aldi deal alone is estimated to save a quarter-ton of unwanted fruit from landfills.
Since landing the contract with Aldi, the distillery has been able to scale up their operation, and hopes the nationwide roll-out will expose the eco-friendly gin to a new widespread fan base. "The biggest challenge for small-craft distillers like us is breaking out of the local 40-mile radius," Turner says. "To be crowned winner of the competition and be stocked ... on a national scale is a major breakthrough for the business."
The specialty Hibiscus Botanical Gin, which is available exclusively from Aldi for a limited time, retails for £17.99 and is available in stores and online.