Chrissy Teigen Shared How Her New Cookbook Saved Her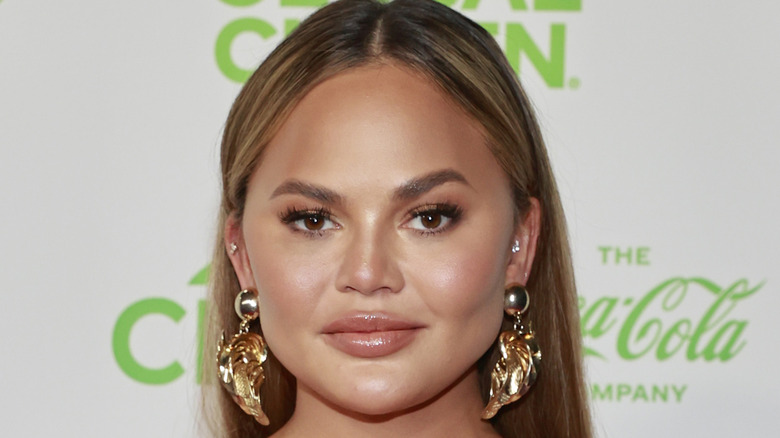 Emma Mcintyre/Getty Images
We may receive a commission on purchases made from links.
Model, television personality, and New York Times best-selling author Chrissy Teigen knows how to whip up some comfort food. From her very first cookbook, "Cravings: Recipes for All the Food You Want to Eat," which was published in 2016, she gave her readers step-by-step instructions on how to create classic indulgent dishes like Pull-Apart Buttermilk Biscuits with Sausage Gravy, Cast Iron Pizza, and Cheesy Jalapeño Bacon Cornbread in their own home (via Amazon). Since then, she has published a second cookbook, "Cravings: Hungry for More," as well as launched a food website, Cravings by Chrissy Teigen, while continuing to delight fans who follow her on social media with her cooking videos and tips, via Insider.
Her newest cookbook, "Cravings: All Together: Recipes to Love" is set for release on October 12, 2021, and is available for pre-order now. While her previous cookbooks have been popular, Teigen recently took to social media to explain how her third cookbook is not only the most personally meaningful one for her, but it is also her best one yet.
Teigen's new cookbook is deeply personal
"It is incredibly hard to put into words what this book means to me. How do you come up with a funny, enticing caption for a book that quite literally saved you. I didn't have a theme in mind when we made this book – all I knew was I wanted a bright new energy, but I also needed comfort. I wanted to make recipes that would be timeless, food that brings joy to your belly, your household, those around you," Teigen shared in a heartfelt Instagram post. "I wanted people to enjoy not just the outcome, but the process. This book is reflective of everything I wanted, and we needed as a family to bring into our home, it is truly a piece of us, and I am so excited to share it with you."
From this cookbook, fans can expect to learn how to craft dishes that are not only delicious, but also have important personal significance for Teigen and her family, like her husband John Legend's blueberry pancakes or her daughter Luna's favorite unicorn milkshakes. After what has been an exceptionally difficult year for many, with the COVID-19 pandemic disrupting everyday life around the world, it seems like many of us could use a little extra comfort in our meals and in our lives. And that is exactly what Teigen promises to deliver in her most personal cookbook yet.