Everything We Know About Chrissy Teigen's New Honey Mustard Sauce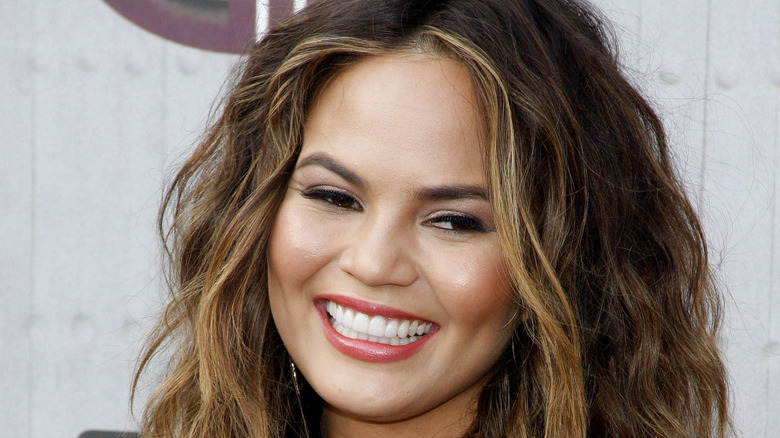 Tinseltown/Shutterstock Images
We may receive a commission on purchases made from links.
Famous personality Chrissy Teigen has dipped her toes into her fair share of professions. The multitalented star began her career as a model, landing on the cover of Sport's Illustrated and a Maxim calendar, and even appeared as a judge on "America's Next Top Model" alongside Tyra Banks. Teigen has also starred in movies such as "Hotel Transylvania," and is well-known for her marriage to musician John Legend, who she met when starring in his "Stereo" music video (via Distractify).
The 35-year-old celebrity has also dabbled in the world of food, slowly building up her own culinary empire over the years. Teigen has had a passion for food since she was little, and even attended culinary school before her modeling career took off (via Spoon University). The lifestyle expert has also made appearances on the Cooking Channel and published two "Cravings" cookbooks in 2016 and 2018. Another food-related endeavor took shape in "Fries! The Movie," a collaboration between Anthony Bourdain's Emmy-award winning production company Zero Point Zero and Teigen's Huntley Productions (via Variety). The mouth-watering documentary featured celebrities, chefs, and fans of the beloved salty snack, and digs into the phenomenon behind the worldwide French fry craze.
But what's a French fry without a delicious dipping sauce? Teigen couldn't agree more, and it's been a long-time dream of hers to "create the perfect dip," which she has finally done by partnering up with Sir Kensington's, according to a new press release. 
Teigen's new fry sauce sounds downright delicious
Chrissy Teigen has joined forces with Sir Kensington's, the condiment brand known for mayos, mustards, and more to create a delicious new sauce: Honey Mustard Fry Sauce. The all-new dip is described as a "serene balance between sweet and spicy with an initially honey-based flavor followed by a satisfying mustard kick," made completely from premium and non-GMO ingredients (via People). "Hearty, sweet, spicy, and satisfying, we've created something that, in my mind, checks all the boxes and is crying out for a salty French fry to pair up with," Teigen shared in the press release.
The social media star took to Instagram to promote and celebrate her brand-new concoction and shared a video of her drizzling Honey Mustard Fry Sauce all along a French fry. Once she pops the whole thing in her mouth, Teigen can't help but squeal in excitement. "Whoa I am so excited (and so proud!!) to share this with you guys," the star writes in the accompanying Instagram caption. The launch of this one-of-a-kind product accompanies the release of "Fries! The Movie," which had a August 10, 2021 debut on Peacock.
For all you French fry fiends, you can purchase Teigen's new dipping sauce on Amazon right now, for only $6.99.