Not Everyone On TikTok Is Loving This Fancy McDonald's Meal Transformation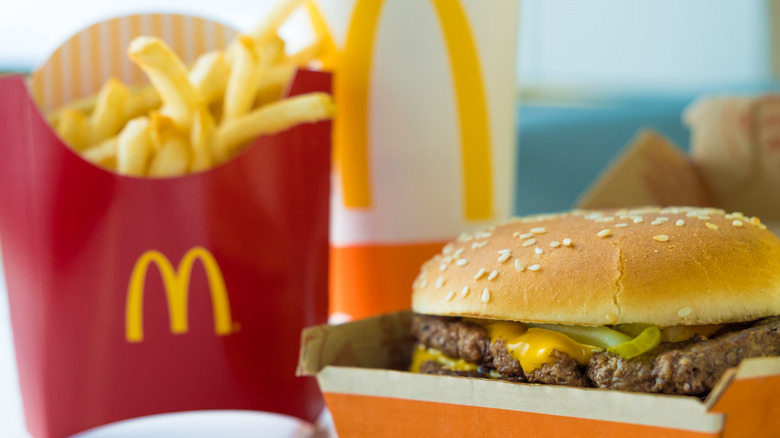 Shutterstock
On TikTok, food blogger Danny Kim has been adding recently to a video series he calls "Fast Food Gourmet." The concept is meant to be jarring: Kim asks professional chefs to turn a fast food meal into something fancy. In one video, a chef transforms a Popeyes order into a chicken and seafood jambalaya. Yes, chefs are allowed to add their own ingredients to the mix. Popeyes' chicken tenders with a side of red beans and rice get a boost from some crawfish and $57-a-pound jumbo lump crab meat. "Popeyes might need to add this to the menu," the chef says after finishing his jambalaya.
Another installment of "Fast Food Gourmet," posted to TikTok on August 4, shows a different chef getting creative with a McDonald's Double Quarter Pounder and fries. This video was especially popular, attracting 16 million views so far. The chef, clearly of the French school, decides to transform the McDonald's meal into a beef pithivier with a pomme purée and sauce charcuterie. (A pithivier is a small, disc-shaped version of beef Wellington.) Inside the pithivier, the Quarter Pounder patties sandwich some spinach and artichoke and are wrapped in prosciutto. The fries are cooked in milk and cream with bay leaf, garlic, and salt, then run through a blender to create the purée. Chef pulls the onion and pickles from the burger for the sauce charcuterie, which he adds to the plate tableside, "in true fine dining fashion."
Some TikTok commenters felt McDonald's was 'already gourmet'
In his TikTok video showcasing a McDonald's beef pithivier, food blogger Danny Kim tagged Gordon Ramsay, who routinely critiques other people's food creations on the video sharing platform. Ramsay is master of the beef Wellington, after all. So far, Ramsay has been silent. But a horde of other commenters have risen up to weigh in on this jarring combination of American fast food and French cuisine.
Some commenters sought to quantify the transformation of a McDonald's Double Quarter Pounder into a beef pithivier. "Went from $3.99 to $59.99," @trendymoviesapp said. The chef's work rated even more highly in the eyes of @nrodriguez1400. "That'll be $500," they said.
A lot of McDonald's lovers, on the other hand, didn't like seeing a gourmet chef mess with their idea of perfection. "Am I the only one who would rather eat McDonald's than what he made?" @knightking54w asked. "It physically hurt me to watch those fries get mashed," @rebecca__dawson commented. "They were already gourmet in my eyes."
One commenter was even bold enough to question the chef's cooking decisions. "Bro did not just put extra salt on McDonald's french fries," @isaiah.phelps said.