Buffalo Wild Wings Just Added New Flavors. Here's What You Need To Know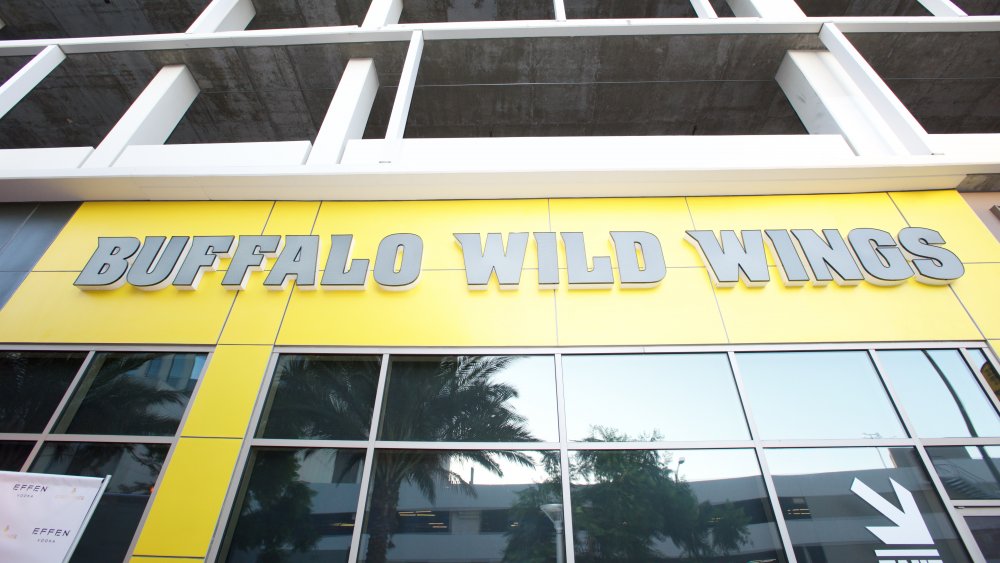 Earl Gibson Iii/Getty Images
If you're a Buffalo Wild Wings fan, chances are you get pretty excited whenever they release a new flavor from their "Sauce Lab," and you may even have fond recollections of (and the odd craving for) some of their long-gone sauces recalled by Reddit: remember Chipolte Cherry Sting, Mayan Midnight Molé, Smoldering Santa Fe, Spicy Strawberry Sriracha, and Wicked Wasabi? (B-Dubs are clearly big fans of alliteration as well as creative flavor combos.) Well, be sure to lace your shoes up really tight before you read any further, otherwise your socks are likely to get knocked right off your feet.
This fall BWW released not one, not two, but four new wing flavors! According to their announcement posted to Twitter on September 8th, the latest additions to their sauce lineup will be Lemon Pepper, Pizza, Orange Chicken, and Carolina Reaper. Wow! With so many different options to choose from, which one of these yummy-sounding flavors are you looking forward to trying first?
Details on the new Buffalo Wild Wings flavors
Brand Eating describers the Lemon Pepper sauce as being a slightly different take on the dry Lemon Pepper rub Buffalo Wild Wings already offers, with the addition of some butter to make it, well, saucy. Pizza sauce is another new twist on a pre-existing wing sauce, that one being the chain's Garlic Parmesan. They dress it up with a little tomato powder and basil, and voilà! Pizza flavor. Orange Chicken is something entirely new, a B-Dubs spin on the popular Chinese-American dish (and Panda Express' signature menu item) featuring a sweet citrus flavor spiked with soy and just a hint of peppery heat. The fun thing about the Orange Chicken wings is each order comes with a free fortune cookie!
If you're a wannabe Hot Ones contestant, you don't want to miss the Carolina Reaper, since this new sauce now tops the list as BWW's hottest option. You may have survived both the Wild sauce and the Desert Heat rub, but have you got what it takes to face this new sauce made with one of the world's hottest peppers?
More good news from Buffalo Wild Wings
According to the Buffalo Wild Wings Twitter poll, 30 percent of respondents don't fear the Reaper, but in fact can't wait to try it. The second most wanted flavor is Lemon Pepper, with 28.4 percent of those polled choosing it as their pick. Orange Chicken was a close third, earning 24.9 percent of the vote. In last place is the not-so-hotly anticipated Pizza wings, with only 16.6 percent of Twitter users saying that would be their favorite of the four new flavors. This actually works out well though, since (according to Foodbeast) the Pizza wings are the only "limited time" offering in the bunch. That's right, the other three new flavors are permanent additions to the Buffalo Wild Wings menu!
Oh, and B-Dubs has even got you covered if you're a non-meat eater. Another recent menu addition which can be ordered with any of these new sauces (or any of the old ones, for that matter), are cauliflower wings. Although these might not sound too exciting in their natural state, you could probably deep-fry cardboard and slather it in one of BWW's delicious wing sauces and it would be pretty darn tasty. And if you're up for one more bit of good news (before you're off chasing your socks), Brand Eating says Buffalo Wild Wings is offering free delivery for online orders through the end of September! Guess we know what everyone's having for dinner tonight.