Homemade Blue Cheese Dip Recipe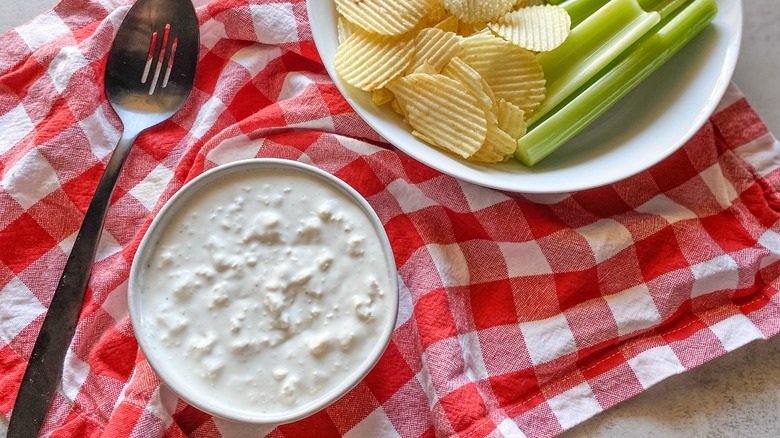 Kristen Carli/Mashed
Blue cheese dip is an American staple. This scrumptious treat is thought to have originated in America in 1918 or the 1920's and became popular in the 1930's, according to Taste Atlas. Since then, this tangy, flavorful dressing has become a game day favorite, often paired with crudite, chicken wings, and plenty of good company.
But while you may have enjoyed this dish at a restaurant — or even from a bottle — you may not have thought to make it from scratch. To make this delicious dip at home, recipe developer and private practice registered dietician Kristen Carli of Camelback Nutrition & Wellness prioritizes big flavor. By leaving chunks of blue cheese, Carli notes, "The flavor of the blue cheese should marinade throughout the entire dip ... I love this recipe because it isn't too thick, and it's very easy [to prepare]!" A simple, flavorful recipe with the perfect texture? Count us in!
Gather the ingredients to prepare homemade blue cheese dip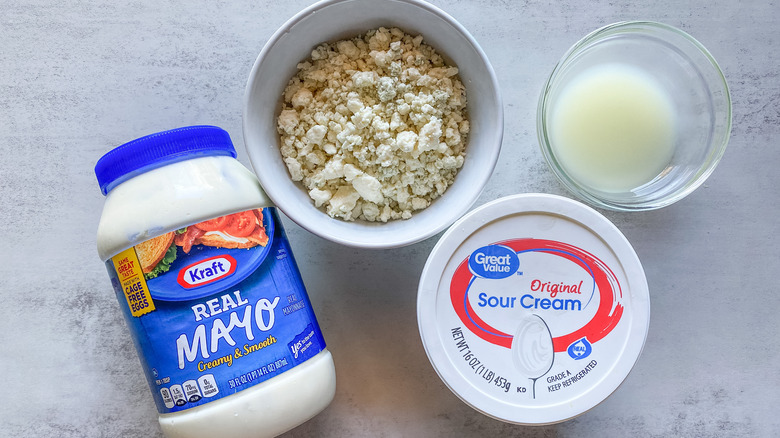 Kristen Carli/Mashed
Before you can begin preparing your blue cheese dip, you must first gather the necessary ingredients. All you'll need are 5 ounces of blue cheese crumbles, ½ cup of sour cream, ¼ cup of mayonnaise, 2 tablespoons of lemon juice, ½ teaspoon of salt, and ¼ teaspoon of pepper. As far as cookware is concerned, find one medium mixing bowl, a spatula to stir, and an airtight container to store your leftovers. That's literally it!
Mix everything together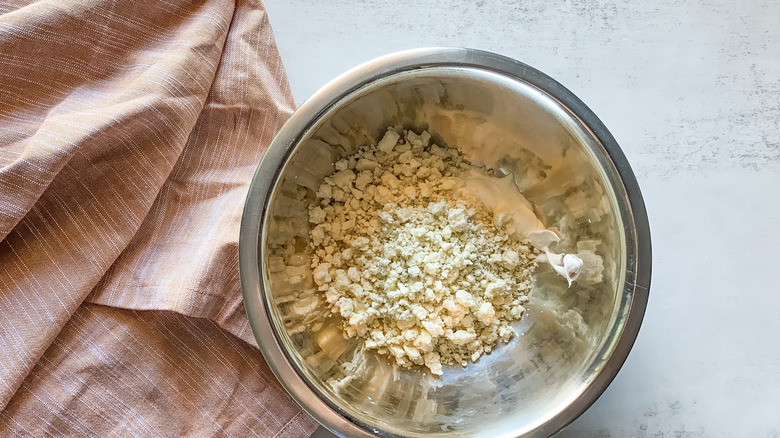 Kristen Carli/Mashed
Now that you've gathered your ingredients, you can start making your blue cheese dip. Lucky for you, this recipe is so easy, it only has two steps. The first step, of course, is to add all your ingredients to the medium mixing bowl, and combine them well. Try to make sure the mayo, lemon juice, salt, and pepper are evenly distributed, but don't worry so much about the chunks of cheese. These are supposed to remain clumpy, rather than flattening into a smooth mixture.
Chill, serve, and enjoy your homemade blue cheese dip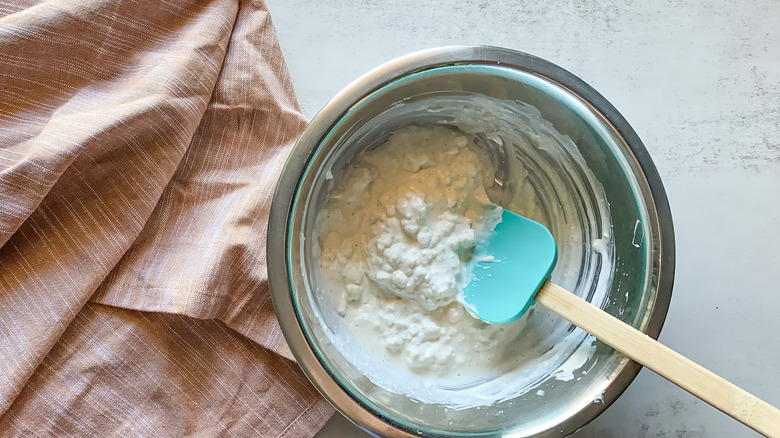 Kristen Carli/Mashed
Once you are done mixing the ingredients, all that's left to do is chill the dip for one hour before you serve it. And voila! It really is that easy to whip up some delicious blue cheese dip to enjoy with friends, family, or all by yourself. Once you make it at home, you'll likely never want to use store-bought again.
For storing the leftovers — if there are any, that is — Carli reports, "It keeps in an airtight container in the fridge for up to seven days," so you can enjoy the fruits of your labor all week long. And even if you don't have leftovers, this recipe is so foolproof, you can whip it up even during the busiest of weeks for a savory treat.
Serving suggestions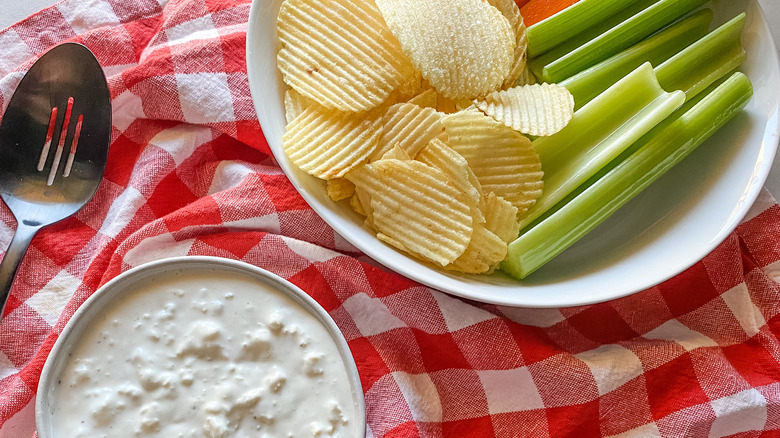 Kristen Carli/Mashed
As far as serving suggestions are concerned, Carli says, "I love this with veggies and chips. It also makes a great sandwich spread." Whether you're looking to whip something up for an enjoyable appetizer or a light snack to serve when Sunday football rolls around, this recipe is truly a perfect choice. As Carli previously mentioned, it goes well with a spread of your favorite chips and veggies, but you can also serve it with another game day staple: buffalo chicken wings or boneless wings.
Keep in mind that this recipe yields four servings, so if you're having a large crowd over, you can easily double the recipe in just a few minutes. So put it together, and enjoy.
Homemade Blue Cheese Dip Recipe
Whether you're looking to whip something up for an appetizer or a snack to serve during Sunday football, this blue cheese dip recipe is truly a perfect choice.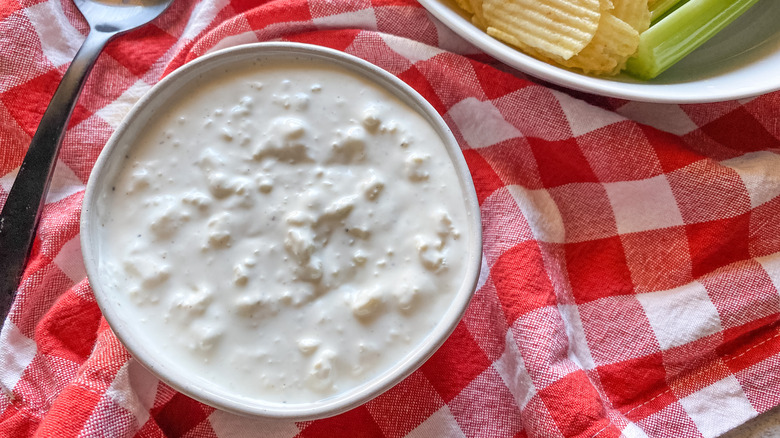 Ingredients
5 ounces blue cheese crumbles
½ cup sour cream
¼ cup mayonnaise
2 tablespoons lemon juice
½ teaspoon salt
¼ teaspoon pepper
Directions
Place the blue cheese crumbles, sour cream, mayonnaise, lemon juice, salt, and pepper into a medium-sized bowl. Stir well.
Chill the dip in the fridge for at least 1 hour before eating with chips or veggies.
Nutrition
| | |
| --- | --- |
| Calories per Serving | 283 |
| Total Fat | 27.0 g |
| Saturated Fat | 11.6 g |
| Trans Fat | 0.0 g |
| Cholesterol | 47.2 mg |
| | |
| --- | --- |
| Total Carbohydrates | 2.3 g |
| Dietary Fiber | 0.1 g |
| Total Sugars | 1.2 g |
| Sodium | 503.0 mg |
| Protein | 8.2 g |