Copycat Chart House Blue Cheese Dressing Recipe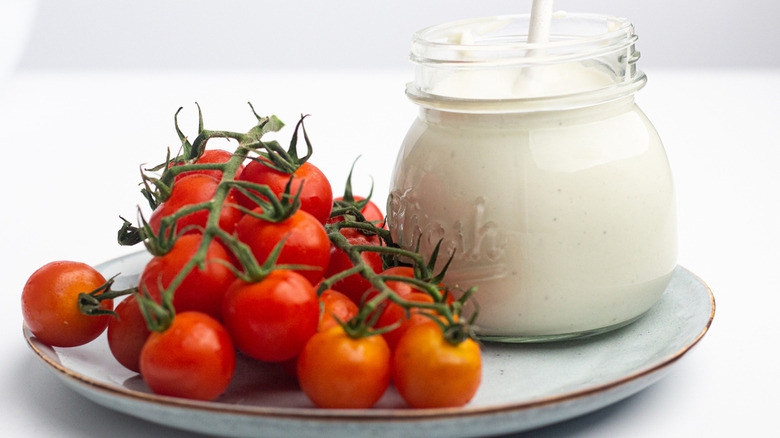 Susan Olayinka/Mashed
Chart House restaurants are known for offering fine dining and fabulous views, and are found across the United States. The first Chart House restaurant was built in 1961, and now the chain spans from the east to the west coast (via Chart House). While they are known for mouth-watering steaks and seafood, most restaurants have a salad bar filled with all the typical food items you'd expect to find. In addition, they also serve up a delicious blue cheese dressing that is good enough to steal.
You may be wondering what could be so special about a dressing, and all we have to say is if you love a creamy blue cheese like recipe developer Susan Olayinka does, you need to try out this recipe because it fits the bill. Olayinka says that besides being so creamy, one of the best things about this dish is that the flavor isn't too overpowering.
The special concoction owes its yumminess to its unique spicy and salty flavor that can only come from a savory combination of blue cheese, mayonnaise, sour cream, and Worcestershire sauce. If you are looking to give your salads a full-flavored boost, this recipe delivers. Plus, it is so easy that even novice cooks can make it.
Gather the ingredients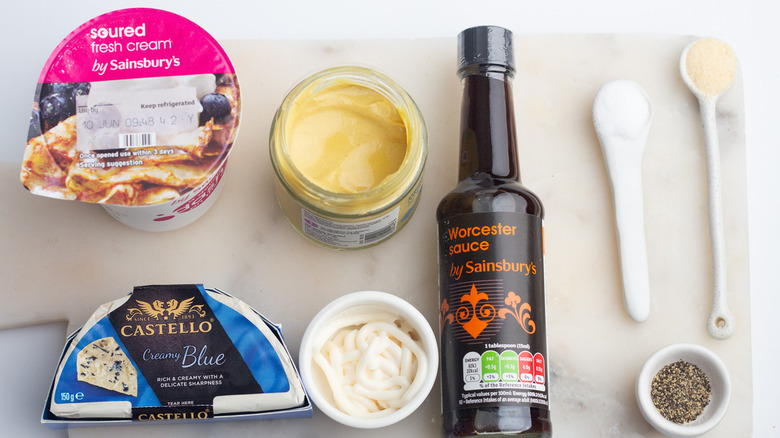 Susan Olayinka/Mashed
This recipe requires fewer than 10 ingredients, which you may already have on hand. Sour cream provides a majority of the velvety base for this dressing. You will also need ½ cup of blue cheese and ¼ cup of mayonnaise to add extra creaminess and more flavor. You may not expect to see Worcestershire sauce in a salad dressing recipe, but it adds a distinct, tangy flavor. Other seasonings that make this dressing worthy of imitation include English mustard, of which you will need ½ teaspoon, ⅛ of a teaspoon each of garlic powder and black powder, and ¼ teaspoon of salt.
Combine all of the ingredients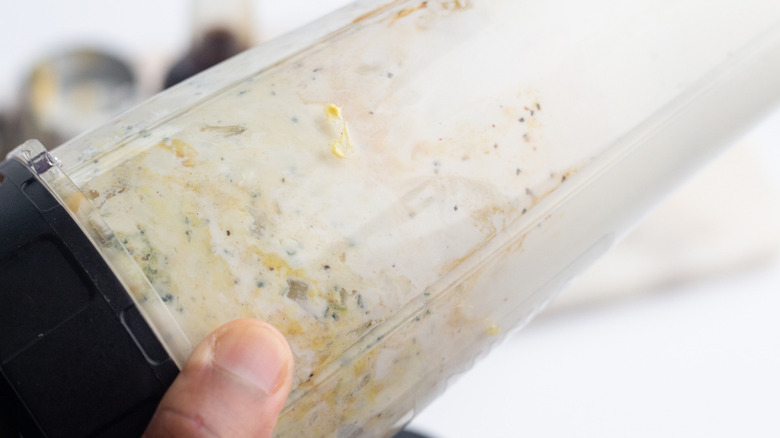 Susan Olayinka/Mashed
When it comes to getting this blue cheese dressing made, there is really not much to it. Besides the ingredients listed above, all you will need to make it is a blender. To begin, place all of the ingredients into the blender and blend on a low speed for about 20 seconds or until all ingredients are combined. The most important thing to getting this dressing right is making sure the ingredients are blended well. If you don't have a blender, Olayinka says "it can be done with an electric whisk," though it does seem that a blender is the best way to ensure a creamy consistency.
Allow the blue cheese dressing to set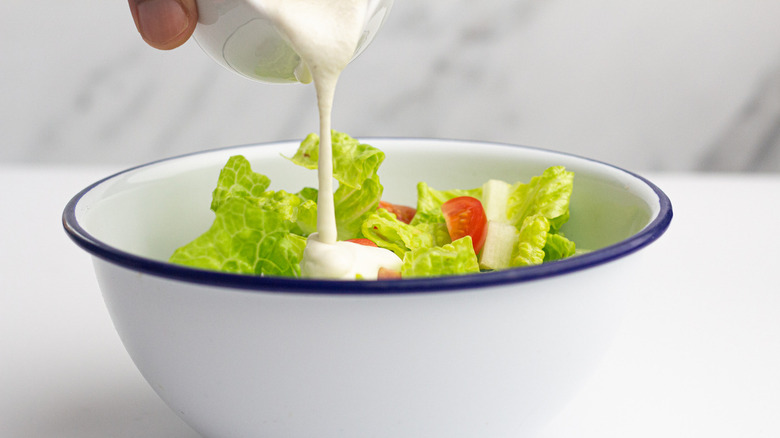 Susan Olayinka/Mashed
And just like that, you've got an appetizing blue cheese dressing everyone will enjoy. Now, all you have to do is allow it to set. Place the dressing in a container and place it in the refrigerator for 24 hours to firm before serving. Olayinka does not recommend freezing the dressing. She also says this dressing will keep well for 2 to 3 days in the fridge. How you decide to eat it is up to you, but regardless of what you serve it with, your taste buds will love it.
Serving suggestions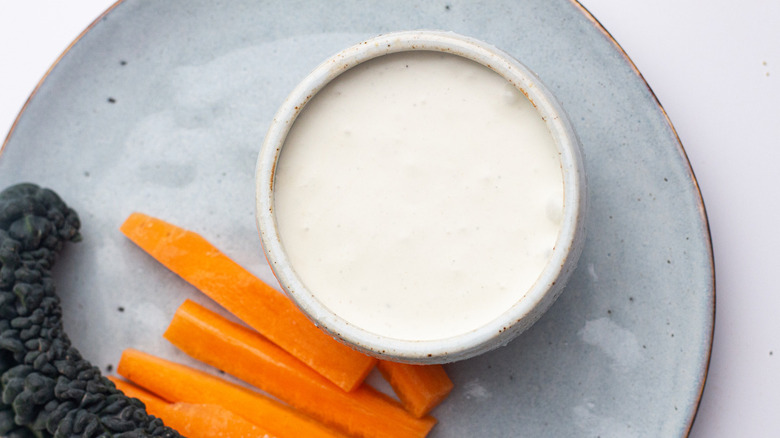 Susan Olayinka/Mashed
This is technically a salad dressing, but there are dozens of different ways to enjoy salad dressings without the salad. This dressing is always good with vegetables, such as carrots, celery sticks, or cherry tomatoes. You can even dip buffalo wings or chicken strips in it. Olayinka says you can also use it as a dip with crackers and breadsticks, or you can use it as a condiment in wraps. Other ideas for this dressing include putting it on burgers in place of mayonnaise, or adding it to your pasta salad or macaroni and cheese for a nice twist. With just a few ingredients, you can have Chart House's delicious blue cheese dressing ready for your next meal or snack!
Copycat Chart House Blue Cheese Dressing Recipe
If you've ever had Chart House's blue cheese salad dressing, you know how delicious it is. This copycat recipe should hold you over until your next visit!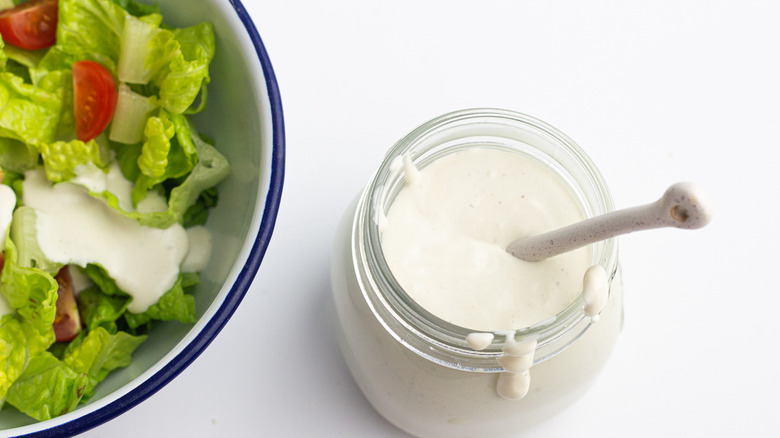 Ingredients
1 cup sour cream
½ teaspoon English mustard
⅛ teaspoon black pepper
¼ teaspoon salt
⅛ teaspoon garlic powder
1 teaspoon Worcestershire sauce
¼ cup mayonnaise
½ cup blue cheese
Directions
Place the sour cream, English mustard, black pepper, salt, garlic powder, Worcestershire sauce, mayonnaise, and blue cheese into a blender.
Blend on low for 20 seconds.
Place the dressing in an airtight container and store in the refrigerator for 24 hours.
Serve and enjoy.
Nutrition
| | |
| --- | --- |
| Calories per Serving | 136 |
| Total Fat | 13.7 g |
| Saturated Fat | 5.7 g |
| Trans Fat | 0.0 g |
| Cholesterol | 24.1 mg |
| | |
| --- | --- |
| Total Carbohydrates | 1.2 g |
| Dietary Fiber | 0.0 g |
| Total Sugars | 0.9 g |
| Sodium | 162.4 mg |
| Protein | 2.4 g |