Easy Hot Roast Beef Sandwich Recipe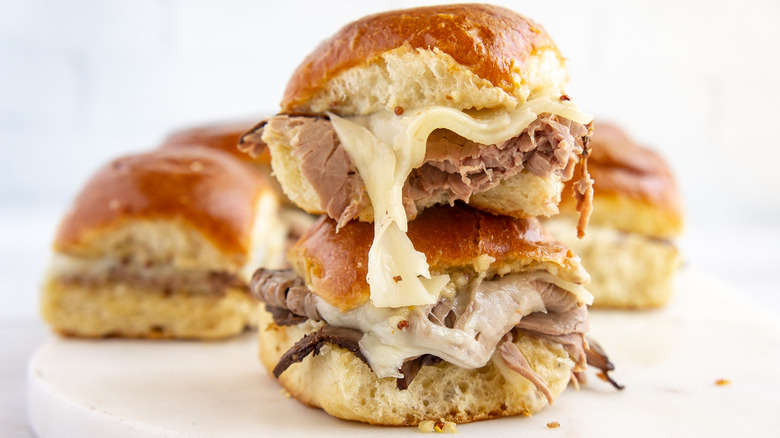 Mikayla Marin/Mashed
For a crowd-pleasing appetizer, lunch, or party finger food, there's nothing better than a quick and easy sandwich — especially a warm gooey one straight out of the oven. These hot roast beef sandwiches are exactly that — so simple, super tasty, and ridiculously easy to make. Put them on a pretty platter, and your guests will love every single cheesy bite.
This recipe comes to us from food blogger Mikayla Marin of The Flour Handprint, and she says that the best part has to be how quickly you can make them. It only takes seven minutes to assemble these delights — a quick sauce and buttery topping included. Then, it's only 15 minutes in the oven to get them hot and ready to eat. They're the perfect last-minute party food or a fun dinner to serve when your kids want to help you cook. Enjoy the ease and minimal cleanup, and of course, save a few for yourself!
Gather the ingredients to prepare these easy hot roast beef sandwiches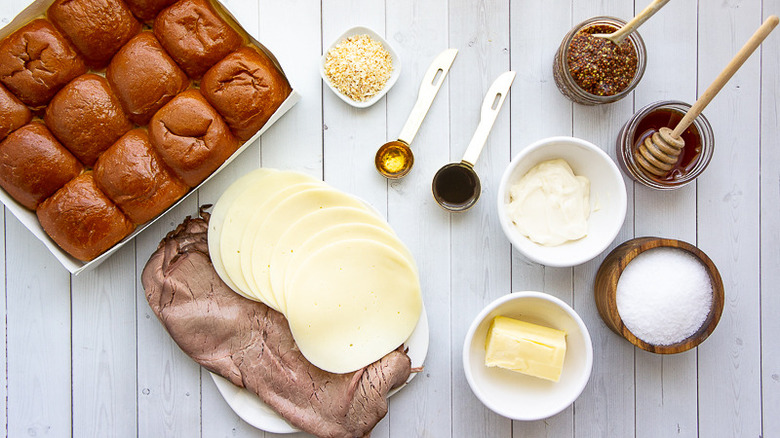 Mikayla Marin/Mashed
The magic of this recipe is that it's so easy to create with pretty common ingredients you can find at almost any grocery store. It starts with a 12-pack of slider rolls. Then it's just ½ pound of roast beef slices, six slices of provolone cheese, and two quick sauces. One is for spreading on the cut rolls and is made of mayonnaise, Worcestershire sauce, whole grain mustard, apple cider vinegar, and dried onions. The second is a butter sauce that makes the bread extra delicious as it bakes. It calls for 3 tablespoons of butter, honey, and a pinch of salt.
The main ingredients are beef, cheese, and bread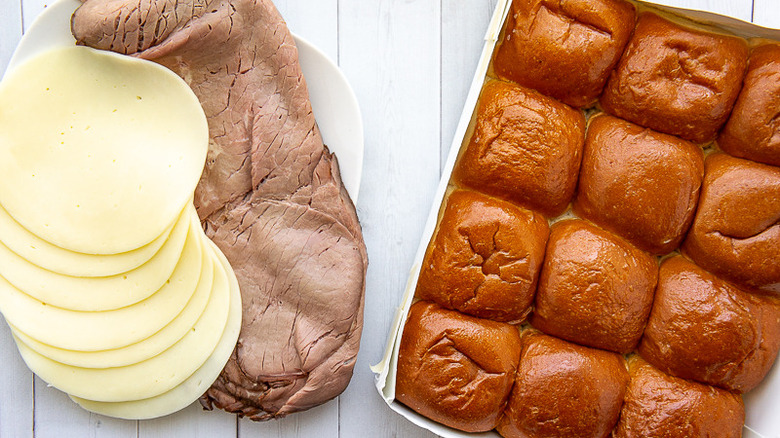 Mikayla Marin/Mashed
This recipe is extremely versatile. You can use any variety or kind of roll you like, whether you choose Hawaiian rolls, brioche, or classic white rolls. Marin does recommend choosing the grab-and-tear type to make the assembly a total breeze. For her rolls, she opted for brioche-style, as pictured above.
The roast beef can be any variety you like as well. You can buy pre-packaged slices, ask the deli counter to slice some thicker ones, or even use the leftover roast beef from dinner last night.
And finally comes the cheese. This recipe uses provolone which is mellow, gooey, and delicious when paired with roast beef. But you can also opt for cheddar, Swiss, or even Pepper Jack for a bit of extra spice.
Prepare the sandwich spread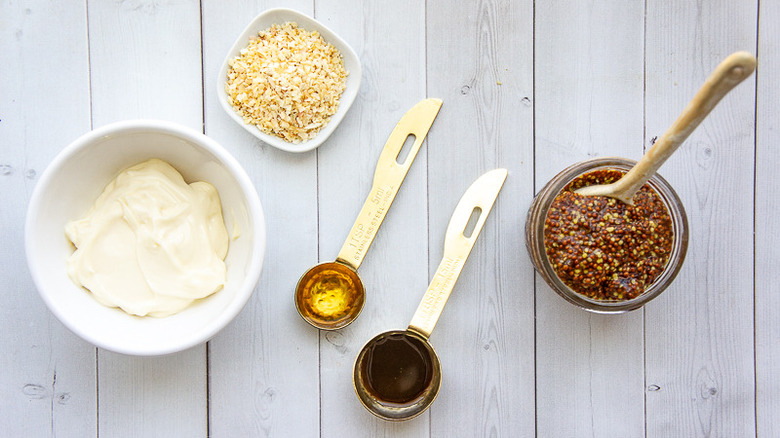 Mikayla Marin/Mashed
Making an oniony, creamy spread for the inside of these easy hot roast beef sandwiches is like the icing on the cake — they just wouldn't be the same without it. All it takes is 2 tablespoons of dried onions, 3 tablespoons of mayonnaise, and 2 teaspoons each of apple cider vinegar, whole grain mustard, and Worcestershire sauce.
If you're missing one of these ingredients, there are a few ways to make adjustments and keep the end result just as tasty. Dried onions could be replaced by 2 teaspoons of granulated onion (onion powder) or by shredding a fresh onion and blotting the excess moisture for a moment on a clean towel. You'll want to use closer to 3 to 4 tablespoons for that.
Instead of apple cider vinegar, go for white wine, rice wine, or golden balsamic vinegar. And for the mustard, you can use any variety you like, but if you go with yellow or Dijon, reduce it to 1 teaspoon.
Slice open the bread as one piece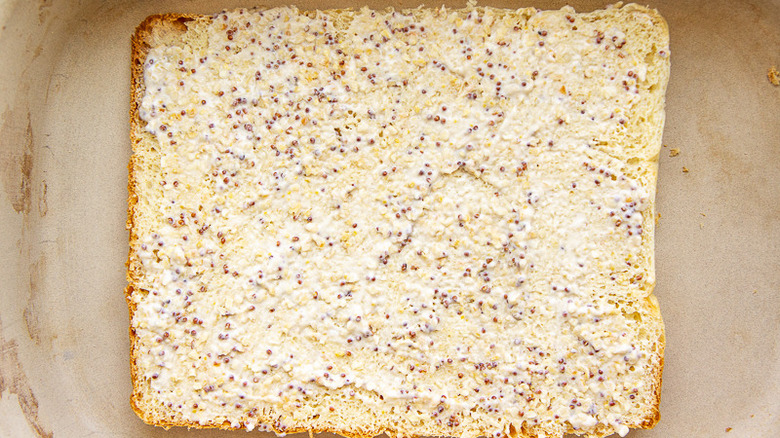 Mikayla Marin/Mashed
The nifty trick for getting these assembled and in the oven quickly is to leave the 12 rolls as one easy "loaf." Simply pull the entire thing out of the package, and place it on a cutting board. Use a sharp knife to slice horizontally through the middle so you can open it. Keep your hand flat against the top, and move slowly so the knife stays safely away from your fingers. Before you do anything else, spread the sandwich spread you just made onto the top and bottom. It should make just enough to spread one thin, even layer across them both.
Layer on the meat and cheese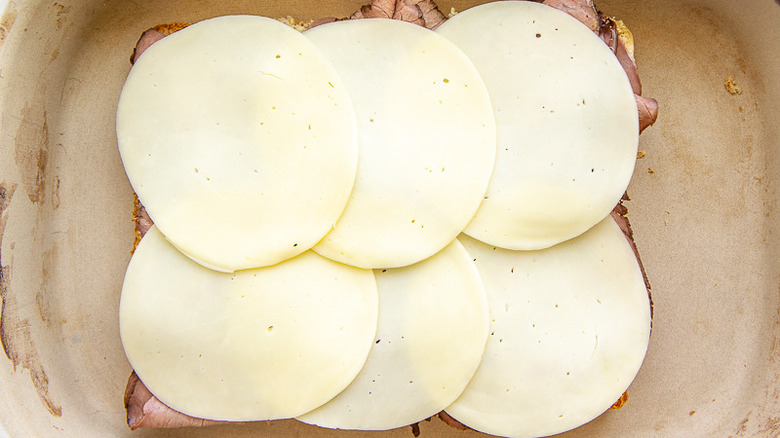 Mikayla Marin/Mashed
There really is no fancy technique for doing this. Just layer the roast beef slices as evenly as you can across the bottom of the rolls. On top of that, layer the cheese slices. Marin used six, but notes that there were eight in the package she bought, so if you like it extra cheesy, go ahead and add those, too.
Finally, close the top of the sandwiches. Place them on a baking sheet or in a 9x13-inch baking dish, and get a piece of foil ready to cover them.
Make the butter sauce, and bake the sandwiches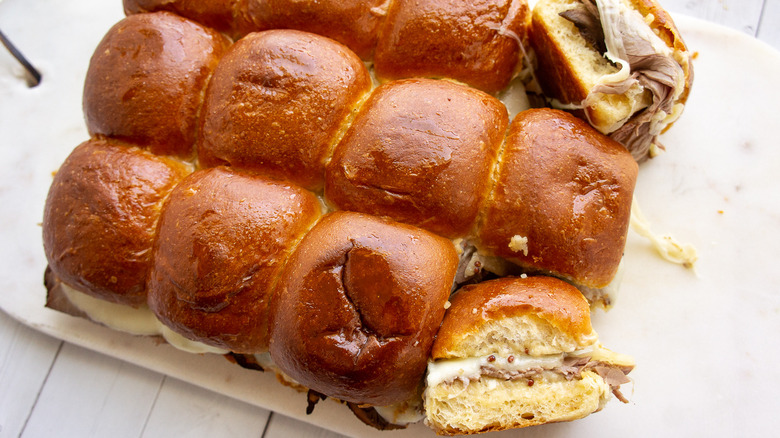 Mikayla Marin/Mashed
All that's left to do is melt together the ingredients for the butter sauce. That's as easy as adding 1 teaspoon of honey, ¼ teaspoon of salt, and 3 tablespoons of butter in a microwave-safe bowl. Melt them together, and stir so the salt dissolves. Then, use a pastry brush or silicone brush to coat the top of every single bun with a generous bath of honey butter.
Cover the pan with foil, and pop them in a 350 F oven for 15 minutes. When they come out, you'll have easy hot roast beef sandwiches ready to serve right away. If there happen to be any leftovers, just pop them in a container in the fridge. Marin promises they're just as tasty reheated in a toaster oven or gently in your oven for a quick lunch the next day.
Easy Hot Roast Beef Sandwich Recipe
These hot roast beef sandwiches are so simple, tasty, and easy to make. Put them on a pretty platter, and your guests will love every single cheesy bite.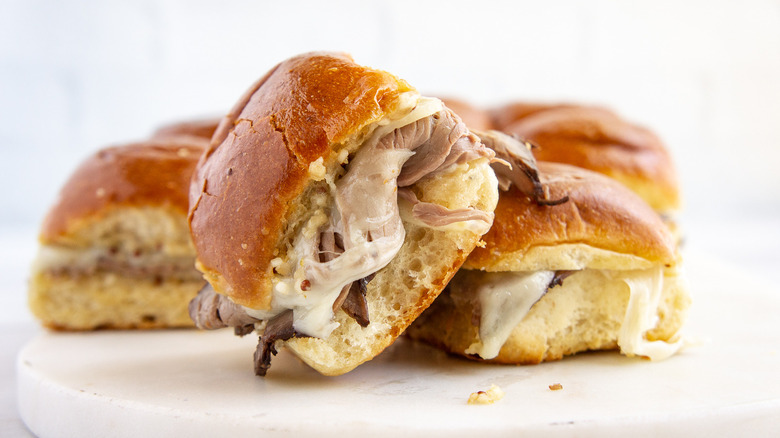 Ingredients
2 tablespoons dried onions
3 tablespoons mayonnaise
2 teaspoons apple cider vinegar
2 teaspoons whole grain mustard
2 teaspoons Worcestershire sauce
12 slider rolls
½ pound roast beef slices
6 slices provolone cheese
3 tablespoons butter
1 teaspoon honey
¼ teaspoon salt
Directions
Preheat the oven to 350 F.
Mix the dried onions, mayonnaise, apple cider vinegar, mustard, and Worcestershire to make the sandwich sauce.
Slice open the bread by cutting through the middle of the rolls so they stay as a single sheet.
Spread half of the sauce onto the bottom of the bread and the remaining sauce on the inside of the top.
Layer on the roast beef, then the provolone cheese slices.
Close the sandwiches, and transfer to a baking sheet or a 9x13-inch baking dish.
Combine the butter, honey, and salt, and microwave until melted. Stir to dissolve the honey and salt.
Brush the butter mixture over the top of the bread, and cover loosely with foil.
Bake for 15 minutes, or until hot throughout and the cheese is melted.
Nutrition
| | |
| --- | --- |
| Calories per Serving | 616 |
| Total Fat | 28.3 g |
| Saturated Fat | 11.8 g |
| Trans Fat | 0.2 g |
| Cholesterol | 65.7 mg |
| | |
| --- | --- |
| Total Carbohydrates | 62.4 g |
| Dietary Fiber | 2.7 g |
| Total Sugars | 3.5 g |
| Sodium | 965.3 mg |
| Protein | 26.4 g |