15-Minute Thai Red Curry With Shrimp Recipe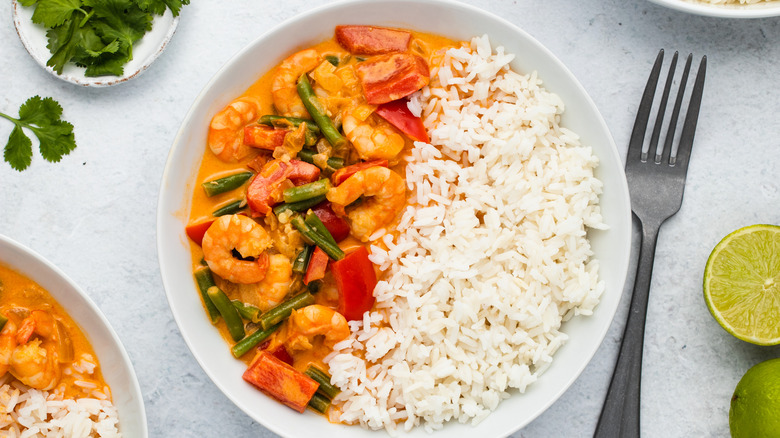 Catherine Brookes/Mashed
Despite what many people may think, Thai red curry isn't a dish that you can only enjoy in a restaurant. Believe it or not, you can make this yummy Thai-inspired recipe in the comfort of your own home, and it's really simple to whip up. Another bonus is that it takes only 15 minutes to prepare and requires few ingredients — making your trip to the grocery store a breeze as well. 
Recipe developer Catherine Brookes is the brains behind this delicious recipe that is sure to please a crowd. Whether you're looking for a new meal for date night or simply want to impress some friends coming over for dinner, this versatile dish is perfect for any occasion. "I love that this dish looks and tastes like you put a lot of effort into making it, but it only takes 15 minutes to whip up," Brookes raves. 
By now, your mouth is probably already watering. Keep scrolling to find out how to make this delightful Thai dish that will fill your belly with goodness.  
The benefits of shrimp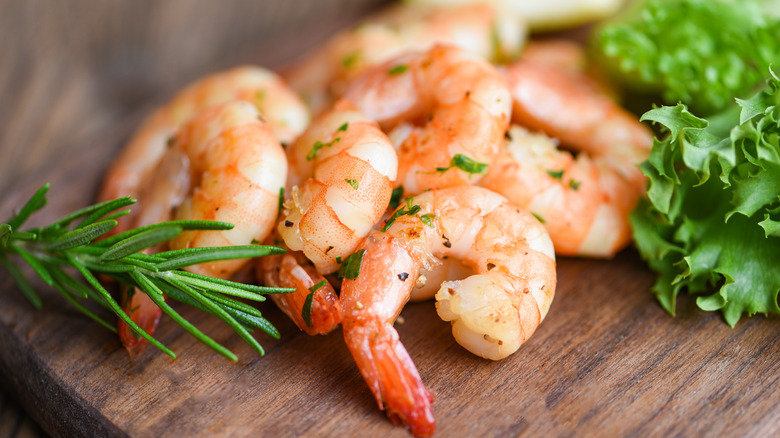 Poring Studio/Shutterstock
Shrimp is a great way to get your serving of protein for the day. Healthline reported that shrimp has many nutrients, but also doesn't have a ton of calories, which is always a good thing. Shrimp also provides you with more than enough vitamins and minerals in every single bite. Even though shrimp is really tiny, it still contains at least 20 minerals and vitamins (via Healthline), which is pretty mind-blowing if you ask us! The shellfish is also rich in omega-3 acids, which help keep your heart healthy. And let's be real — heart health is super important. Plain and simple, we should all eat more shrimp, and this recipe is a perfect place to start.
Gather the ingredients to prepare this 15-minute Thai red curry with shrimp recipe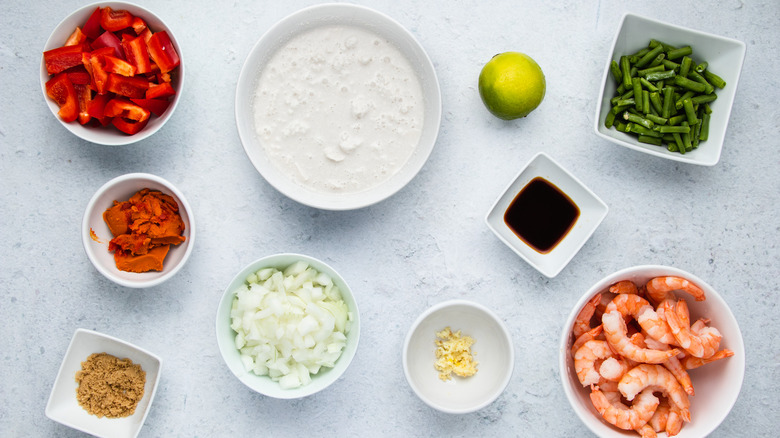 Catherine Brookes/Mashed
The first step is to make a grocery list. For this recipe, you will need cooked shrimp, making it super simple. Brookes recommends using prawns. You can use frozen if you wish, but just be sure to defrost your shellfish before cooking. In addition, add Thai red curry paste and full fat coconut milk to your list. You will also need to get a few things in the produce section, including a red bell pepper, a white onion, and a handful of green beans. Remember to dice these ahead of time.
For another added flavor, you will need some crushed garlic and juice from half a lime. Soy sauce and brown sugar are the last two items you'll need to get. The recipe also calls for a few optional ingredients, including rice, extra lime, and fresh coriander.
Heat the oil, diced bell pepper, and diced onion in a pan, then add the garlic and curry paste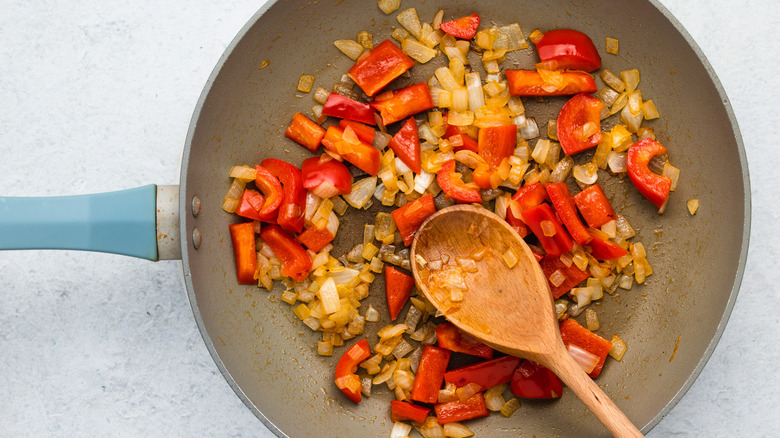 Catherine Brookes/Mashed
Take out your favorite frying pan, and place it on your stove. First, toss in the oil, and then turn the heat up to medium. Next, add the diced red bell pepper, followed by the onion. Cook the diced peppers and onions until they begin to soften. At that point, you can add in the garlic, which you should have crushed ahead of time. You will also need to put in the curry paste at this time. Set your timer for another minute, and continue to stir well the mixture well. 
Add the coconut milk and remaining ingredients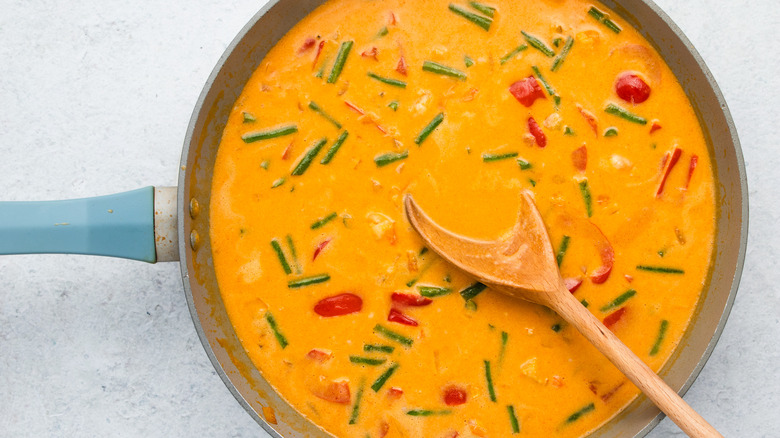 Catherine Brookes/Mashed
Now that you have the first few items cooking in your pan, it's time to addd few more ingredients. Grab the coconut milk, lime juice, soy sauce, brown sugar, green beans, and shrimp, and toss them on top of your other items. Once you have added them in, give everything a few good stirs to incorporate your mixture together. Then, bring the pan back up to a boil, and once it starts bubbling, turn it down, and let it simmer for about five minutes. You can either set your timer or just keep an eye on the clock as you go. 
Serve, and enjoy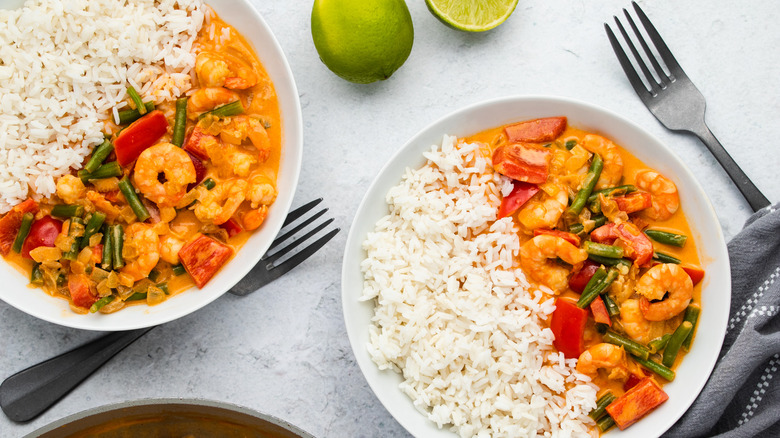 Catherine Brookes/Mashed
Once the five minutes are up, take the pan off of the heat, and serve as you wish. You can use a plate or a bowl, as there's really no right or wrong way to do it. Brookes suggests serving this with rice, fresh coriander, and a squeeze of extra lime juice. "I used white long grain rice, but any will work great — [for example,] basmati or brown rice," Brookes shares. "I like to add a little sugar if I use soy sauce, as is helps get a nice balance of sweet and salty," she adds. 
This dish makes a great presentation, and will definitely impress your family or friends. Be sure to stick the leftovers in the fridge, and they should be good for a day. 
15-Minute Thai Red Curry With Shrimp Recipe
Believe it or not, you can make this yummy Thai-inspired recipe in the comfort of your own home, and it's really simple to whip up.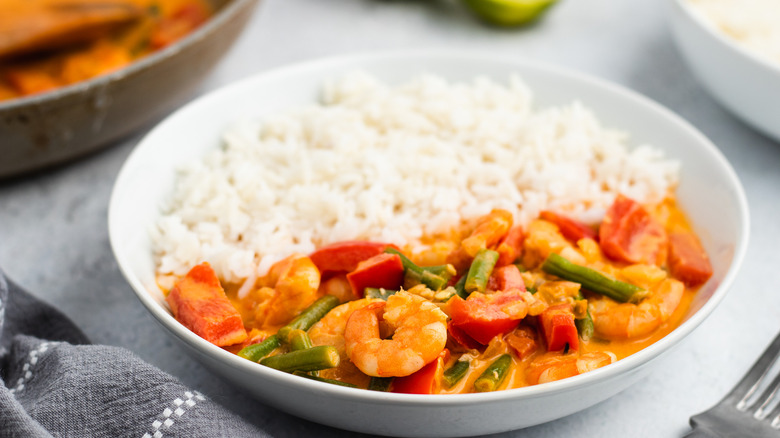 Ingredients
1 tablespoon olive oil
1 red bell pepper, diced
1 white onion, diced
2 cloves garlic, crushed
3 tablespoons Thai red curry paste
1 (14.1-ounce) can full fat coconut milk
juice of ½ lime
2 teaspoons soy sauce
2 teaspoons brown sugar
1 handful green beans, diced
8 ounces cooked shrimp
Optional Ingredients
rice, for serving
extra lime, for serving
fresh coriander, for serving
Directions
Heat the olive oil in a frying pan over medium heat.
Add the diced red bell pepper and diced onion, and fry until softened.
Add the garlic and curry paste, and cook for another minute, stirring well.
Add the coconut milk, lime juice, soy sauce, brown sugar, diced green beans, and shrimp.
Give everything a good stir, bring the pan to the boil, and then let it simmer for 5 minutes.
Serve with optional rice, fresh coriander, and a squeeze of lime juice.
Nutrition
| | |
| --- | --- |
| Calories per Serving | 686 |
| Total Fat | 53.0 g |
| Saturated Fat | 39.6 g |
| Trans Fat | 0.0 g |
| Cholesterol | 241.5 mg |
| | |
| --- | --- |
| Total Carbohydrates | 27.3 g |
| Dietary Fiber | 4.1 g |
| Total Sugars | 8.9 g |
| Sodium | 1,519.6 mg |
| Protein | 33.2 g |