The Problem Costco Shoppers Have With This Kirkland Cauliflower Pizza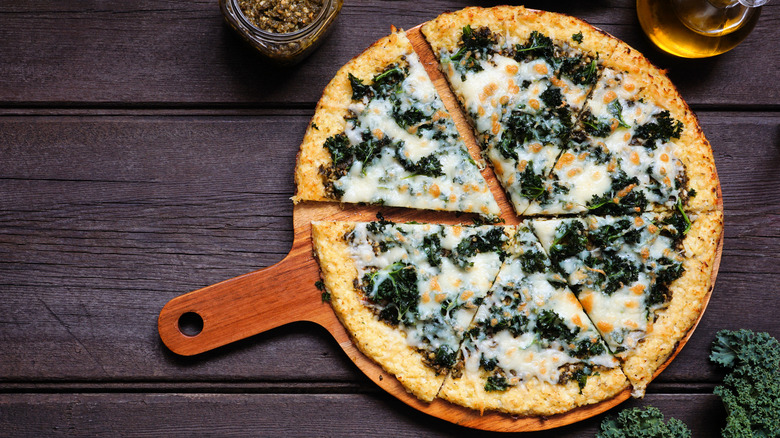 JeniFoto/Shutterstock
The ubiquitous big box store Costco has had their fair share of products with cult followings over the years, and they're now aiming to win over the scores of gluten-free eaters with a new frozen pizza offering that provides GF eaters with a chance to eat the beloved comfort food.
The popular Instagram account @costcobuys, which posts about the retailer's deals and new offerings to 435,000+ followers, posted an image of this new product with the caption: "This Kirkland Signature Cauliflower Crust Supreme Pizza 2-pack is new at my Costco and I'm all about it!"
The pies, which have toppings of pepperoni, sausage, and a variety of roasted vegetables on a three-cheese cauliflower crust (made in combination with rice flour) cost $10.69 per 2-pack, according to the Instagram user. And despite the company's previous success with cauliflower-based pizza products, the responses in the comment section for this pick are a bit mixed.
Some social media commenters were quick to praise the warehouse store's alternative pizza option, with comments like, "Really good! Can't tell it's cauliflower crust," and another person who said, "Soooooooo gooooooood. Can't wait to go back and buy more." But others were more critical, especially of the fine details on the product's nutrition label.
Some called out the pizza's carbs and sodium levels
Some shoppers have criticized the high amount of total carbohydrates contained in each serving — 31 grams of carbs per quarter of the pizza, that's 120 grams for the whole pie! — with comments like "pretty high in carbs," and "still 31 grams of carbs though."
Others took note of another high value on the nutrient label: the sodium. The American Heart Association recommends the average adult consumes no more than 1,500-2,300 milligrams of sodium per day but just one-quarter of this product has 900 milligrams. That means each quarter of this pizza accounts for 39% of the recommended daily intake of sodium. People took notice of that fact, writing comments like, "sodium overload" and "wayyyy too much sodium." 
Still, some Costco shoppers may overlook certain nutritional pitfalls for a taste of the cheesy gluten-free pie — especially since great-tasting gluten-free goods are not always the easiest to come by. The Kirkland Signature Cauliflower Crust Pizzas follow in the footsteps of the uber-popular cauliflower pizza by Milton's Craft Baker. For now, it's unclear whether the Kirkland kind will be as big of a hit, particularly among shoppers sticking to a low-carb or reduced sodium diet.