Burger King's Massive New Guinness Stacker Is Only Sold In This Country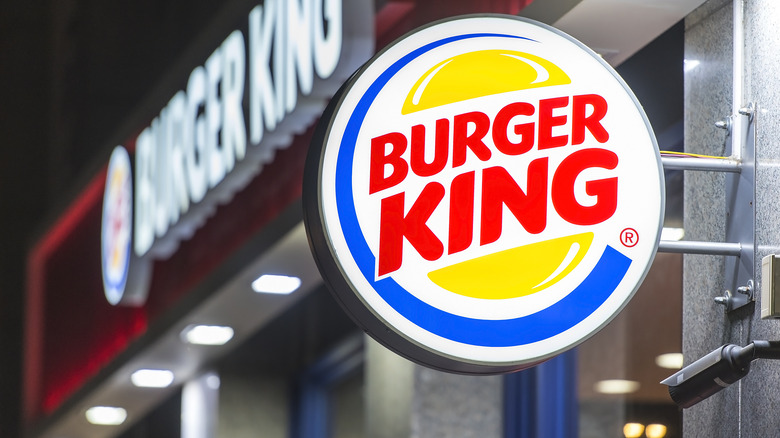 Savvapanf Photo/Shutterstock
When a meat craving hits, there's nothing more pleasurable than chowing down on a juicy, mouth-watering burger. And no one does fast food burgers quite like Burger King. Known for their famous flame-broiled burger patties, more than 11 million devoted fans flock to Burger King restaurants every day (via the official website). With its sizable burger roster, from the Juicy Steakhouse King Burger to the over-the-top Rodeo Burger, this Florida-based chain really let's you "have it your way" when it comes to burgers. (And for all you brave souls out there, make sure to try the "Suicide Burger" on the secret menu.)
Burger King is the second-largest fast food chain on Earth — as of 2020, there are more than 18,000 locations of this iconic burger joint worldwide (via Statista). While every location offers some of the same staple items, like the world-famous Whopper, Burger King options vary from country to country. Canadian Burger King locations offer poutine, a quintessential Canadian dish, on their menu. Meanwhile, in Vietnam, Burger King goers can purchase a side dish of rice. If you head over to India, Burger Kings there have eight different vegetarian burgers rather than just one, while Switzerland natives can indulge in a delicious Belgian waffle for dessert. Perhaps the best of them all, in Helsinki, Finland, diners can enjoy their BK meals while sitting in a sauna (via Insider). But it's South Korea's new BK menu item that is really turning heads.
A famous Irish beer inspires this Whopper at Burger Kings in South Korea
Burger King is no stranger to mysterious and bizarre menu items. While there are definitely some we would never want to try (like a Brussels sprout Whopper in England, per Eater) there are some we seriously would love to try (hello, Cheetos Chicken French Fries). One delicious burger that was recently unveiled was the Guinness Stacker, which features a "three quarter-pound flame-grilled beef patties layered with three slices of cheese, Guinness Irish stout-infused stacker sauce, sliced tomatoes, onions, lettuce, and mayo on a tout-infused sesame seed bun" (via Chew Boom). You might think that this Irish-themed burger is featured at Burger King locations in Europe, but actually this epic burger was launched in none other than South Korea.
This masterpiece burger was created to celebrate the sale of 10 million Guinness Whoppers, another Irish-inspired burger on South Korean Burger King menus, which launched only one year ago. The Guinness burger that preceded the Stacker was slightly more modest, however it did cater towards both meat lovers and veggie fans as customers could either order the Guinness Whopper as a beef or mushroom burger (via Irish Post).
If your a fan of the stout, and happen to be in South Korea, make sure to give the Guinness Stacker a try. It's available for a limited time only.