Giada De Laurentiis Stuns Instagram With This Kitchen Photo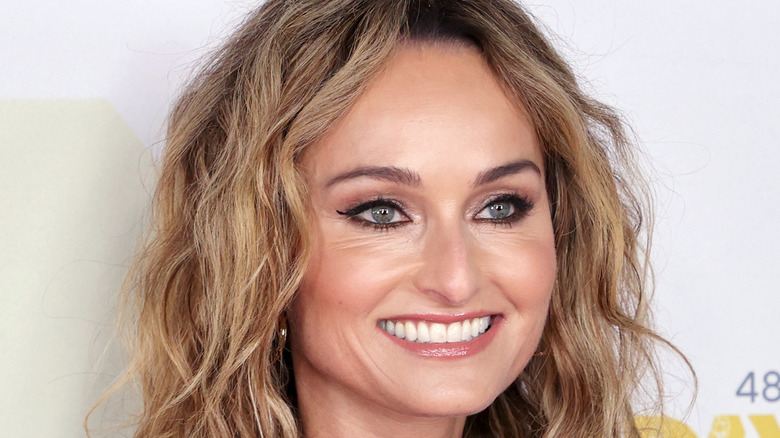 Kevin Winter/Getty Images
Let's get something out of the way: Giada De Laurentiis has her laser permanently set to stun. Between her dazzling smile, effortless Italianisms, and culinary chops, this celebrity chef is stunning in whatever setting you put her in. Is De Laurentiis traveling across Tuscany with Bobby Flay? Stunning. Promoting her recent wellness-journey-turned-cookbook, "Eat Better, Feel Better"? Hope you brought your stunner shades. Posting a photo to social media? Ladies and gentlemen, De Laurentiis does all her own stuns and hasn't been stun-burned once.
In a recent Instagram post, De Laurentiis stunned followers yet again, but this time it wasn't the sparkle in her eye or the glare from her bright future that knocked everyone out – it was her dedication to hydration, which she emphasized in the caption. Or was it her fabulous new kitchen, complete with what can only be described as "stunning" countertops and a heavy-duty-yet-charming Wolf range with cherry red knobs? One thing we know for sure; when it comes to a visual medium, you should never st-underestimate this chef's ability to wow.
De Laurentiis has been public about the renovations in her life lately, regarding both the mid-century modern home she purchased in 2019 with the intent to remodel (via Closer Weekly) and the not-so-nutritious diet she had adopted over years of cooking for a living (via Today). Was the former on full display in the chef's Instagram post? 
The only thing better than drinking enough water is doing it in a gorgeous new kitchen
You can't blame followers for wondering if the gorgeous kitchen De Laurentiis posed in for her most recent update was, in fact, part of her new abode. User @christineguzzardi9982 commented, "Pssst is that the new house?" with a sparkle emoji, to which the sparkly De Laurentiis herself would only reply: ":)" Some people simply seemed to be in awe of its splendor. One commenter exclaimed, "That Kitchen! Wow!" "The countertops look fantastic," gushed yet another. Still, more people reacted to her beautiful new kitchen. Someone wrote, "Wow!! Gorgeous countertops." Another said, "That kitchen" followed by a fire emoji. 
But the one comment that might best capture just how stunning De Laurentiis' new kitchen is for some comes from Instagram user @pbclimo. They wrote, "Stunning. Just stunning. Isn't she just perfection? Look at the way she [glistens] & shines." And while parts of the comment might have left some people thinking it referred to De Laurentiis herself, the commenter comically went on to say, "Giada my love, with all due respect, please move out of the way so I can have my way with that gorgeous stainless steel Wolf Range with the red knobs!!!!!" Clearly, some people are crazy about the look of De Laurentiis' kitchen.
Of course, it's also possible that the post received thousands of likes and over 700 comments not because of the kitchen itself, but because of De Laurentiis' commitment to better living through drinking water.
Maybe De Laurentiis herself couldn't keep her new kitchen a secret any longer
"Tell me I'm not the only one using a bottle like this to stay on track??" the chef ponders aloud in the caption of her Instagram post, adding the hashtags "hydration" and "TGIF." De Laurentiis' caption references the large Nalgene bottle, half-full of water, that she is holding in the photo as her seemingly mile-wide smile complements the kitchen that caught so many eyes.
Many fans enthusiastically bought into the hydration public service announcement. One person decided to share their own hydration habits, writing, "I make a 3 liter of lemon water every morning and make sure it's empty by evening." Even De Laurentiis seemed impressed by that one responding with an emoji. A proud Nalgene user informed the chef, "Got my nalgene right here," prompting the official account for Nalgene to post emoji hands of gratitude in reply.
However, one can't help but wonder if the post really is just a simple reminder to stay hydrated, or if it's actually a sneaky way to show off De Laurentiis' new kitchen before the official renovation reveal? It's worth keeping in mind that De Laurentiis has been working on her dream kitchen remodel since at least February of 2021. But since she's all about achieving the right balance with food and in life, it seems entirely plausible that this was a sincere PSA that De Laurentiis counterbalanced with countertops and a Wolf range, knowing full well that they would leave fans' eyes thirsty for more.  Either way, stunning.