The Vampire Starbucks Drink You Can't Get In The U.S.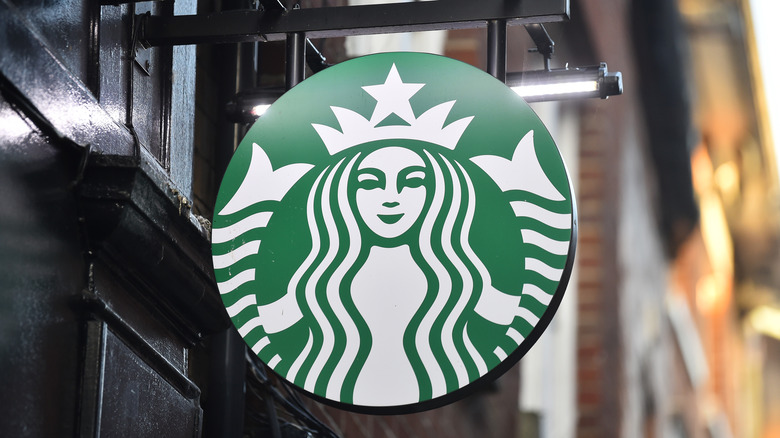 Nathan Stirk/Getty Images
If there's one thing we can always count on at Starbucks, it's a delicious seasonal beverage that graces their menu and our taste buds for a limited time each year. Fall's most-hyped treat, by far, is the Pumpkin Spice Latte. The drink is more than a coffee beverage at this point; it's a cultural moment that leads the autumn craze for all things pumpkin-flavored, tinglingly warm, and cozy.
A Starbucks spokesperson told Well+Good that the PSL is the chain's most popular seasonal beverage, noting that sales have grown year after year since the drink's debut in 2003. Considering the PSL's success, it only makes sense that Starbucks would want to indulge their customers' excitement for fall even further. Of course, this inevitably means some experiments with Halloween-themed drinks. Beverages like the Franken Frappuccino, Zombie Frappuccino, and Witch's Brew Frappuccino were some of the libations that delighted Halloween fans in the 2010s (via Starbucks Stories & News). There's one spooky Starbucks creation, however, that has never been available in the United States that sounds frightfully delicious.
The Vampire Frappuccino is chocolate-strawberry heaven
Say hello to the Vampire Frappuccino. When we heard this drink's ominous name and learned that it hasn't yet been available stateside, our interest was piqued. The treat looks positively ghastly, with a chocolate créme Frappuccino base, whipped cream, and streaks of bloody-red strawberry sauce throughout. It made its debut in 2015 at participating locations in the U.K. and Latin American countries including Costa Rica, El Salvador, Guatemala, and Panama for the Halloween season (via Starbucks Stories & News). It's been available for a few years since then, prompting fans to wonder when the Vampire Frappuccino that was so popular in the U.K. would make an appearance in the U.S. (via Bustle).
While American customers were actually treated to their own vampire-inspired Frappula Frappuccino, a white-chocolate drink with raspberry sauce, the same year, some fans may still be curious about the Vampire Frappuccino across the pond. You could presumably order the chocolate créme recipe above, but Starbucks Secret Menu put out a different dupe for the real thing: Order a mocha Frappuccino and ask for mocha sauce at the bottom of the cup, whipped cream, and strawberry sauce on top. Take a sip and see if you feel just a little more in the Halloween spirit.