This Might Be The Exact Date Starbucks' Pumpkin Spice Latte Returns
Starbucks' Pumpkin Spice Lattes are just as coveted as their red holiday cups, if not more. Some would say that it's the Pumpkin Spice Latte that marks the onset of not only fall, but also the festive season that goes on until the end of the year. "The return of the PSL marks the start of autumn for many *cue crackling bonfires* ... The drink is now a seasonal staple synonymous with cozy knits as the temperatures cool and we finally say farewell to summer," says Starbucks, and they're spot on.
Pumpkin Spice Lattes aren't popular for no reason. The drink contains the signature Starbucks Espresso Roast, a pumpkin pie-flavored sauce, milk, and whipped cream, and it's topped with rich autumnal spices like cinnamon, nutmeg, and cloves. No wonder the drink tastes like a liquid version of a Thanksgiving dinner pumpkin pie.
If the track record of the last few years is any indication, the iconic Pumpkin Spice Latte might be out sooner than you think, too. While the rest of the world deals with sticky hot summer afternoons, if rumors are to be believed, Starbucks is already going to be gearing up to bring back the PSL in just a few weeks. Eat This, Not That! observed that Starbucks has been introducing the PSL to its menu on the third Tuesday of August every year for the past few years. So, if that is true, the drink will be back in Starbucks outlets across the country likely on Tuesday, 24 August this year.
What can fans expect from this year's PSL season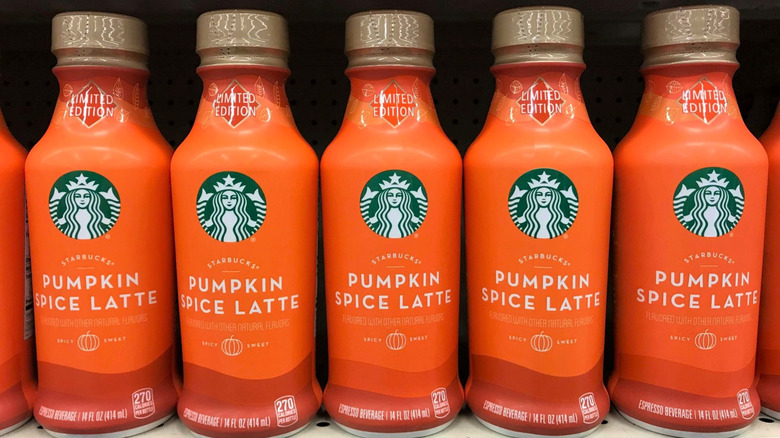 Shutterstock
Although Starbucks hasn't officially announced a release date for its Pumpkin Spice Latte or given any details of the additional fall menu for 2021, if last year was any indication, fans can expect a lot of pumpkin spice-filled treats this year. Last year's fall menu (per Starbucks official site) saw a Pumpkin Spice Cold Brew, Pumpkin Scones, and Pumpkin Cream Cheese Muffins alongside the traditional PSL. Besides the fall-themed food and drinks, the menu also included a hot Salted Caramel Mocha and as well as a frozen Frappuccino version of it.
Chances are that Starbucks will also bring the pumpkin spice season to grocery stores. Last year, Starbucks fans could find pumpkin spice-flavored K Cup pods and ground coffee as well as VIA instant latte sachets, plus a flavored creamer and an iced espresso version of the PSL. They also had a line of maple pecan-flavored coffees on the shelves of many stores, according to the brand's website.
While you count down the days 'til August 24 to finally be able to sip on a Pumpkin Spice Latte again, you can also make your own version of it any time at home using Starbucks' own recipe, seen online.