Yogurtland's Newest Flavor Is Perfect For Back-To-School Season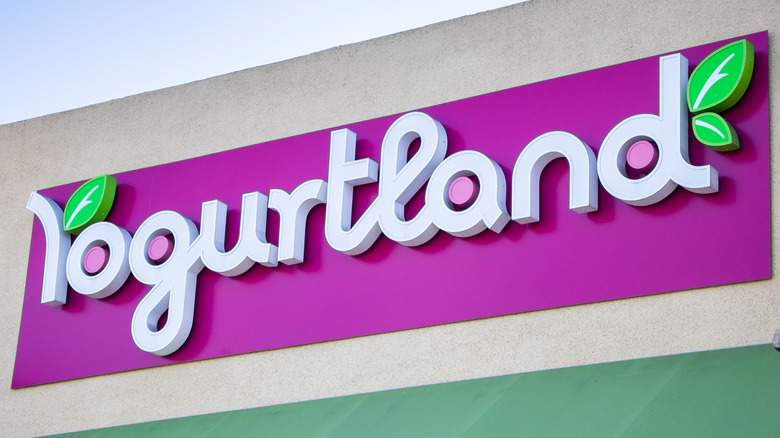 TonelsonProductions/Shutterstock
While Yogurtland first started as a single store in Fullerton, California back in 2006 (per the official website), the self-serve frozen yogurt shop now has more than 300 locations across the country (and the world!), making it one of the more popular dessert chains. It prides itself on its quantity and quality of flavors. According to the brand, its team of flavorologists "work tirelessly" to create unique, made-from-scratch flavors inspired by cultures and countries around the globe. Concocted in Yogurtland's own creamery, the frozen treat uses only the freshest, highest-quality ingredients possible, from fresh fruit to roasted nuts.
You'll find over 200 flavors on Yogurtland's regular menu, including the staples — such as plain tart, salted caramel, and chocolate chip cookie dough — alongside the more "fun" picks, like maple donut, guava grapefruit, and matcha green tea. Recently, the brand announced yet another flavor to its lineup, and it's just in time for the back-to-school season. Based off a nostalgic breakfast food, it's sure to be a hit with both kids and adults alike.
The new Yogurtland flavor is inspired by cereal and milk
If, like many Americans growing up, you enjoyed a bowl of cereal before school on weekdays or on Saturday mornings while watching cartoons, you're all too familiar with the taste of Froot Loops, Fruity Pebbles, and Cap'n Crunch. Now, you can experience a similar cereal-inspired frozen yogurt flavor with Yogurtland's newest addition: Milk 'N Fruity Cereal. According to the nutritional information posted on Yogurtland's website, the yogurt doesn't actually contain any cereal but is instead made with vanilla wafer cookies. However, you can always add a sprinkle of Fruity Pebbles as a topping.
This new flavor, which has 35 calories per serving, is available at select Yogurtland locations and via online ordering from the website or mobile app. If you want to get your hands on the nostalgic treat, you'll want to act fast, too — the chain posted on Instagram that it will only be on the menu for a limited time.