Arby's Has Good News For Fans Of Its Prime Rib Cheesesteak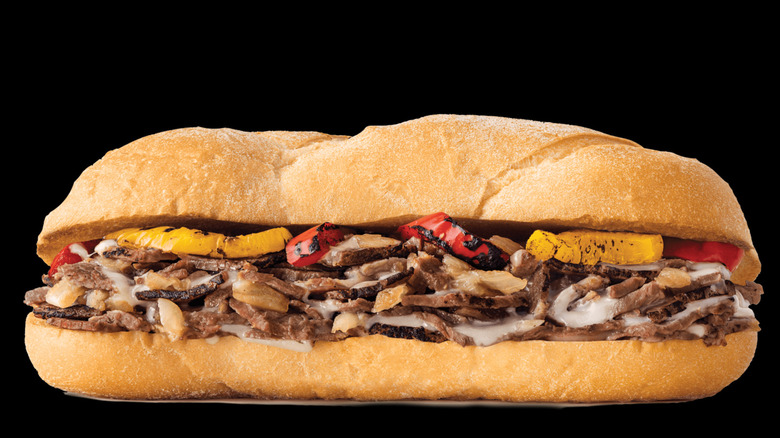 Arby's
Arby's is closing out the summer in style by bringing back its Prime Rib Cheesesteak sandwiches, according to The Fast Food Post. Arby's introduced the Prime Rib Cheesesteak and Spicy Prime Rib Cheesesteak sandwiches on its limited-time-only menu almost exactly one year ago, per Chew Boom. Arby's didn't elevate the two offerings to the permanent menu, but the chain thought highly enough of the steak sandwiches to bring them back now, so you can have one more comfort food option to get you through the back-to-school season.
Prices vary by location, but The Fast Food Post reports that Arby's is offering the sub-style sandwich for $6.29 or $9.19 for the full meal, which comes with fries and a drink. The standard version of the sandwich comes with provolone cheese, onions, and fire-roasted red and yellow peppers on a toasted sub roll, per the Arby's menu page. The spicy sandwich adds a Korean barbecue sauce, according to an Arby's ingredients list.
Arby's Spicy Prime Rib Cheesesteak received a rave review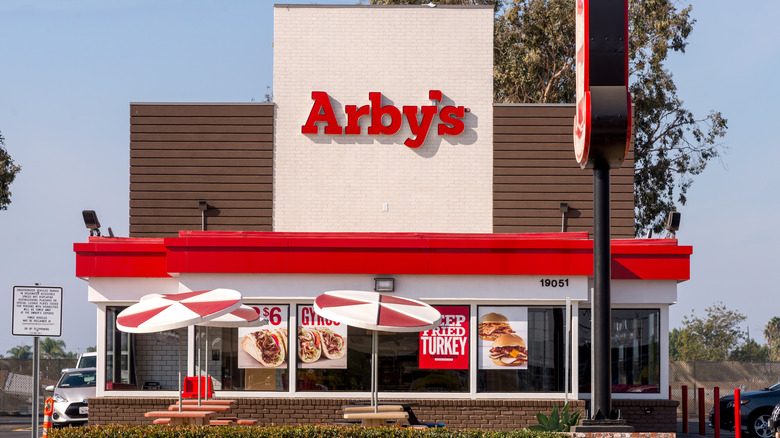 Steve Bruckmann/Shutterstock
How do the Arby's Prime Rib Cheesesteak sandwiches stack up against other Arby's menu items when it comes to nutrition? The regular Prime Rib Cheesesteak has 630 calories, and the spicy sandwich is at 670 calories, according to Arby's limited-time menu.
These two sandwiches are on the high end of the calorie scale, relative to other Arby's options. The Classic Roast Beef sandwich has just 360 calories, and the ginormous Half Pound Roast Beef is a little lighter than the cheesesteak sandwiches, at 610 calories, per the Arby's menu. If you're at Arby's and you want to go more calorific than the new cheesesteak items, you need to get the Half Pound Beef 'N Cheddar (740 calories). The Prime Rib Cheesesteak has a little of everything, nutritionally speaking (or a lot of everything, depending on your dietary needs): 52 grams of protein, 44 grams of carbs, and 27 grams of fat, per the menu page for the item.
How do the new Prime Rib Cheesesteak sandwiches taste? Popular YouTube reviewer Ian K. at Peep THIS Out! Tried the spicy version when it first came out a year ago. He called it "lovely" and gave it a 10 out of 10. Adding Horsey Sauce for an extra level of kick completed the meal for him. "It completely makes the sandwich life-changing," he raved.