McDonald's New Saweetie Meal Merch Is Turning Heads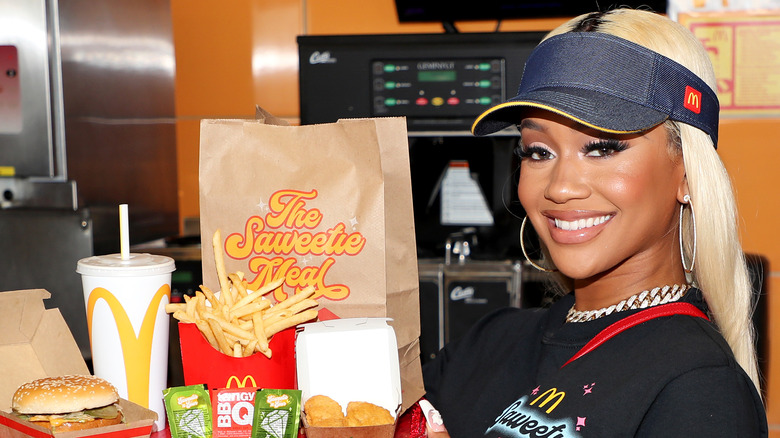 Jerritt Clark/Getty Images
Forget Doja Cat. Looks like rapper Saweetie's new "Best Friend" is none other than fast food giant McDonald's. Diamonté Harper, better known by her artist name, Saweetie, has ramped up her existing partnership with McDonald's, which already included a limited-time "Saweetie Meal," (Big Mac, 4 piece Chicken McNuggets, Saweetie 'N Sour and Tangy BBQ Sauces, medium french fries, and a medium Sprite).
The latest incarnation of this effort is a whole line of branded merch that is causing a major stir on social media. The line dropped on Instagram on August 23, and is available for purchase on Saweetie's official merch site, Icy by Saweetie. The collection is called Saweetie x McDonald's, and includes items like shorts, socks, trucker hats, fanny packs, totes, sweatshirts, and tees featuring co-branded imagery. Some of Saweetie's favorite things, like volleyball and palm trees, are also part of select designs, says QSR Web. Pricing on these items ranges from $18 to $128, with free shipping on orders over $150.
Fans are excited for the Saweetie x McDonald's merch
The Saweetie x McDonald's line is so fire that McDonald's didn't feel the need to oversell it in the original Insta post, which was captioned with a simple "Saweetie Meal drip has dropped." Saweetie herself responded simply with three snowflake emojis, a nod to her breakout hit "ICY GRL," and the massive brand she's since cultivated.
Fan reaction has been overwhelmingly positive, with user dad_fitness calling the collab "the best relationship in America currently." User queenmorch commented using serious Saweetie lingo with, "IKDR! I'm about to order hella stuff for myself and my daughters ❄️."
Not everyone's a fan, though. Sabbathsims says on the Insta post, "Instead of focusing so much money on silly ads why not put that money into the quality of your food."
This isn't the first time that McDonald's has partnered with stars to sell burgers. Big names like Travis Scott and K-pop sensation BTS have recently enjoyed their own branded meals and subsequent merch drops. Like theirs, Saweetie's line is only on sale for a limited time, so if you need a fanny pack in your life get it while you still can.