The Eye-Watering Sum Travis Scott Likely Earned From His McDonald's Partnership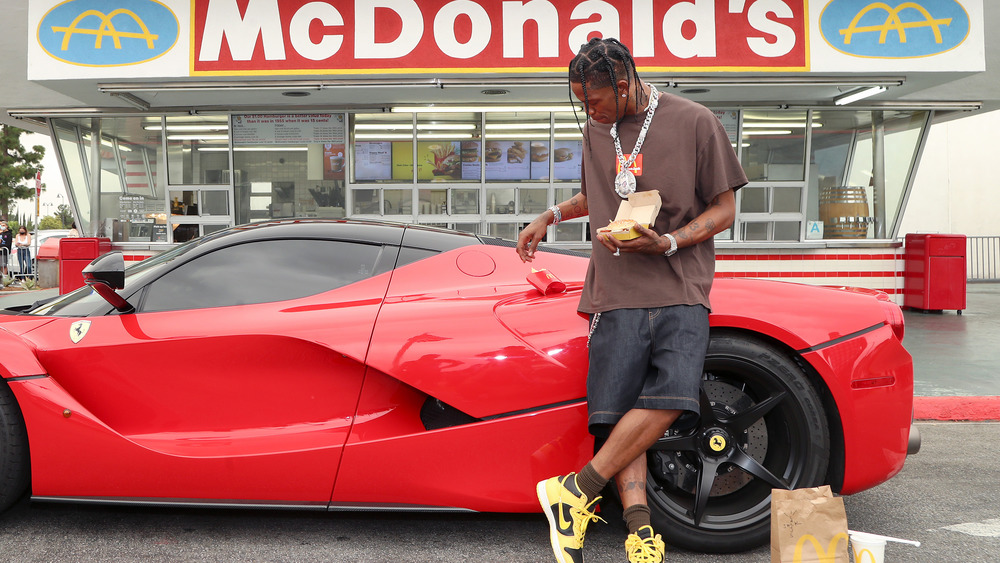 Jerritt Clark/Getty Images
Travis Scott was very good to McDonald's, and McDonald's was very good to Travis Scott. McDonald's recently reported double-digit sales growth at U.S. restaurants in September 2020 compared to the same month last year. That happened to be the month the Travis Scott meal was available in the U.S., and McDonald's said the promotion was a big reason why the burger chain did so well even though a lot of its dining rooms remained closed due to the COVID-19 pandemic. While McDonald's locations in the U.S. saw growth overall in the third quarter of 2020, carried by a strong September, sales at McDonald's in foreign countries — where the Travis Scott meal wasn't available — were in the negative. So thank you, Travis Scott.
The 28-year-old hip-hop artist who grew up outside of Houston also benefited from lending his name and face — and action figure — to McDonald's cause. Forbes reports that Scott made $20 million from a four-week arrangement that had McDonald's selling Scott's favorite meal growing up: a Quarter Pounder with bacon, fries with barbecue sauce, and a Sprite.
Forbes estimates that McDonald's paid Scott $5 million for the promotion. The other $15 million came from sales of McDonald's and Cactus Jack-branded merchandise on Scott's website. ("Cactus Jack" is a nickname for Scott and the name of his record label.)
Travis Scott negotiated full merchandise rights with McDonald's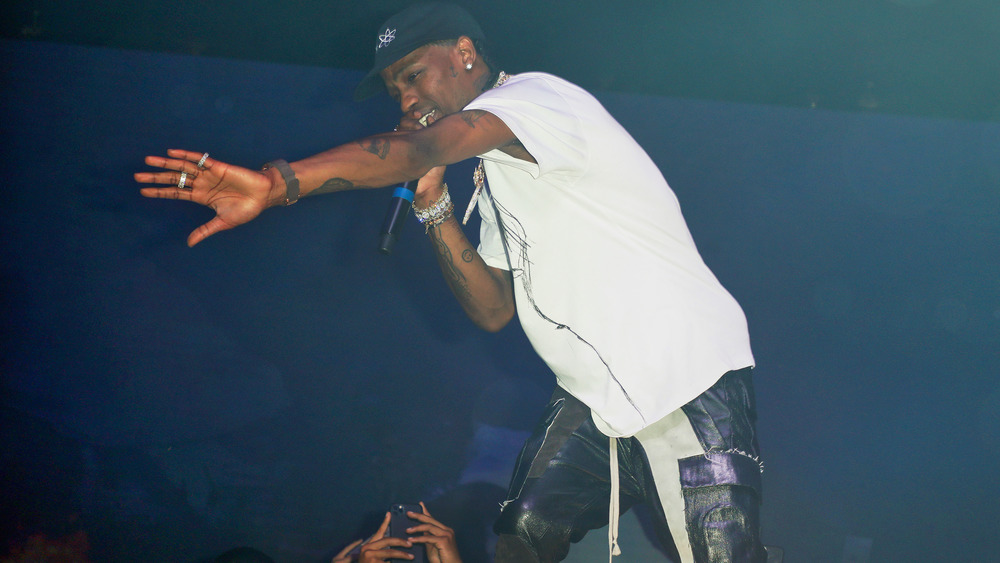 Alexander Tamargo/Getty Images
Travis Scott put real work into the merchandise line. He and his team designed T-shirts, boxer shorts, and hoodies with the Cactus Jack and McDonald's logos. They even came up with a Chicken McNugget body pillow. All of it sold out in just a couple days, and Scott had negotiated for full rights to the merch — which explains how he got a cool $15 million from merch sales alone.
The deal seems fair because in return, McDonald's got something that money alone can't buy — street cred among today's youth. "Travis Scott is the definition of big in culture," McDonald's Chief Marketing Officer Morgan Flatley said before the Travis Scott meal dropped. "He will resonate and spark excitement with our youthful multicultural customers," (via Complex). Looking back on the deal, venture capitalist Blake Robbins told Forbes that when it comes to celebrity endorsements, Scott is at the top of his game: "If he can make McDonald's cool ... that's the ultimate sign he's made it."
McDonald's wasn't the only big moneymaker for Scott in 2020, according to Forbes. His nine-minute virtual concert in the online game Fortnite earned Scott another $20 million — more than he could earn from a real concert. After the McDonald's meal, Scott announced a partnership with PlayStation that has paid him at least $1 million so far, with many millions more coming.