McDonald's Just Revealed Its BTS Merch. Here's What You Need To Know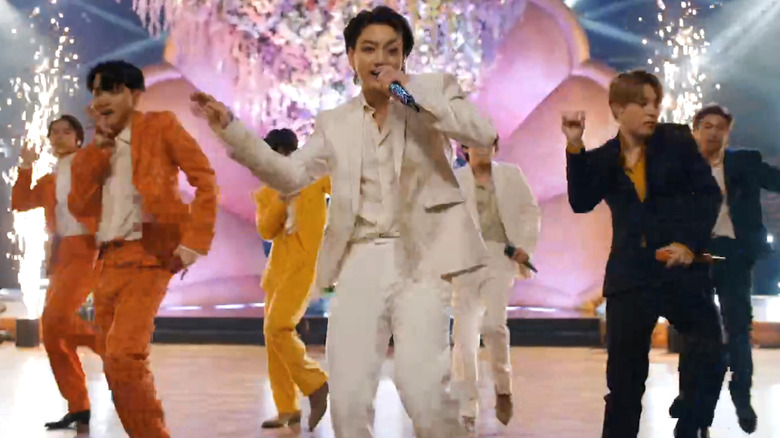 Theo Wargo/Getty Images
It's quite the big day for fans of the K-pop supergroup, BTS, and not just because the hot-as-gochujang group's much-awaited, recently-released hit song "Butter" has "glided" into its third week at number one on the Billboard Hot 100 songs chart — even though this record-breaking smash hit is well on its way to breaking BTS's own longest reign at number one (via Billboard). And speaking of record-breaking, "Butter" has already broken five — yes, five — Guinness World Records across YouTube and Spotify, including "most viewers for the premiere of a music video on YouTube" (via Rappler). Those are pretty major accomplishments, too. But today, something else that's really exciting is happening for BTS fans — especially those who are looking to wear their BTS-loving hearts on their sleeves, so to speak:
Tonight at 7 p.m. EST, McDonald's (which, as it is impossible to forget, is very very popular among the members of BTS) is dropping two new merchandise lines relating to BTS, one of which was, in a sense, actually designed by members of BTS. Here's what you need to know about McDonald's new BTS merchandise.
Get the new BTS-McDonald's merch while it's hot!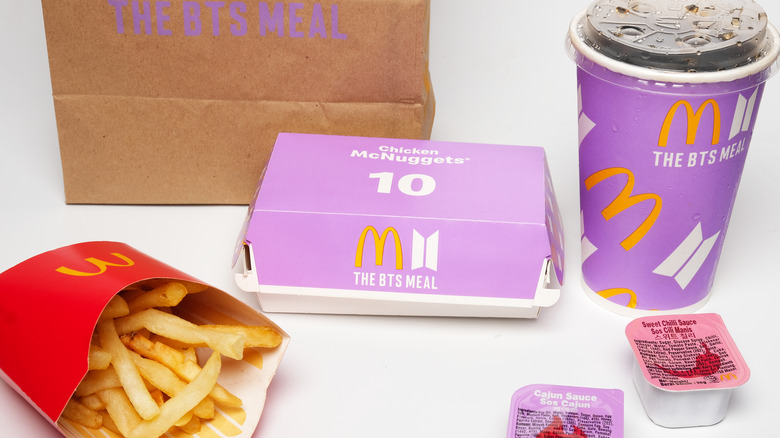 Shutterstock
BTS, those beloved, chart-topping K-poppers, have gotten together with McDonald's once again for a new collaboration that drops today, June 16 at 7 p.m. EST, consisting of things you can wear, such as t-shirts and pajamas, and sundry items that you can use in your day-to-day life, such as key rings. McDonald's has revealed that the "Saucy Collection" line of merchandise features characters hand-drawn by BTS themselves. The second line, the "Melting Collection," is wholly inspired by the record-breaking BTS new-release, "Butter," according to QSR Magazine.
If you're looking to wear your love for BTS, on your sleeve or otherwise, all you have to do is download the Weverse Shop app, create an account, and start shopping. "And remember," as QSR points out, "there are still a few days left to enjoy the BTS Meal." You can get it at any McDonald's restaurant (in-store or drive-thru) or via McDelivery through June 20.