How One Chef On TikTok Turned KFC Into A Gourmet Dish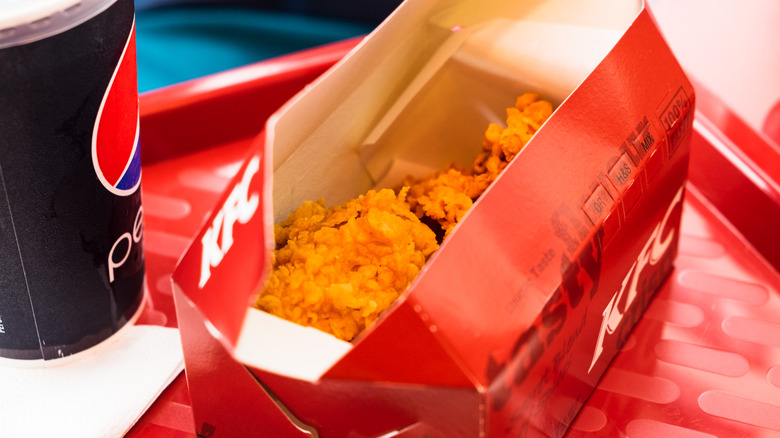 Karlis Dambrans/Shutterstock
Doing the whole "menu-hack" trend one better, a popular TikTok chef is turning heads with his souped-up versions of popular fast food menu items. His most recent project? Transforming an order of KFC Nashville Hot Chicken Tenders into Calabrian Chicken Ragu.
In a video which has now received close to two million likes, the anonymous chef is discovered at work in his restaurant (an unspecified Washington D.C. eatery) and presented with a bag of Nashville Hot Chicken Tenders by a friend, who challenges him to "turn [his] KFC order gourmet." After a wary sniff of the contents of the bag, he quickly and accurately identifies the KFC order and determines the best course of action: "I'm gonna make a Calabrian Chicken Ragu with these Nashville Hot Chicken Tenders," he declares with complete confidence. He gets straight to work, chopping and dicing and deglazing until the only recognizable part of the KFC order left is the biscuit – which he ingeniously crafts into a spicy crumble finish. Along the way, he adds some ingredients of his own, including garlic, scallions, white wine, crème fraîche, and butter.
The blogger behind the chef
As it happens, the TikTok chef has a number of similar videos online, in which he retools lackluster fast food items for a fine-dining setting. In a post from earlier this month, for example, he incredibly reworked a McDonald's Double Quarter Pounder into a beef Wellington. At an impressive 18.3 million views, it's possibly his most popular video to date.
It's worth noting the D.C. chef does not operate his own TikTok account but is just one of many chefs featured on the popular #FastFoodGourmet series run by Danny Kim, a Washington, D.C. resident and growing presence on TikTok. In fact, Kim's "Gourmet" series is a relatively recent addition to what was already a popular food and lifestyle blog, chronicling the mechanical engineering student's exploration of the Washington, D.C. food scene. 
Not long after going up, the blog had generated enough buzz that Kim received a profile in the Washington Post earlier in 2021. Since then, his #FastFoodGourmet series has taken him to new heights, with just about every other episode receiving over a million views. Now 11 episodes in, fans can only guess what other culinary transformations Kim and his chef friends have in store.