Chrissy Teigen Fans Are Freaking Out Over Her New Spice Sampler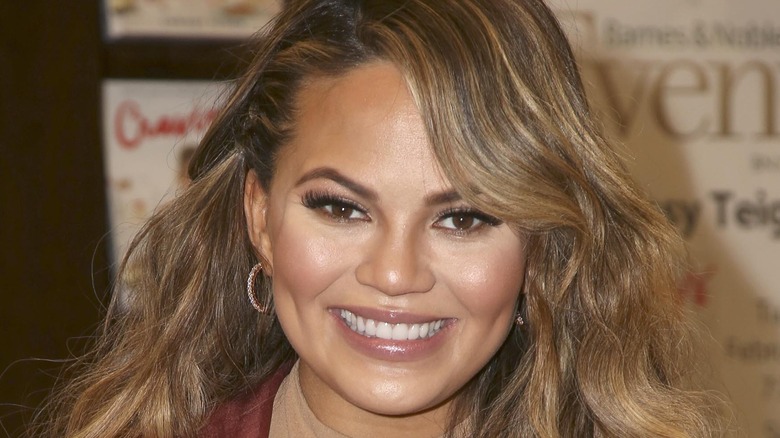 Kathy Hutchins/Shutterstock
Cookbook author and model Chrissy Teigen has something new to add to her popular Cravings line of spices. Fans swooned over her sweet and savory popcorn seasonings with flavors like smoky tangy BBQ and maple doughnuts. Now, Teigen has a new spice collection that we're dying to try.
Teigen announced the new Cravings By Chrissy Teigen Shortcut Spice Sampler recently on Instagram, promising that "a pinch packs a punch!!" There are four spice blends in the sampler, packaged in cute, compact tins that hold 1.5 ounces each. 
Teigen's website says the Chili Garlic blend was inspired by the Thai flavors used by her mom, Pepper, who People reports is publishing her first cookbook this fall. It includes hot peppers, smoked garlic, and sea salt. The Shawarma Style spice, which promises to bring home cooks "one shake away from stuffed pita greatness," is packed with flavor from lemon, black pepper, coriander, garlic, and cinnamon. The Cracked Black Pepper + Citrus seasoning has a Mediterranean feel with its blend of coarse pepper, lemon and orange peel, oregano, and basil. And last but not least, the Jamaican Jerk blend, a classic combination of fiery chilies, brown sugar, and spices like allspice and nutmeg, "gets the prep out of the way for [her husband] John's jerk chicken." 
Teigen helps home cooks get big flavor
We honestly don't know which spice to try first. The four-pack Shortcut Spice Sampler, available on Chrissy Teigen's website for $24.00, says that the blends lets us "quickly season weeknight dinners, break them out for a party spread, or stash in your bag for weekend getaway cooking." We could easily see any of these spices used in a marinade for beef and poultry, sprinkled over veggies for roasting, or stirred into dips. 
While her popcorn seasonings are fun, we love that Teigen created these new spice blends to help people prepare flavorful food faster with minimal fuss. Her website notes that "you'd have to buy a pantry-load of spices to replicate these at home. Let them do the work so you can focus on more important things, like not overcooking that chicken." This spice sampler is a perfect gift idea for new cooks or people who don't have the space to store dozens of different spices. She has the same idea with her Chicken Dinner Spice Kit that has blends to season the meat and all the sides to go with it. According to Domino, Teigen's site even has a handy list of easy ingredient substitutes, like swapping Greek yogurt in for mayonnaise, or whipping up a quick, homemade ketchup when you're out of the bottled stuff. We're all in for spices and shortcuts that help us get dinner ready faster!