Why Montreal Has The Best Bagels, According To Gail Simmons - Exclusive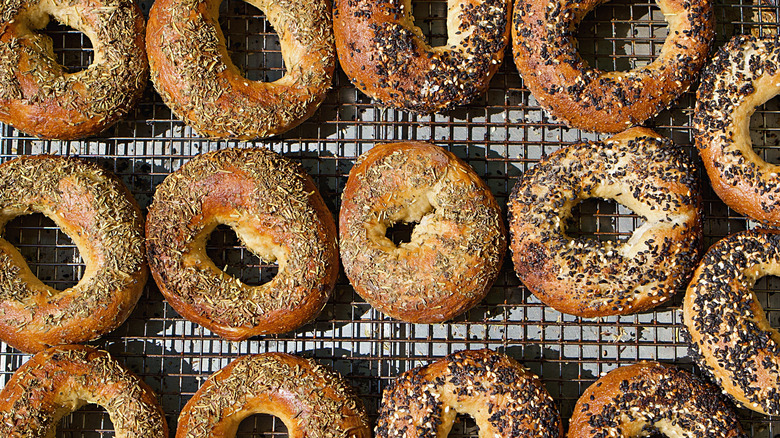 Tadge McWilliams/Shutterstock
New York has long been the presumptive bagel capital of the world but it has some competition both stateside and abroad. Back in March, The New York Times went rogue when it bestowed the "best bagels" title upon California, singing the praises of spots such as Berkeley's Boichick and Pop's in Los Angeles for slinging superlative vessels for lox and a schmear. But for "Top Chef" judge and culinary expert Gail Simmons, her tastes align with what's being fired up by our neighbors to the North. In a recent Instagram post, the Canadian native declared that when it comes to bagels, Montreal is number one. During an exclusive interview with Mashed, she explained her divisive bagel preference.
"A lot of it's cultural," said Simmons, whose family hails from Montreal. "This is the bagel I grew up with. It's the bagel of my homeland."
But it's not just the taste of nostalgia that makes the Montreal bagel so appealing to her. Unlike the hefty, puffy boiled New York specimens, the Montreal version is thinner and finished in a wood-fired oven. It also features a distinct touch of sweetness thanks to the addition of honey. "There's this very specific flavor," said Simmons. "There's a different dimension and texture to their shape."
To be fair, Simmons is not certainly alone in her preference. There is a reason St-Viateur and the century-old Fairmount are Montreal institutions, each with its own rabid fanbase hungry for their sensational hand-rolled bagels (via Serious Eats).
"When they are fresh out of the oven, there's just nothing like it," Simmons exclaimed. "It's very unique. And it is, to me, one of the most delicious things in the world."
These are the Canadian snacks Gail Simmons craves
Bagels aren't the only local bites Simmons seeks out when she ventures up North. When the weather cools, a slice of tarte au sucre, also known as Québécois tart, is a must. A favorite from her youth, the caramelized, maple dessert is at the top of Simmons' Canadian must-eat list. "It is one of my favorite things," she declared.
Simmons also likes to indulge her sweet tooth with candy options that are only available in Canada. "A lot of the junk food of my childhood, it's just not the same in the States," she said. For candy, Simmons gravitates towards Smarties (the Canadian version of M&M's), along with Mirage (known for its bubbly interior), and Caramilk chocolate bars.
When it comes to savory cravings, the snack of choice is All Dressed chips, which takes an everything bagel approach to the seasoning with a kitchen flavor blend of ketchup, barbecue, sour cream and onion, and salt and vinegar.
And there are some healthy options thrown into the mix too. When in season, peaches are a must. "It's not to say that there aren't good peaches in a million places around the world," Simmons noted. "I just love, have an allegiance to Ontario peaches because that's where I grew up."
Gail Simmons is currently a judge on "Top Chef Amateurs" which wraps up its season September 2 on Bravo. If you want to try making tarte au sucre at home, let Gail Simmons be your guide with her recipe that incorporates a toasted hazelnut crust, via Rachael Ray Show.