Costco Vs. Trader Joe's: Which Has Better Everything Bagel Seasoning?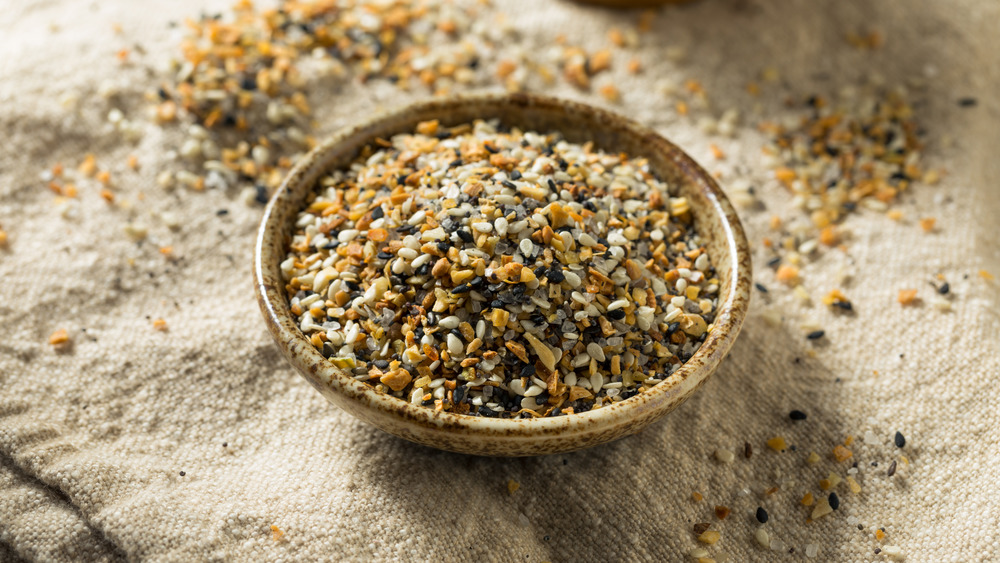 Shutterstock
It's a seed mix. It's a lifestyle. It's Trader Joe's Everything But the Bagel Seasoning. Chances are, you've heard the retailer's best selling item: the bagel-inspired blend of poppy seeds, sesame seeds, onion and garlic flakes, and salt that fans all over the world over sprinkle on everything from their avocado toast in the morning to popcorn late at night. It has gotten rave reviews online, spawned dozens of copycat recipes, and now, has a competitor (indeed, more than one) that's picking up steam. Here's what you need to know about these bagel-less mixes.
First, the specs. Trader Joe's Everything But the Bagel Seasoning comes in spice jars weighing in at 2.3 ounces and retails for $1.99 in-store (via Refinery 29). It has gained a devoted following, and even given birth to a thriving black market in parts of the world Trader Joe's hasn't touched. On Australian eBay, a single bottle can go for around $11.66 Australian dollars, including shipping, which translates to roughly $8.50. 
For a jar of seeds. One couple even reportedly made close to $30,000 just by selling the sought after sprinkle online (via Kitchn). Costco has been selling its own version, called simply, "Everything Bagel Seasoning" in 11.5 ounce tubs since last year for $4.99 and the reports are in. How different can two seasonings with essentially the same ingredients be, you might ask? If the internet has anything to say about it — a LOT.
Costco's copycat seasoning and how it stacks up
The ingredients are the same, and in the same order, albeit worded slightly differently (Trader Joe's "dried minced onion" vs. Costco's "dehydrated onion"), but some critics of the Costco version say it's too salty. One commenter on an Instagram post from account costcobuys wrote, "TJ's is better. This one has much more salt." One Redditor claimed the exact opposite, however: "And it's less salty than the one from TJ's, too." A quick look at the labels tells us they're right: for a quarter-teaspoon serving, TJ's version has 80 mg of sodium compared to Costco's 65 mg. As one Redditor said of the Costco version, "I don't say this lightly, it's life changing."
There's no question on one point, though: Costco's seasoning is the better value. It isn't lost on this Redditor, who said, "Love tj but too pricey to purchase frequently. Will look for it on my next Costco run." And if you don't have a Costco membership, Sam's Club, Walmart, Amazon, and Aldi all have their own versions, too (via SheKnows). Regardless of your retailer, the mix gives an extra boost and crunch to everything from rice to eggs to salads (via the Edgy Veg, Reddit, Kitchn). According to the Kitchn, one mom even uses it to trick her little ones into eating their veggies. "My kids, four and two, are picky about vegetables, and these 'sprinkles' seem to help sell them," she told them. Who can argue with savory sprinkles?