Easy Hearts Of Palm Pasta Recipe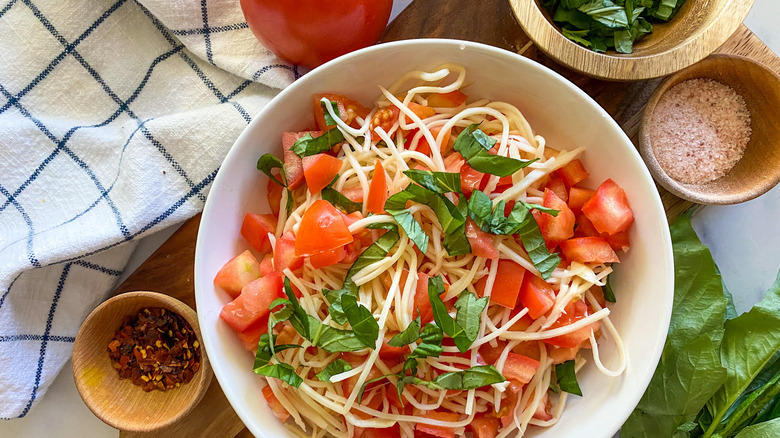 Miriam Hahn/Mashed
Step aside, zucchini noodles, because there's a new grain-free, plant-based pasta in town. And guess what? This pasta is a total game-changer, according to recipe developer and wellness coach Miriam Hahn. We're talking about "pasta" made from hearts of palm, which is "a vegetable taken from the inner core of certain palm trees," as explained by Hahn. This veggie is low in calories, and also "high in fiber, potassium, iron, and zinc, to name a few" and "tastes somewhere between artichoke hearts and asparagus." 
"There are many healthy pastas on the market, but one made strictly from a vegetable is just all the way around healthier," Hahn says Like zoodles (zucchini noodles), hearts of palm pasta is made of 100% hearts of palm. But hearts of palm pasta has the advantage of having a lower water content than zoodles. Accordingly,  they don't release as much water into the sauce you're serving over them. In addition, you can purchase shelf-stable hearts of palm pasta, which means it will not even require refrigeration. 
Athough strictly speaking, you don't even have to cook hearts of palm pasta, Hahn has created this recipe that features warm hearts of palm pasta with fresh tomatoes and basil. It's ready within minutes, and it also serves as a good introductory lesson on how to work with hearts of palm pasta.
Gather your ingredients to prepare this hearts of palm pasta recipe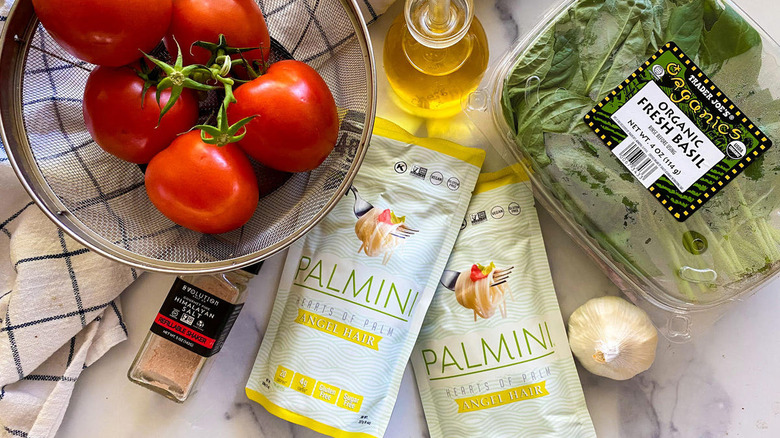 Miriam Hahn/Mashed
In order to prepare Hahn's recipe for hearts of palm pasta recipe, you'll need two 12-ounce packages of hearts of palm pasta. As you can see from the photo above, Hahn uses Palmini brand angel hair hearts of palm pasta. Angel hair, Hahn says, is her favorite "pasta" shape when it comes to this particular plant-based pasta. You'll also need 2 tablespoons of olive oil divided — one for cooking the garlic, and one for tossing the pasta before serving. In addition, get together three minced or grated garlic cloves, four to five diced fresh medium-sized tomatoes, and ½ cup of fresh basil, which Hahn is going to walk you through the process of turning into a "chiffonade."
Optional toppings include pine nuts, red pepper flakes, and shredded Parmesan cheese. Of course, if you're following a vegan diet, then you'll want to use a plant-based cheese instead.
How to dice tomatoes like a boss and prep your basil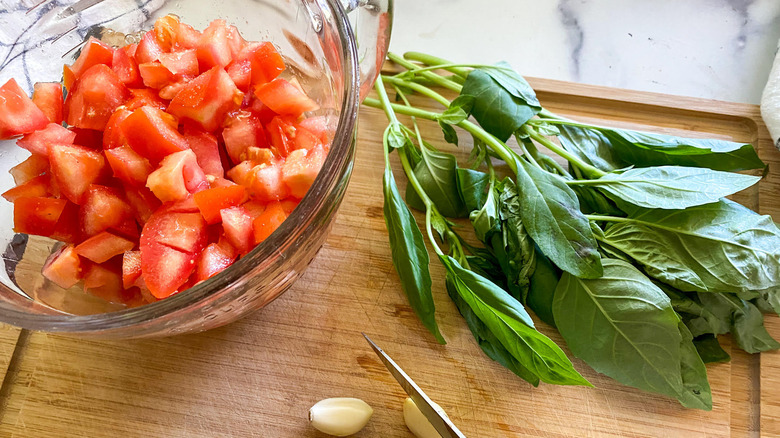 Miriam Hahn/Mashed
To dice your tomatoes, first cut the tomato in half, quarter the halves, halve the quarters, and then simply dice to finish. (You'll find more ways to cut tomatoes here).
Chiffonade refers to slicing a leafy green veggie into slender strips. To chiffonade basil or any leafy green veggie, start by selecting the largest leaves you can find. Stack them atop one another, and then roll the pile of leaves into a tight cylinder. All that's left to do is take a chef's knife, and start slicing the cylinder. When you unroll the slices, you'll have a chiffonade.
Open the packages of hearts of palm pasta, rinse, and drain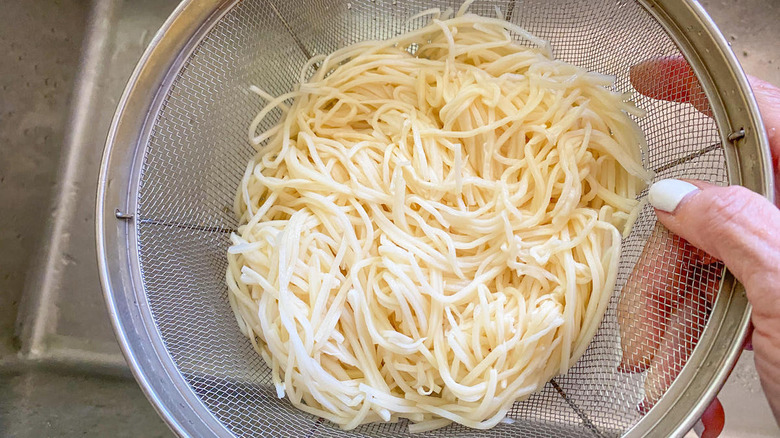 Miriam Hahn/Mashed
One more bit of prep here before we move on to the cooking part of this recipe. Grab your shelf-stable packages of hearts of palm pasta, open them up, and transfer the hearts of palm noodles into a colander over the sink. Rinse the noodles briefly under cold water, and then set them aside while you begin the next step.
Sauté the minced garlic, and warm up your "pasta"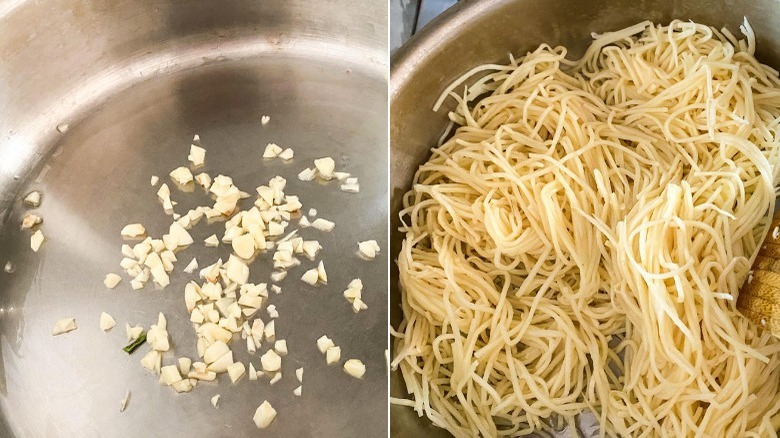 Miriam Hahn/Mashed
Now it's time to get out a large frying pan or skillet, and place it over medium heat on the stove. Add 1 tablespoon of oil, and when it starts to shimmer, toss in your minced or grated garlic. Sauté, stirring constantly, for two to three minutes. Be sure to lower the flame if the garlic starts to burn. Then, add the drained noodles, and stir for three minutes to warm them through and incorporate the garlic flavor.
Add the chopped tomatoes and chiffonaded basil, and you're ready to enjoy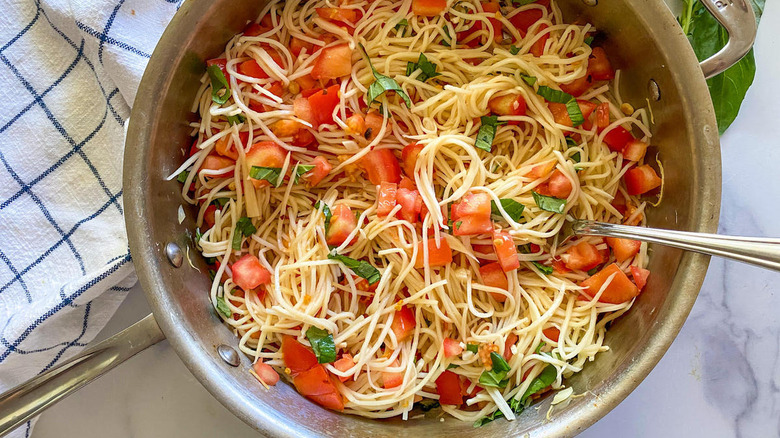 Miriam Hahn/Mashed
Remove the pan from the heat source, and then add the chopped tomatoes and the remaining olive oil. Toss everything to combine. Then, top your recipe with the basil chiffonade you prepared, and transfer the whole thing to a bowl for serving. Optional and additional toppings may be stirred in or served "condiment"-style. 
This is sure to make an impressive presentation, and it's a great recipe to prepare for a family dinner or to whip up for a meal with friends. You can make this dish for the main entree, or you can even serve it as a side along with something like breaded chicken cutlets.
Easy Hearts Of Palm Pasta Recipe
This easy recipe features warm hearts of palm pasta with fresh tomatoes and basil.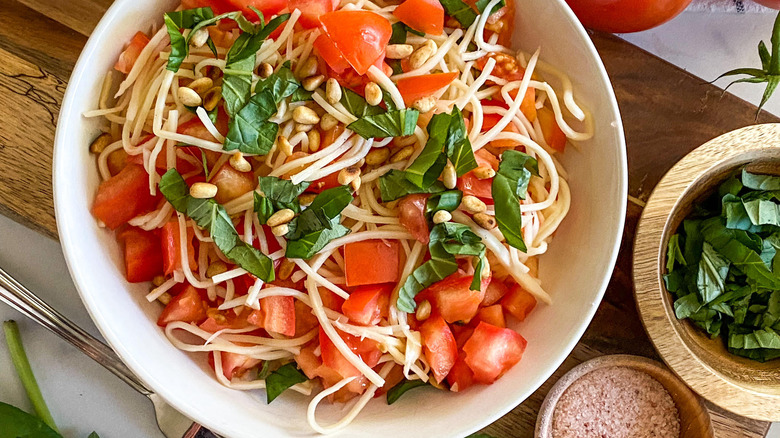 Ingredients
2 packages (12 ounces) hearts of palm pasta noodles
2 tablespoon olive oil, divided
3 garlic cloves, minced
4 to 5 fresh tomatoes, diced
½ cup fresh basil, chiffonaded
Optional Ingredients
pine nuts, for serving
red pepper flakes, for serving
Parmesan cheese, for serving
Directions
Open the hearts of palm noodle packages, and put the noodles in a colander. Rinse under cold water, and set aside.
Add 1 tablespoon of oil to a large frying pan. Heat the oil to medium heat, and add the minced garlic. Sauté for about 3 minutes, stirring constantly.
Add the drained noodles to the pan, and stir for 3 minutes to warm through.
Remove the pan from the heat source, add the diced tomatoes and remaining olive oil, and toss.
Top with basil and optional toppings, if desired.
Nutrition
| | |
| --- | --- |
| Calories per Serving | 741 |
| Total Fat | 14.6 g |
| Saturated Fat | 3.0 g |
| Trans Fat | 0.1 g |
| Cholesterol | 142.8 mg |
| | |
| --- | --- |
| Total Carbohydrates | 127.4 g |
| Dietary Fiber | 7.4 g |
| Total Sugars | 6.9 g |
| Sodium | 43.3 mg |
| Protein | 25.5 g |