Fans Of Wendy's Made To Crave Menu Might Want To Brace Themselves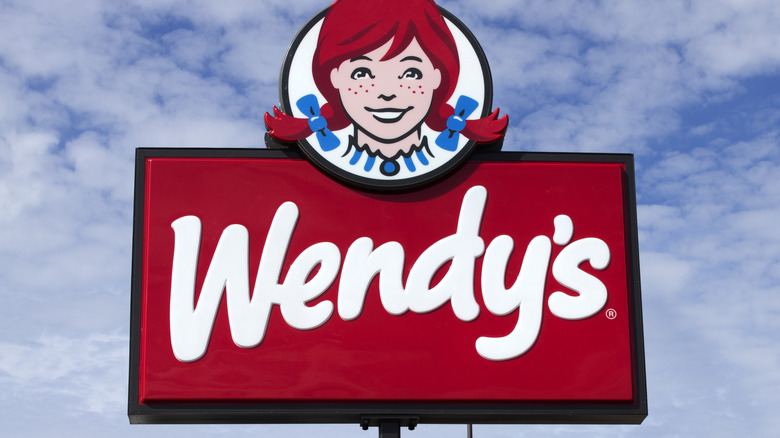 digitalreflections/Shutterstock
Love Wendy's? We've gone ahead and ranked the most popular items on their menu, from worst to best. While there are some staples on Wendy's menu that we don't expect to see leave anytime soon, there might be bad news for customers who love pub items on the Made to Crave menu.
On the Wendy's subreddit, Reddit user @Volks22 posted a photo of the drive-thru menu at a Wendy's, and on the screen, some of the options on the Made to Crave menu are no longer available. This led the Reddit user to ask whether pub items on this menu were now discontinued, and one commenter wrote back, saying "Yes. Discontinued nation wide." So unfortunately, there's some speculation that we'll be seeing these menu items go.
If you're not familiar with Wendy's Made to Crave menu, they list some of the items on their website, and this menu includes products like the Bourbon Bacon Cheeseburger and Pretzel Bacon Pub Cheeseburger. There's also chicken options, like the Jalapeño Popper Chicken, and with sandwiches like these, we understand why this Made to Crave menu has been enticing to customers.
What are people saying about the potential end of the Made to Crave menu?
Some Wendy's customers are disappointed, based on the comments on this Reddit post. One Wendy's fan said, "I'll miss the pub fries and the sloppiness of the sandwiches when drunk," and another said, "You will never be forgotten Pretzel Bacon Pub Cheeseburger with bourbon sauce."
However, it seems that Wendy's employees didn't enjoy making them. One person wrote, "It's a simple sandwich but I REALLY dislike making it," and another Reddit user agreed in the comments. Eat This, Not That! also reported that based on Reddit comments, employees weren't upset to see pub items go, but the outlet reached out to Wendy's and haven't heard anything back yet.
While some might be sad to see pub items leave Wendy's, there's still good news. There's a chance that some of Wendy's newest specialty items were leaked, so we know we'll have more to look forward to in the future. In the meantime, here's what you need to know about Wendy's french fries.