Peet's Coffee Just Added These New Items For Its Fall Menu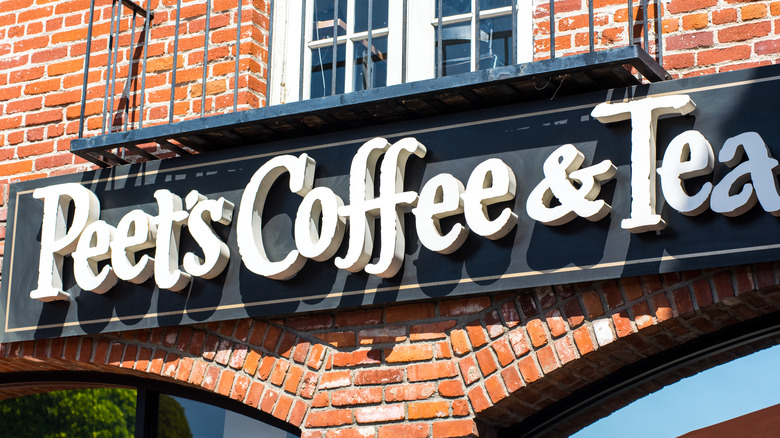 Michael Gordon/Shutterstock
Sweater weather is coming, and although it doesn't officially begin until September 22, autumn lovers already have pumpkin spice on the mind. #pumpkinspice is trending on Twitter, with posts of fall decor photos and captions such as, "I live for fall. Is it October yet?" Of course, people are also already tweeting about ordering pumpkin spice lattes.
Pumpkin scents and flavors become all the rage as the summer ends and the fall begins, and Peet's Coffee is no stranger to the demands of the seasons. In a press release from August 24, Peet's revealed its limited-edition fall menu, which includes some decadent and familiar items like Peet's Pumpkin and Maple Lattes, which customers can order hot or cold. You will also find the chain's Vine & Walnut coffee blend, which is returning for a fifth year and can also be made hot or iced. If you are a Peetnik Rewards Member, you can score the Maple Oat Frappé, a cold brew blend with oat milk and maple (via Chew Boom).
In addition to bringing back the above beverages and introducing the Maple Oat Frappé, Peet's is offering two more exciting items for the fall, and even if you aren't a pumpkin spice fan, these menu additions might be too good to pass up.
Meet Peet's new fall cold brew
For its fall menu, Peet's Coffee introduces a not-so-basic fall brew: the plant based Pumpkin Oat Foam Cold Brew. This new, non-dairy coffee adds a pumpkin-pie flavored oat milk microfoam to Peet's popular Baridi Blend cold brew coffee (via PR Newswire). A recent post on the Peet's Coffee Instagram described the beverage as "feather-light and sweetly spiced." Fans turned up for the comment section, posting fun emojis and joyful remarks such as, "Here comes sweater weather! Who else is excited for seasonal drinks to come back?" and "cold brew with pumpkin oat foam say what!!!!! brb running there tomorrow morning..."
This cold brew will pair well with Peet's updated and improved version of its original Chicken and Waffles Sandwich. This anytime-meal combines a toasted layer of warm gouda cheese, sweet chicken sausage, crispy bacon, and a "custom sweet and spiced spread," then places all those lip-smacking ingredients in between two maple waffles, the press release explains. 
All these fall menu items can be purchased at participating Peet's shops now through November 2, 2021. Even better news: the Chicken and Waffles Sandwich is staying on the menu until January 2, 2022, or while supplies last.