Schlotzsky's Newest Sandwich Is A Bacon Lover's Dream
Both fans of bacon and fans of Schlotzsky's are in for some good news. If you happen to be both, prepare to have your world rocked. The chain, according to Chew Boom, has just released a Bacon Cheddar Bun. What is this delicious-sounding creation that was surely molded by the minds of culinary geniuses, you ask? It's a bun that not only packs the one-two punch of bacon and cheddar but can be used for all 11 of Schlotzsky's medium sandwiches.
You might want to sit down for this because there's more. In addition to the Bacon Cheddar Bun, Schlotzsky's is also launching the Bacon Bread Beef Smokecheesy. According to Chew Boom, this new sandwich is made up of sliced roast beef, bacon (obvs), smoked cheddar cheese, and chipotle mayo and held together by that heavenly sounding Bacon Cheddar Bun. (Okay, so it sounds like it's pretty close to the Bacon Smokecheesy sandwich already featured on the Schlotzsky's website if you were to order it on the new bun, but we'll take any reason you give us to celebrate cheese and bacon!) The new menu items have been launched just in time for International Bacon Day, which is on September 4, and the new Bacon Cheddar Bun will be at participating Schlotzsky's restaurants from now until October 31, presumably in case Mom and Dad need their own treat on Halloween.
Does Schlotzsky's Bacon Cheddar Bun sound familiar?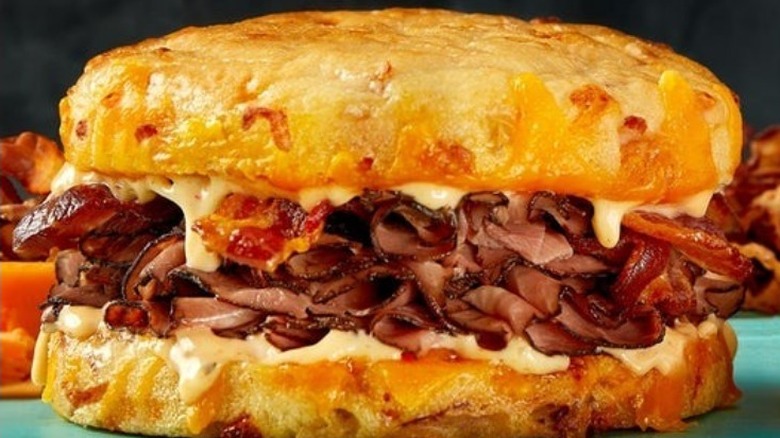 Schlotzsky's
If you're a real Schlotzsky's devotee, then a Bacon Cheddar Bun may sound a little (or a lot) like something you've tried in the past. According to a press release shared by Cision, Schlotzsky's had a similar promotion in 2020. The International Bacon Day special that year was a bacon bread described as "Schlotzsky's signature [sourdough] tossed with fresh bits of crispy bacon and mild cheddar cheese, then oven-baked to meld the flavors of a bacon grilled cheese, right into the sandwich bun itself." So, the idea might not quite be as fresh as the chain's signature bread.
According to Schlotzsky's website, all 300+ locations bake fresh sourdough buns every day. So it makes sense that the 2020 announcement for bacon bread came with the caveat that each location only had limited daily quantities of the new bread. If this year's promotion is anything like last year's, you'll want to get in your order early to secure a Bacon Cheddar Bun for your deserving self.
Sadly, not all states have a Schlotzsky's. The vast majority of the chain's locations are in Texas (via Schlotzsky's website), but prolific Instagrammer Britney Spears has already created a tutorial for making one of her favorite Schlotzsky's sandwiches, according to Today. So, who knows? Maybe she'll create a video showing us how to make a Bacon Cheddar Bun someday.