Giada De Laurentiis' Lemon Spaghetti Recipe With A Twist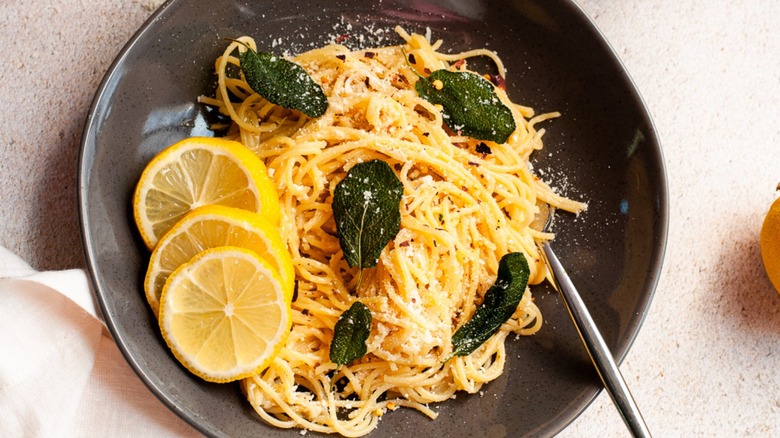 Christina Musgrave/Mashed
Giada De Laurentiis is from Rome, so a lot of her cooking isn't what we've come to expect from the typical red sauce and red-checkered tablecloth Italian-American restaurant. There's a simple explanation for this: Rome is in central Italy, while the majority of the Italian immigrants who flooded these shores between 1880 and 1920 (via the Library of Congress) hailed from southern Italy.
De Laurentiis' lemon-sauced spaghetti (via Food Network) makes for a different take on pasta than the more typical marinara, Bolognese, and Alfredo sauces we've come to know and love. It's very light and refreshing, taking its flavor from the fruits that grow so well in Italy's Mediterranean climate. 
While the recipe as it stands is molto deliziosa, every recipe can stand a little tinkering. Recipe developer Christina Musgrave, who sees herself as a "millennial Martha," added her own special spin to De Laurentiis' authentic Italian recipe. See if you can guess what she changed! (All will be revealed once you scroll through to the end.)
Gather everything you'll need to make this lemon spaghetti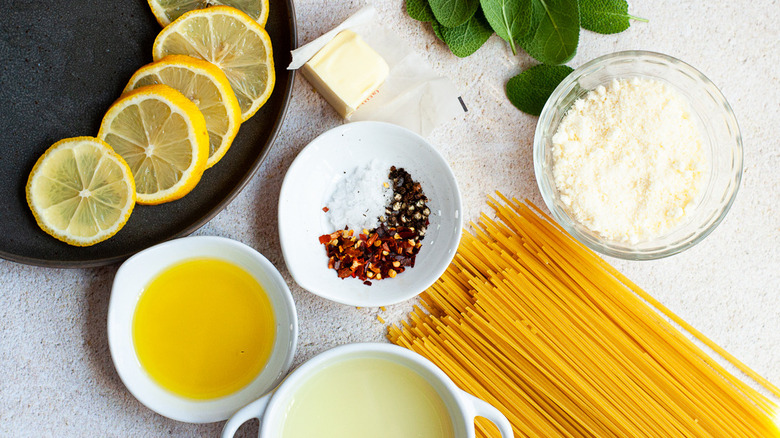 Christina Musgrave/Mashed
Before you start cooking, make sure you've got all the ingredients on hand. You'll need spaghetti, although Musgrave says, "Any pasta would be great for this recipe," in case you'd like to try making this dish with, say, fettuccine or linguine or even ziti. For the sauce you'll need butter, lemons, red pepper flakes, black pepper, and Parmesan. And for garnishing the dish, should you be so inclined, you'll need olive oil, fresh sage, and an additional lemon for slicing. 
If you want to make this dish less light and more decadent, Musgrave suggests, "You could add cream to make this dish creamy! That would be delicious."
Boil the pasta and simmer the sauce simultaneously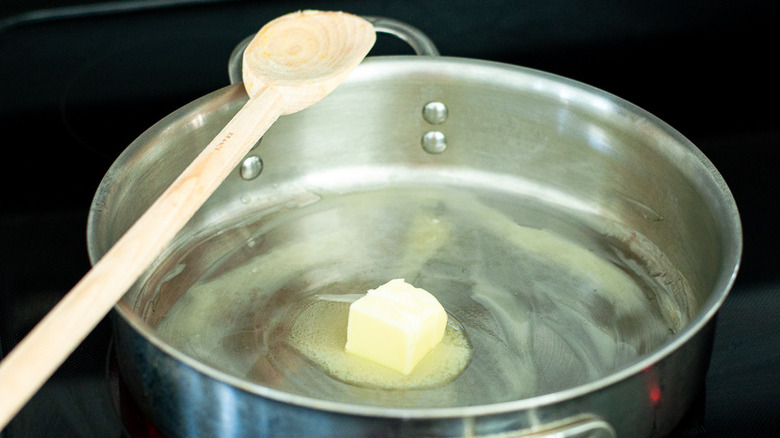 Christina Musgrave/Mashed
Start by boiling the spaghetti (or other pasta) in a large pot according to the package directions. To cook a pound of pasta, you'll need to use a pot that holds at least six quarts of water, so plan accordingly.
As the pasta is cooking, melt the butter in a saucepan over medium heat. Stir in the lemon juice, pepper flakes, black pepper, and a half teaspoon of salt and allow the lemon sauce to simmer gently over low heat for as long as it takes the pasta to finish cooking.
Mix the pasta with the sauce and cheese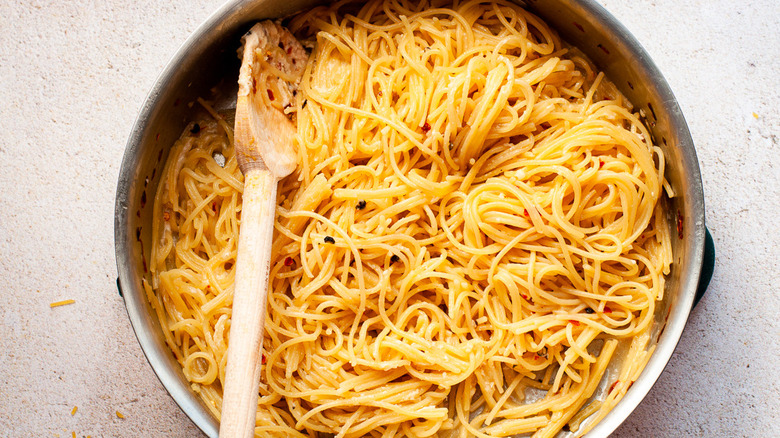 Christina Musgrave/Mashed
As soon as the pasta is done cooking, drain it and then return it right away to the cooking pot. (No, you do not need to save the pasta water! When you've got a gallon or so of boiling water on your hands, the safest place for it is down the drain.) 
Add the lemon sauce to the pasta, then toss it so all of the pasta is evenly coated with sauce. Sprinkle the pasta with the grated Parmesan, then divvy it up between serving bowls.
You may wish to garnish the dish before serving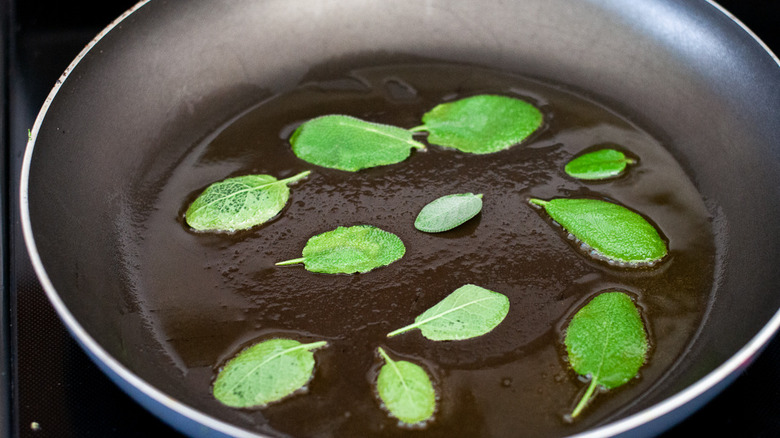 Christina Musgrave/Mashed
If you want to get fancy with this dish, you can garnish it before serving it. Musgrave likes to use fresh sage that she fries in hot olive oil for three minutes. In this instance, no substitutions will do. As she tells us, "I would not recommend using dried sage since it has to be crisped in order to get the right flavor." If you have no fresh sage on hand, you can just skip this step as the spaghetti will still be delicious. Another just-for-show garnish option is fresh lemon slices. Again, the spaghetti is plenty lemon-flavored as is, but the lemon garnish will make the dish more photogenic.
Musgrave says that this lemon spaghetti "could be a main dish or side." If you're serving it as the former, you'll probably want to add a little something on the side. Musgrave says she likes to eat her lemon spaghetti with broccoli, but if you're not a fan of this veggie, you could go with a green salad or perhaps a nice Mediterranean-inspired dish like this pesto chickpea salad.
What we changed from Giada's version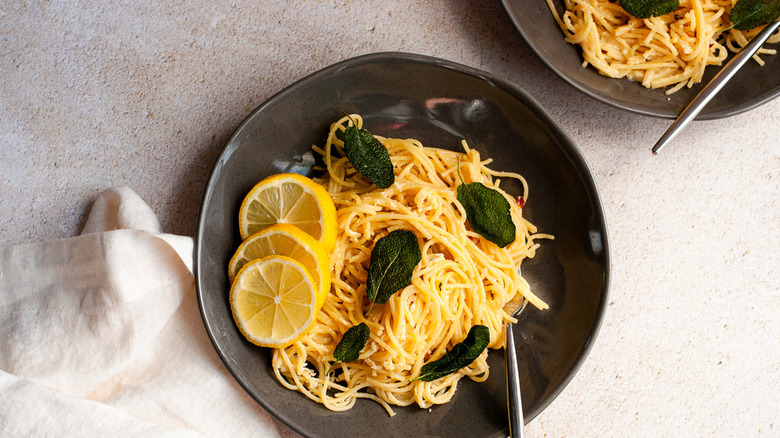 Christina Musgrave/Mashed
So can you guess what Musgrave changed from the Giada De Laurentiis version of this lemon spaghetti dish? As Musgrave tells us, she added the red pepper flakes to make the dish a little spicier and swapped out the olive oil for butter. She also added that crispy sage garnish, something not found in the original recipe, because, she as says, not only do her additions "make this [lemon spaghetti] different, " but she feels the garnish "adds spice and a more savory flavor from the sage."
Giada De Laurentiis' Lemon Spaghetti Recipe With A Twist
Giada De Laurentiis' lemon spaghetti recipe with a twist is a spin on the classic Italian dish. It's light, refreshing, and molto deliziosa.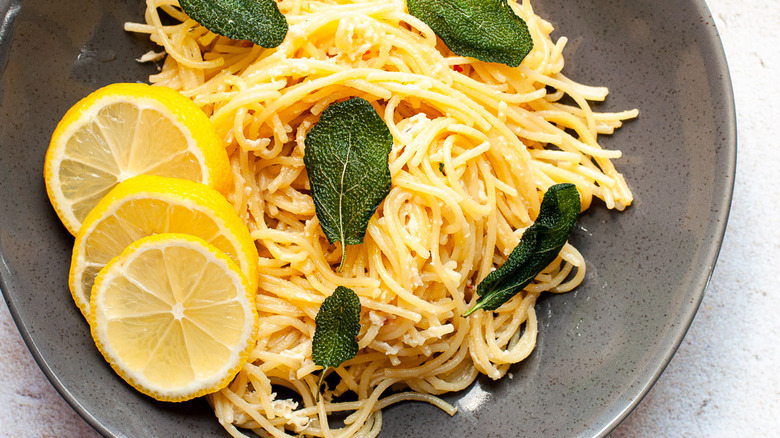 Ingredients
16 ounces spaghetti
2 tablespoons butter
½ cup fresh lemon juice (from 2 to 3 lemons)
½ teaspoon red pepper flakes
½ teaspoon black pepper
½ cup grated Parmesan
2 tablespoons olive oil
10 sage leaves
Optional Ingredients
Directions
Cook the pasta in a large pot of salted water according to the package directions.
While the pasta is cooking, melt 2 tablespoons of butter in a pan over medium heat.
Add the lemon juice, pepper flakes, black pepper, and ½ teaspoon salt to the melted butter and simmer on low heat until the pasta is done cooking.
Drain the pasta and return it to the cooking pot.
Pour the lemon sauce on top of the pasta and toss it together until the pasta is evenly coated in sauce.
Stir the Parmesan into the pasta and transfer it to bowls.
Heat the olive oil over medium heat, then add the sage and fry it for 3 minutes, until it's crisp.
Garnish the pasta with the crispy sage and the lemon slices if desired.
Nutrition
| | |
| --- | --- |
| Calories per Serving | 413 |
| Total Fat | 13.0 g |
| Saturated Fat | 5.4 g |
| Trans Fat | 0.2 g |
| Cholesterol | 18.6 mg |
| | |
| --- | --- |
| Total Carbohydrates | 59.5 g |
| Dietary Fiber | 3.2 g |
| Total Sugars | 2.7 g |
| Sodium | 176.2 mg |
| Protein | 14.6 g |