Mediterranean Pesto Chickpea Salad Recipe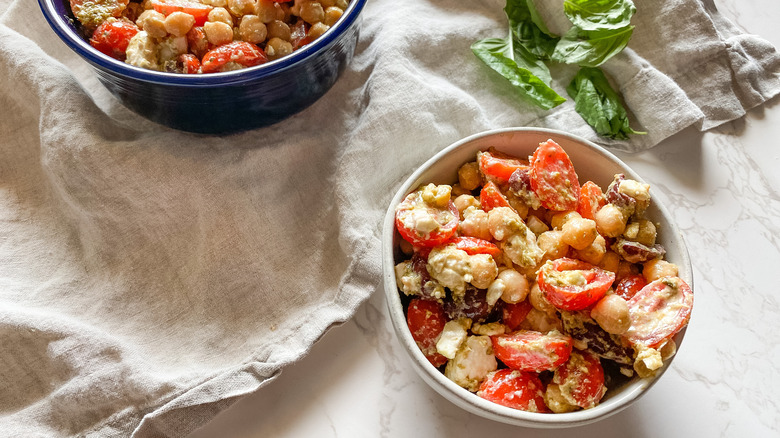 Kristen Carli/Mashed
Pesto is usually paired with pasta, but have you ever tried it on a salad? While there's absolutely nothing wrong with enjoying a delicious bowl of pesto fettuccine with grilled shrimp, if you're looking for a healthy meal that's jam-packed with protein, vegetables, and flavor, this Mediterranean chickpea pesto salad recipe from private practice registered dietitian Kristen Carli will most definitely hit the spot.
This recipe is not unlike a typical Greek salad, but instead of using cucumbers, green peppers, and red onions, Carli turns to the chickpea, which is a nutritional powerhouse. Chickpeas, or garbanzo beans, are an excellent source of plant-based protein, fiber, and iron. And while pesto seems far too delicious to have any nutritional value, it is, in fact, packed with healthy fats, according to EatingWell. Your healthy lunch options have expanded in a delicious way, so it's time to get excited — just step away from the romaine lettuce, please.
You only need five ingredients and five minutes of your time in order to pull this scrumptious recipe together. So without further ado, let's get to prepping.
Gather your ingredients to prepare Mediterranean pesto chickpea salad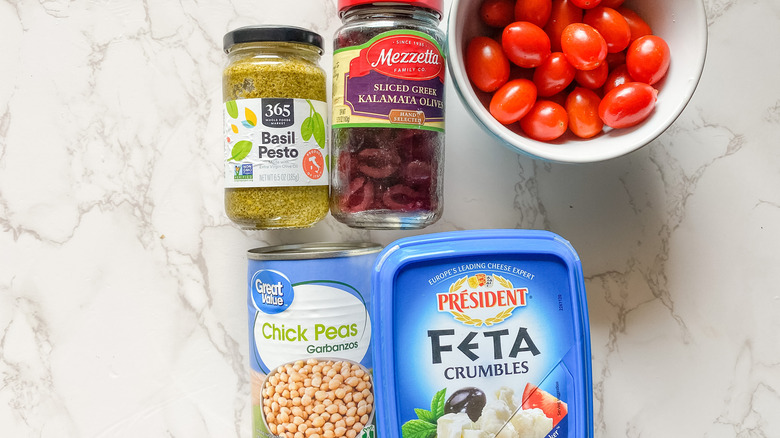 Kristen Carli/Mashed
You only need five things to make this tasty chickpea salad. You'll need one 15-ounce can of chickpeas, drained and rinsed. You should always drain and rinse canned beans, including garbanzo beans, aka chickpeas. The liquid that canned beans sit in almost all starch and salt, i.e. things that you are probably better off not eating. Rinsing beans can also enhance their flavor.
In addition, you'll need 1 cup of grape tomatoes, cut in half, and 2 teaspoons of kalamata olives. Kalamata olives are classified as black olives, but not all black olives are kalamata olives, according to Foods Guy. Kalamata olives are fruity in taste, they're more purple than black, and have an oblong shape. You'll also need ¼ cup of feta cheese crumbles.
And last but not least, you'll need 2 tablespoons of pesto. According to Karli, "Any store-bought pesto is fine." If you want to DIY your pesto, here's an awesome recipe to try.
Feta: an unsung cheese hero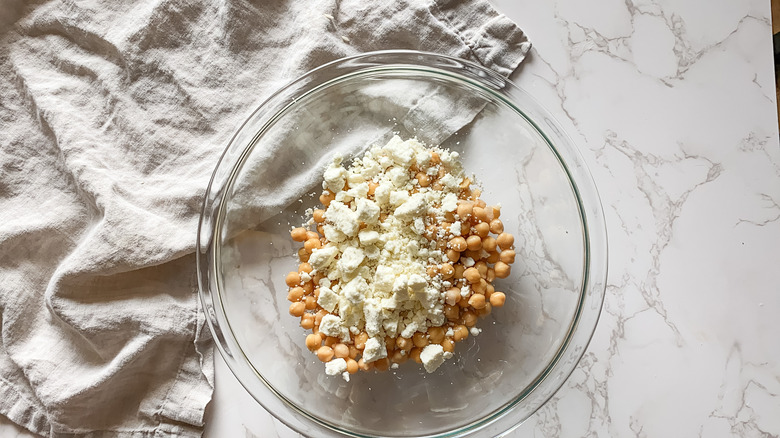 Kristen Carli/"Mashed"
You've likely had feta cheese on salads before, but feta cheese paired with chickpeas is next-level deliciousness. Plus, the feta cheese crumbles in this recipe provide a tangy sharpness that mixes well with the richness of the pesto. 
According to The Spruce Eats, feta cheese is a soft brined Greek cheese that comes from sheep's milk. Feta is an omnipresent part of Greek cuisine, and it can be found in savory dishes, salads, and even desserts. Feta's nutritional stats are pretty impressive, too. It doesn't have as much fat or as many calories as aged cheeses such as Parmesan, and it has calcium, phosphorus, and B vitamins (via Healthline).
Mix the chickpeas, olives, tomatoes, feta cheese, and pesto together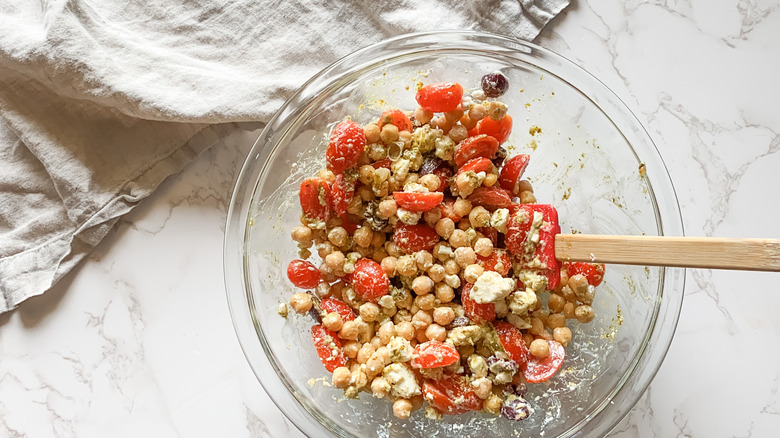 Kristen Carli/Mashed
Combine the chickpeas, grape tomatoes, kalamata olives, and feta in a bowl. Add the pesto, and then stir everything to combine. Pat yourself on the back, because that's literally all you have to do to pull this quick and easy recipe together. With just a bit of mixing, your salad will be done in less time than it would take to microwave a frozen pizza — all you needed were some easily found ingredients, a can opener, and a bowl. 
Carli notes, "I would recommend serving about 1 ½ cups [per] serving." And as far as serving suggestions are concerned, she says, "This makes a great lunch paired with some fruit."
Serve and enjoy your salad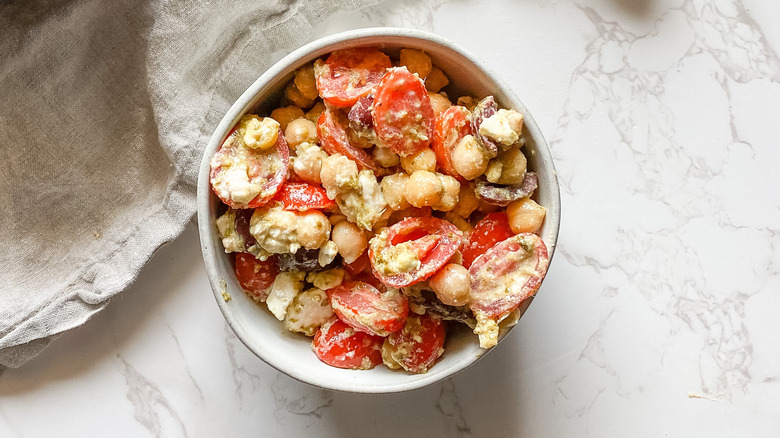 Kristen Carli/"Mashed"
To make this salad a well-rounded lunch, as per Carli's suggestion, consider pairing it with a serving of fresh fruit. Watermelon, grapes, and cantaloupe all pair really well with feta cheese (via Olive Tomato). This salad plus a side of fruit would also be a great lunch to bring to work. Chickpea salads travel and keep well, making this a prime work lunch candidate and even a solid option to whip up for a picnic in the park. Thanks to the fiber, protein, and healthy fats in the ingredients in this salad, it will keep you full, well-nourished, and ready to take on the rest of your day.
Mediterranean Pesto Chickpea Salad Recipe
If you're looking for a healthy meal that's jam-packed with protein, vegetables, and flavor, this Mediterranean chickpea pesto salad recipe will hit the spot.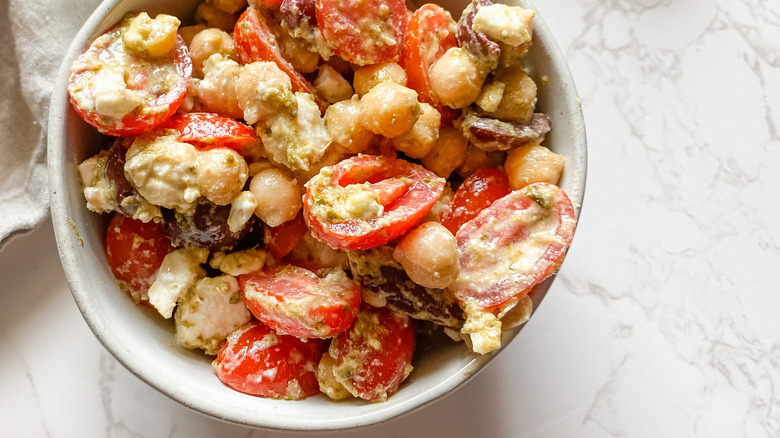 Ingredients
1 (15-ounce) can chickpeas, drained and rinsed
2 tablespoons sliced kalamata olives
¼ cup feta cheese crumbles
1 cup grape tomatoes, halved
2 tablespoons pesto
Directions
Combine the chickpeas, sliced kalamata olives, feta cheese crumbles, and halved grape tomatoes in a large bowl.
Add the pesto, and stir to combine.
Serve with fresh fruit, if desired, and enjoy!
Nutrition
| | |
| --- | --- |
| Calories per Serving | 427 |
| Total Fat | 16.3 g |
| Saturated Fat | 4.1 g |
| Trans Fat | 0.0 |
| Cholesterol | 18.0 mg |
| | |
| --- | --- |
| Total Carbohydrates | 53.9 g |
| Dietary Fiber | 15.2 g |
| Total Sugars | 11.6 g |
| Sodium | 931.1 mg |
| Protein | 19.3 g |