We Tried The New Frank's RedHot Crunchy Buffalo Chicken Roll So You Don't Have To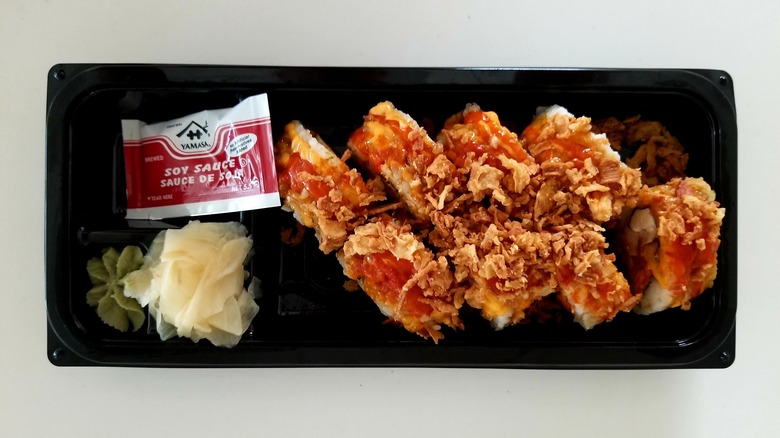 Sarah Gardner/Mashed
Football season is once again upon us, which means it's time to start figuring out your tailgate and homegate meal plan. Of course, the all-mighty Buffalo chicken wing is a perennial favorite when it comes to compiling the game day menu, and for good reason. It's sharable, reasonably priced, requires zero utensils (just remember that fat stack of napkins), and offers some crunch with a spicy kick that doesn't bringing too much heat. Most importantly, they taste finger linking good.
Since the gridiron schedule stretches out for several weeks, there are plenty of opportunities to call an audible and switch up your food lineup. For a taste of the familiar in a completely new package, you may want to consider drafting the brand spanking new collaboration between mega-chain Hissho Sushi and Frank's RedHot. The more-than-a-mouthful Frank's RedHot Crunchy Buffalo Chicken Roll bridges maki and the buffalo wing into a tidy, eight-piece package.
But before you take the snap, let's take a look at the stats.
A laundry list of ingredients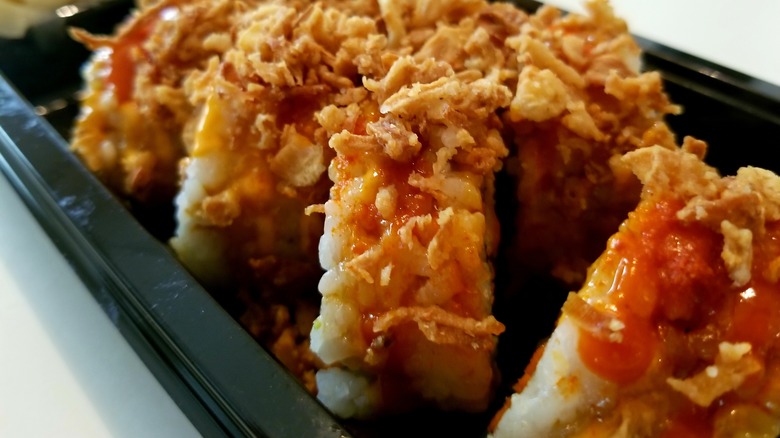 Sarah Gardner/Mashed
So yeah, there is a lot going on here. The seemingly never-ending ingredient list reads like a David Foster Wallace novel. Let's start with the core components. When it comes to the classic maki touchstones, you've got your vinegared sushi rice and nori (toasted seaweed) inner wrapping. The package also comes with the traditional side of pickled ginger and wasabi, plus a packet of soy sauce. For modern roll fans there are two familiar ingredients: cream cheese, which is a key component of a Philadelphia roll, and avocado, which is notable as a staple in a California roll, but appears in plenty of other maki iterations as well.
Representing Team Buffalo Wing first and foremost are cubes of grilled chicken breast. The veteran on the squad is Frank's RedHot sauce, which tops the roll along with a sprinkle of Frank's RedHot seasoning. For crunch, there is an ample topping of crispy onion slivers. Carrots, a familiar buffalo wing accompaniment, make an appearance too — in this case they're shredded and added to the interior of the roll — and a drizzle of spicy mayo amps up the creaminess and spice.
The wild card addition is Japanese BBQ sauce, which offers added sweet and savory notes.
And the list goes on and on... and on and on and on. Unfortunately, a hefty chunk of the additional ingredients are of the made-in-a-laboratory variety so if you're eating exclusively clean food, it's probably best that you sit this one out.
How much does it cost?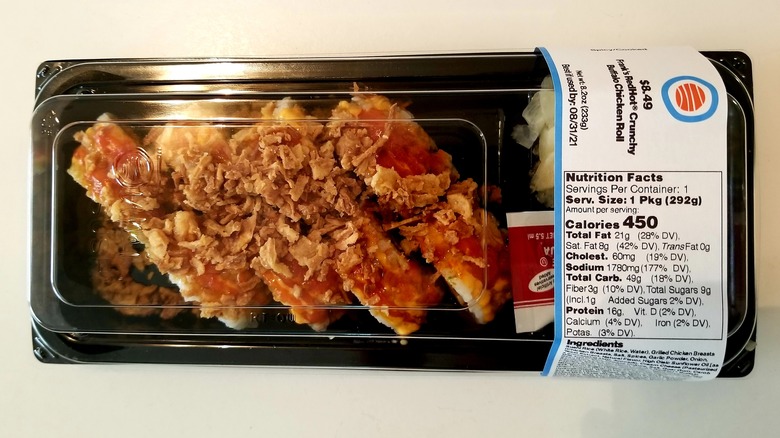 Sarah Gardner/Mashed
According to Hissho Sushi, the retail cost of the Frank's RedHot Crunchy Buffalo Chicken Roll will set you back $5.99. The roll that we sampled was purchased at a Los Angeles outlet of the Sprouts supermarket chain. While the cost on the package indicated a price of $8.49, it rang up for the advertised $5.99. It is unclear whether the tag was mislabeled, or if the price was incorrectly inputted into the computer system.
For six bucks, it is certainly reasonably priced, considering the hefty size of the roll. (The whole shebang comes in at a hefty 8.2 oz.) Even at $8.49 it is still somewhat of a value meal, considering that we started to get full after downing only four pieces. If you're grabbing the roll for lunch, consider spreading it across two meals. While sushi isn't usually considered safe for leftover consumption, since there's no raw fish (one ingredient actually missing from that lengthy list) you can dig back in the following day, at least per the package's expiration date.
Where can I find a Frank's RedHot Crunchy Buffalo Chicken Roll?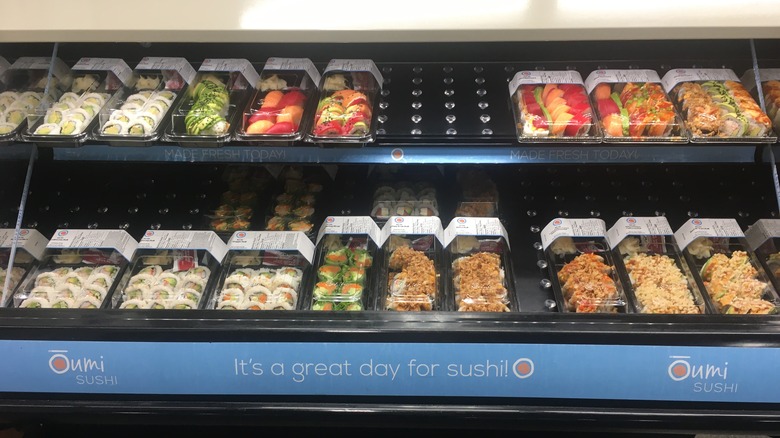 David Klein/Mashed
Frank's RedHot Crunchy Buffalo Chicken Roll, which made its debut August 30, is available to purchase at more than 1,000 Hissho Sushi locations across the lower 48 (sorry Alaska and Hawaii). According to Hissho, the Charlotte, North Carolina-based company which was founded in 1998, is now the second-largest sushi distributor in the United States.
Beyond Sprouts, the company provides rolls to a number of supermarkets and big box stores including Safeway, Walmart, Giant Food, Meijer, and Stop & Shop. (Hissho Sushi is only available in select locations at these retailers so make sure to check your local store to see if it's affiliated.) There are also several Hissho outposts in airports and hospitals across the country.
At Sprouts, the Frank's RedHot Crunchy Buffalo Chicken Roll was hanging out at the deli section, in a cold case dedicated to sushi. Some Hissho retailers offer sit down service, and even serve craft beer to pair with your rolls.
How does it compare to other pre-packaged sushi rolls?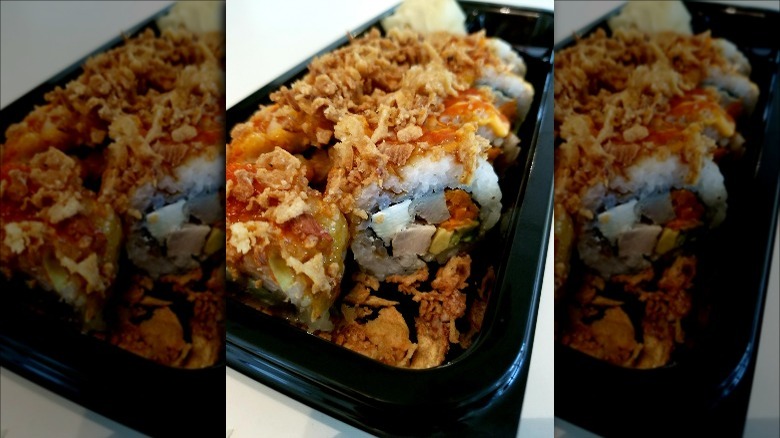 Sarah Gardner/Mashed
Supermarket sushi tends to get a bad rap (and often rightfully so). But Hissho, which exclusively offers maki, is helping to change that perception. While the rolls, which are predominately made from pre-cooked ingredients, probably won't be an improvement over what's available at your local sushi spot, they tend to be a cut above your standard pre-packaged maki — two notable factors are the rolls are made by hand, and the ingredients are responsibly sourced.
The menu covers basic familiar options such as California rolls and spicy tuna rolls, along with more flamboyant items like the Dazzling Dragon Roll and Wasabi Crunch Roll. Frank's RedHot Crunchy Buffalo Chicken Roll definitely falls into that latter category, and fits the bill if you're looking for an introduction to sushi (though purists may scoff at even labeling it "sushi") and especially if you have an aversion to raw fish. For those that prefer to keep your maki simple, this is probably not the bite for you.
Save this for a cheat day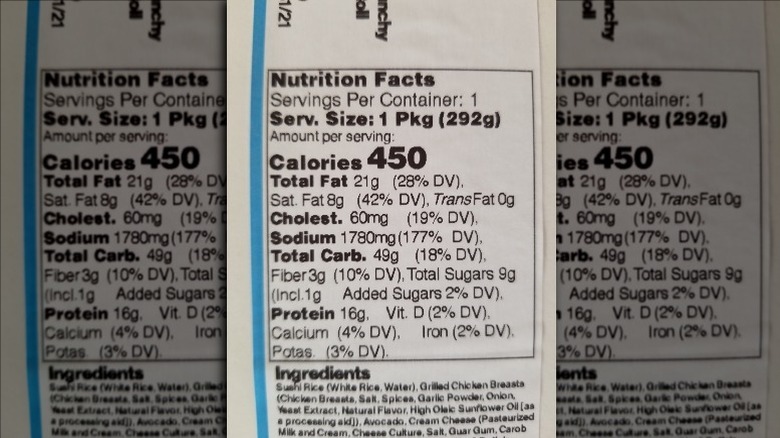 Sarah Gardner/Mashed
While sushi can be considered healthy eating in the form of a sliver of raw fish atop a small bed of rice, Frank's RedHot Crunchy Buffalo Chicken Roll does not fall under that category. Once you start adding items such as mayo, crispy onion, and avocado, it's advisable to consider adding an extra Peloton session to your schedule.
As far as the numbers, it is not what the doctor ordered. Packing in 450 calories, 21 grams of fat, 8 grams of saturated fat, 49 grams of total carbs, and 1780 mg of sodium (which is a whopping 177 percent of your daily value) this is a roll that is, shall we say, extra in every way.
There are a couple of silver linings. Each roll contains 16 grams of protein, which ain't too bad. And while those nutritional figures are for a single serving, as we mentioned earlier, it's hard to polish off all eight pieces in a single sitting. If you're spreading the roll over two meals or sharing with friends, the repercussions aren't as bleak.
Prepare for maximum flavor overload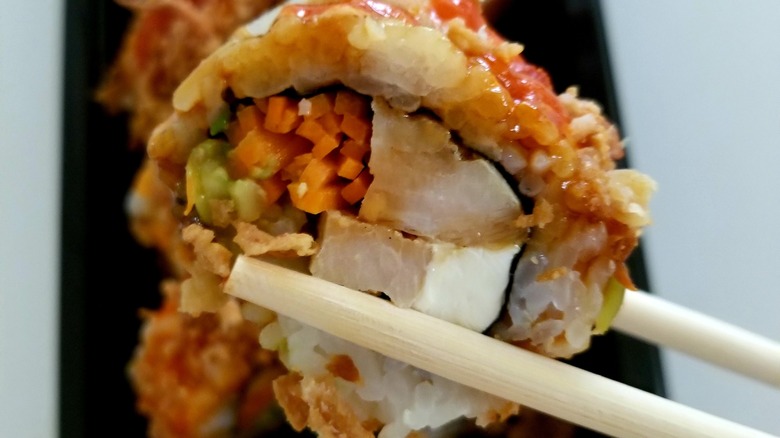 Sarah Gardner/Mashed
All right, now we've finally arrived at the all-important question: How does Frank's RedHot Crunchy Buffalo Chicken Roll taste?
The most prominent ingredient is the rice, which is a bit too heavy on the vinegar, but the texture is sufficiently sturdy. Beyond that base, each bite seems to highlight a different ingredient: first the relatively mild chew of the chicken, then the sweet, crispy onions, next the crunchy carrots find their way to prominence. As for the namesake Frank's RedHot sauce, you definitely feel a slight burn on the tongue and a subtle tang, but with the Japanese BBQ sauce and spicy mayo in the mix, not to mention the Frank's RedHot seasoning, it's not clear what exactly is the driving force of those sensations. The creamy components (the mayo, avocado, and cream cheese) converge into a single indiscernible flavor blob.
As for the total package, there is clearly a lot for you to chew on with flavor notes of creamy, crunchy, spicy, salty, sweet, and sour. Together, the results are less Ludwig Van and more middling Zappa — not bad, but needs more restraint.
If you're a food trend chaser or fan of the buffalo wing and Frank's Red Hot, this certainly worth a try — though don't anticipate it becoming a regular option in your food rotation. As for tailgating and homegating, Frank's RedHot Crunchy Buffalo Chicken Roll is a worthy menu addition if you're looking for something fun and shareable to bring to the table.