Gluten Free Chicken Nuggets Recipe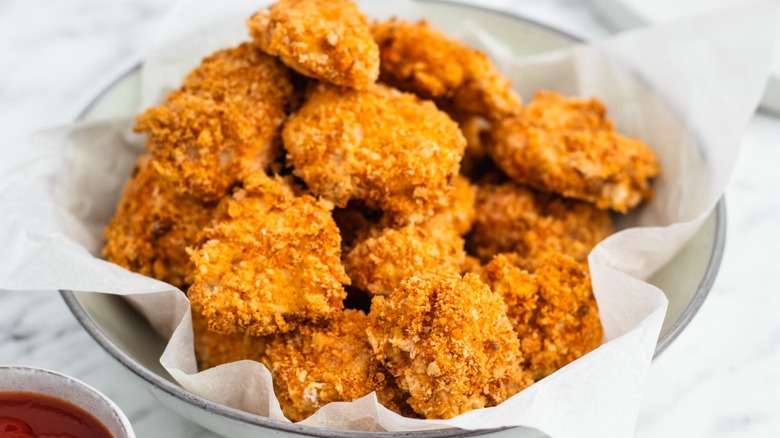 Catherine Brookes/Mashed
Chicken nuggets as we know them today are just as much a menu staple as are burgers — in fact, even more so, should the menu be for children. The History Channel tells us they were invented in the early '60s by an agricultural scientist but didn't really catch on until the '80s when McDonald's popularized the McNugget as a leaner alternative to its burgers. (In case you don't recall your diet fads of decades past, this was during the fat-is-evil era when chicken of any sort was seen as being healthier than beef.)
Nuggets, whether under that name or re-branded as the slightly more upscale "boneless wings," remain popular today even when we're well aware they're not exactly the most nutritious of menu options. There is one group of people, however, who are often denied the joy of nugget-dunking: those on gluten-free diets.
Recipe developer Catherine Brookes, who blogs at Blue Sky Eating, tells us, "I've personally not come across [gluten-free chicken nuggets] in restaurants," although she does say, "I think I've seen frozen versions in stores." Still, as everyone knows, fresh is better than frozen, and homemade beats store-bought by a country mile — or a city block, for that matter. Brookes says of these gluten-free nuggets, "I think they taste great, especially with the spices and seasoning added to the breadcrumbs," adding, "I don't think you'd be able to tell they were gluten-free."
Gather the ingredients for these chicken nuggets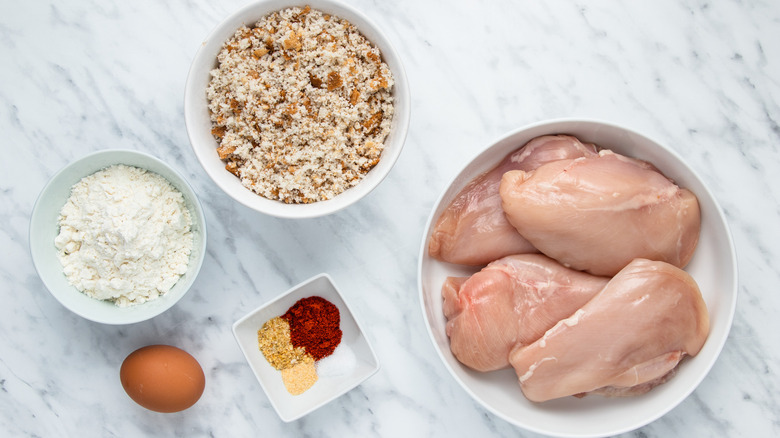 Catherine Brookes/Mashed
To make these gluten-free nuggets, you'll start with boneless, skinless chicken breasts. For the coating, you will need gluten-free all-purpose flour as well as gluten-free breadcrumbs. (You can make these yourself from gluten-free bread if you can't find ready-made ones.) You'll also be using a few different spices: onion powder, smoked paprika, and garlic powder. Throw a little black pepper and/or cayenne in there, too, if you'd like a spicier nugget.
Brookes also suggests an alternative gluten-free coating. As she tells us, "I've seen versions made with gluten-free cornflakes crushed up instead of the breadcrumbs, so that could be an option!"
Mix up the spicy crumb crust for the chicken nuggets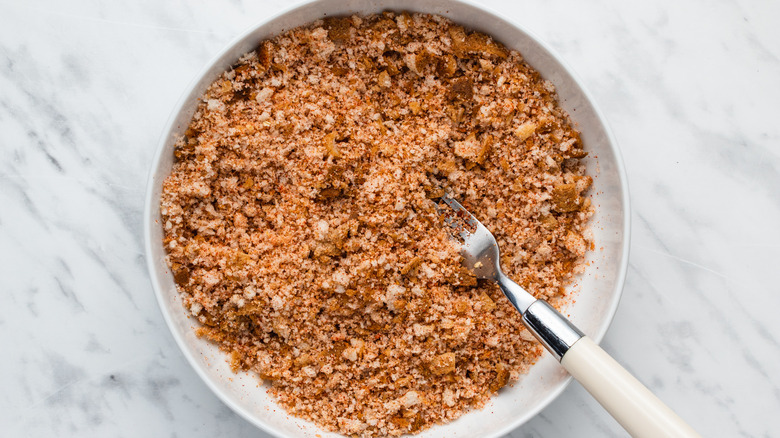 Catherine Brookes/Mashed
The first thing you should do is to set the oven to 350 F so it can heat up while you're getting on with the recipe prep. Next, it's time to make the crumb coating for the nuggets. If you are starting off with bread instead of breadcrumbs, you should only need a single slice. Toast it first (this is a quick shortcut for drying it out), then, as Brookes says, "blitz [it] into breadcrumbs in a food processor." A blender would work just as well, or you could also crush the toast into crumbs using a mortar and pestle.
Measure out a half cup of the crumbs into a large shallow dish, and mix it with the spices along with half a teaspoon of salt.
Coat the chicken nuggets before baking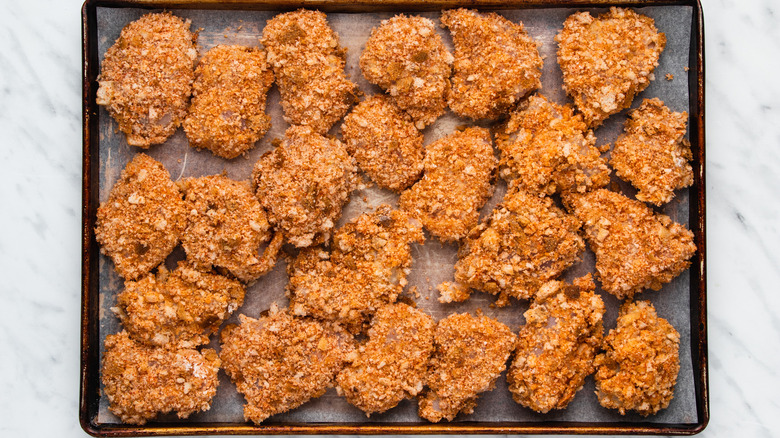 Catherine Brookes/Mashed
Cut the chicken breasts up into bite-sized chunks. Break the egg into a shallow dish and beat it until it's as well-combined as a raw egg is likely to get. Measure out the flour into yet another shallow dish. Why all these shallow dishes? Well, we're setting up a nugget-coating station here.
Take your first chicken chunk, dip it in flour, dip it in egg, and coat it with breadcrumbs. Repeat until all of the chicken chunks are crumb-coated. Place them on a greased or lined baking sheet (foil, parchment, or Silpat will all work), then bake them for 30 minutes until they are golden-brown in color. Brookes offers an alternative method for cooking these, suggesting, "For extra crispy nuggets, there's also the option to deep fry them in cooking oil rather than baking."
Enjoy these nuggets with your favorite dips and sides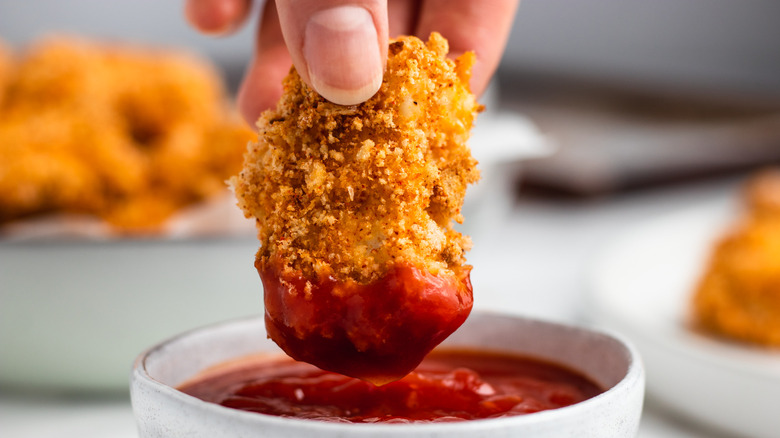 Catherine Brookes/Mashed
The best part of eating chicken nuggets as opposed to larger-sized knife-and-fork chicken filets is that you not only get to pick them up with your fingers, but you can also dunk them into your favorite sauce. Brookes says the condiments she likes best for nugget dunking are "ketchup, mayo, garlic mayo, or sweet chill sauce," but you might also like ranch dressing, honey mustard, or Buffalo sauce.
In fact, you could even go with maple syrup for that chicken and waffles experience sans waffle — unless you happen to have any gluten-free waffles on hand, that is. In lieu of these, Brookes suggests these gluten-free chicken nuggets "go well with salad and fries too."
Gluten Free Chicken Nuggets Recipe
Who said you had to miss out on chicken nuggets just because you follow a gluten-free diet? Here's how to make super tasty gluten-free nuggets at home.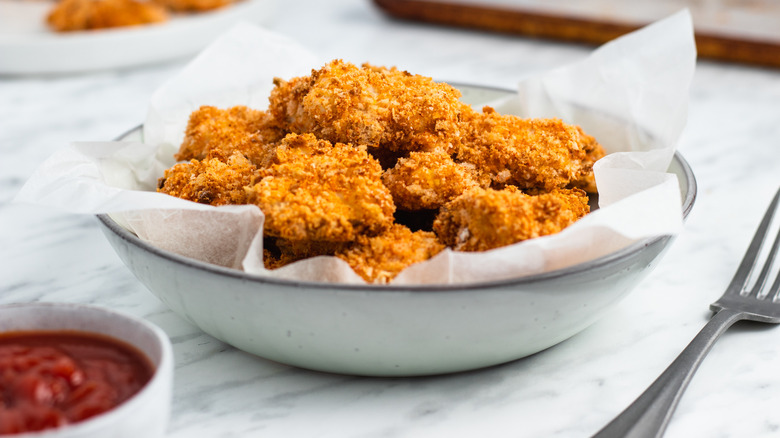 Ingredients
½ cup gluten-free breadcrumbs
1 ½ teaspoons onion powder
1 teaspoon smoked paprika
½ teaspoon garlic powder
½ teaspoon salt
1 large egg
⅓ cup gluten-free all-purpose flour
4 skinless, boneless chicken breasts
Directions
Preheat the oven to 350 F and grease a baking sheet or line it with foil or parchment.
Mix the breadcrumbs in a large shallow dish with the onion powder, paprika, garlic powder, and salt until well combined.
Crack the egg into another shallow dish and beat with a fork.
Add the flour to a third dish.
Coat each chunk of chicken in the flour, then dip into the egg, then coat with the breadcrumbs. Place chicken nuggets on the baking sheet.
Bake the chicken nuggets for 30 minutes or until crisp and golden.
Serve and enjoy.
Nutrition
| | |
| --- | --- |
| Calories per Serving | 378 |
| Total Fat | 18.3 g |
| Saturated Fat | 5.0 g |
| Trans Fat | 0.2 g |
| Cholesterol | 157.9 mg |
| | |
| --- | --- |
| Total Carbohydrates | 12.6 g |
| Dietary Fiber | 1.8 g |
| Total Sugars | 1.0 g |
| Sodium | 457.0 mg |
| Protein | 39.8 g |