Smoothie King's New Flavor Lineup Is Perfect For Fall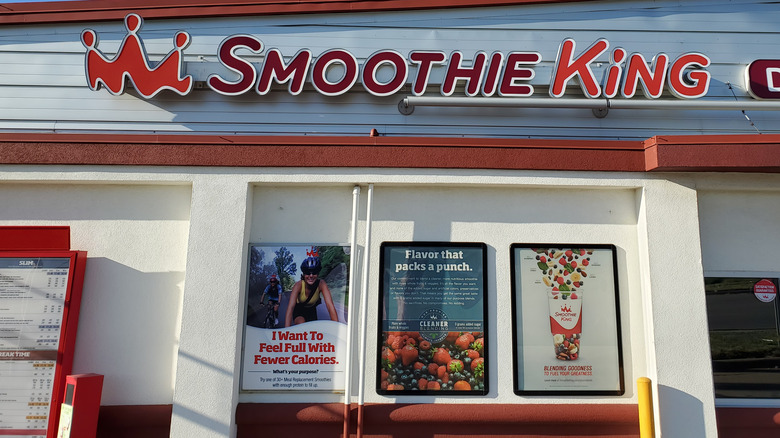 Jon Kraft/Shutterstock
With the end of summer approaching, it's only natural that pumpkin spice treats and Halloween candy have started hitting the shelves. Even Del Taco has already added fall-flavored drinks to their menu. Now Smoothie King is adding its own lineup of fall flavors, according to Chew Boom. Like most other fall-flavored drinks, these will only be available for a limited time.
The new flavors have pumpkin in them, of course. Specifically, you can treat yourself to the Vegan Pumpkin, Pumpkin Coffee High Protein, Slim-N-Trim Pumpkin, and Pumpkin D-Lite smoothies, plus the new Keto Champ Pumpkin smoothie.
"There are a lot of pumpkin beverages out there, but so many use sugary syrups and fake stuff," Smoothie King CMO Rebecca Miller said in a press release about last year's fall flavors. "By using organic pumpkin puree and real natural spices, it gives our guests a better way to get the pumpkin taste they love." The new menu items will drop on September 8, so start planning which one you want to try first.
These are the pumpkin-flavored details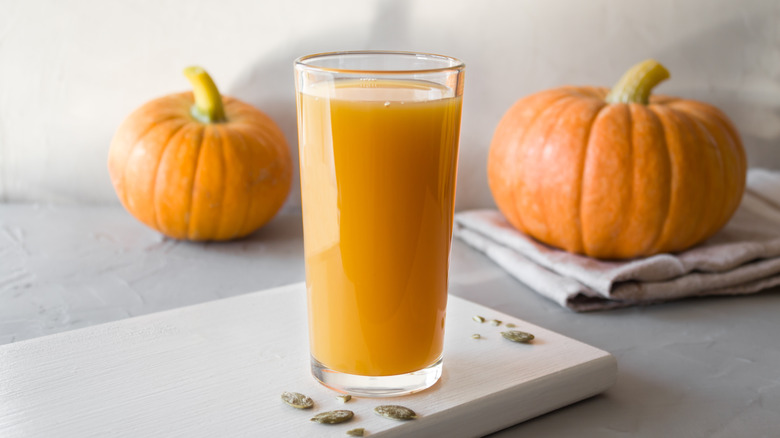 EvgGv/Shutterstock
As for what's inside the smoothies, the Vegan Pumpkin Smoothie is all plant-based and is made with Califia Farms Oat Milk, organic pumpkin, bananas, dates, Sunwarrior organic plant-based protein, and a blend of spices and stevia (via Chew Boom). Next up, the Pumpkin Coffee High Protein smoothie is a meal-replacement blend consisting of organic pumpkin, cold brew coffee, dates, almonds, a blend of spices, non-fat milk, and a protein blend in addition to whey protein. For all you keto-lovers out there, the Keto Champ Pumpkin Smoothie has over 10 grams of protein and 9 grams of net carbs thanks to a "keto protein blend" plus almond milk and butter, spices, and organic pumpkin.
The Slim-N-Trim Pumpkin smoothie might be the lightest of the four new drinks at just 240 calories for a 20-ounce cup. It's made with organic pumpkin, bananas, dates, Smoothie King's spice blend, Gladiator protein, Lean1 protein, another protein blend and a fiber blend. Finally, the Pumpkin D-Lite Smoothie might be the most indulgent (though still healthy) option. It's made with organic pumpkin, dates, vanilla frozen yogurt, a spice blend, non-fat milk and a protein blend. Which one will you try first?