Sour Candy Fans Need To Know About Skittles' 2021 Halloween Flavor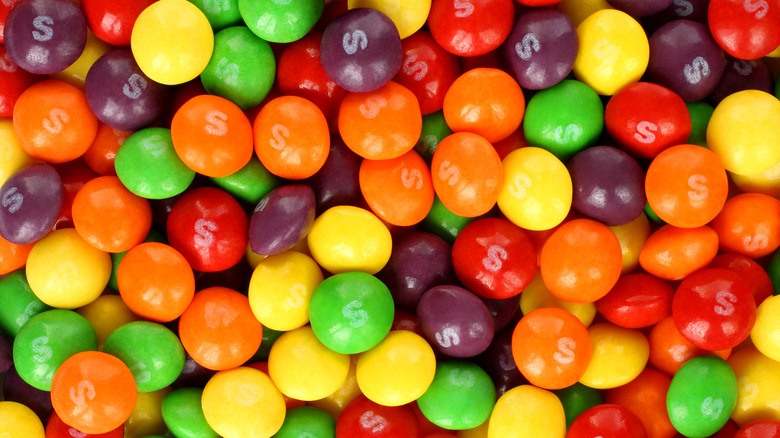 rvlsoft/Shutterstock
Skittles has great news for candy fans that like a bit of sour flavor with their sweets. Mars Wrigley, the company behind many of our favorite candies, also including Starburst and Twix, has just announced they will be launching a brand-new flavor of the chewy bites to help fans celebrate Halloween in 2021. Called Skittles Shriekers, the new treats will bring a delightfully unpredictable sour punch to the traditional candy enjoying experience. That's because inside every package, a variety of shockingly sour new Skittles will be hidden among the traditionally flavored candies. The secret sour candies look identical to regular Skittles, so snackers will be in for a real surprise — or fright — with every handful.
Each package of Skittles Shriekers will include five different scream-worthy flavors, including Citrus Scream, Ghoulish Green Apple, Rattled Raspberry, Shocking Lime, and Spine-Tingling Tangerine, according to Chew Boom. These super sour flavors are sure to deliver a shock to the taste buds of candy lovers everywhere, making them the perfect addition to all kinds of spooky Halloween activities.
Skittles Shriekers will be available at retailers nationwide for a limited time
These new scarily sour snacks will be available in a variety of sizes, including 1.8-oz single packs, a 3.6-oz Share Size to split with a friend, and a 10-oz Medium Funsize Laydown Bag for a party-sized serving, per Chew Boom. Skittles Shriekers hit shelves at participating retailers nationwide in August, so those looking to get a head start on celebrating the scary holiday won't have to wait until October to get their hands on these surprisingly spooky candies. 
But this new release will only be available for a limited time, so you won't want to wait to get your tricks and treats in with these sour bites. "Skittles is always looking for new ways to surprise fans with unexpected flavor experiences. This year, we focused on putting a new spin on a spooky treat, bringing better moments and more smiles to people as they gear up for the upcoming Halloween season," Tanya Berman, Mars Wrigley Seasonal Marketing Lead, said of the new release, via a press release.